"The good traveller has no fixed plan, and is not intent on arriving." – Lao-Tzu, The way of life
It started with a question: "If you took a year out to travel, where would you go?"
Julie's answer was quick: SE Asia; Cambodia, Vietnam, Laos, Thailand.  Temples, cuisines, heat and sunshine, colour and noise.
Andrew's answer was Russia, he doesn't know why particularly. Perhaps it's the influence of the action movies he enjoys, such as James Bond, The Bourne Trilogy, Ironman, etc, or maybe it's his preference for colder climates. He also wants to visit China as he had some good times with a group of Chinese post-graduate Chinese students after University (Hi YoBo, Qu Yan (aka Francis) and Li Yan!), and his favourite dish is crispy szechuan shredded beef.
"What if we joined the two together? the Trans-Mongolian Railway goes from Moscow to Beijing.." "Hmm.." said Andrew, "we're going to need a bigger year" and so, a two year trip was born..
 "It is fatal to know too much at the outset: boredom comes as quickly to the traveller who knows his route as to the novelist who is overcertain of his plot" – Paul Therroux, To the ends of the Earth
So here is their plan, it's a loose plan, a plan without a capital 'P'..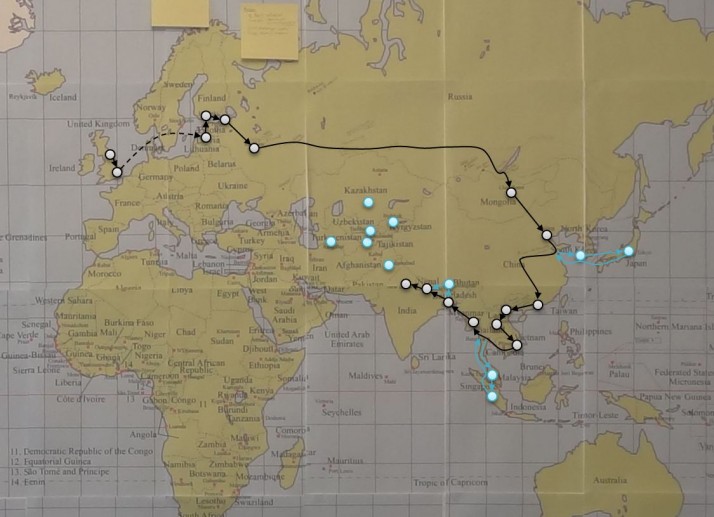 Starting from their home in Gateshead, they'll take a train to London and impose once again on their great friend Jo who lives near the river Thames.
From there, they're going to fly into the Baltic states, work their way up to Tallinn in Estonia, pop over to Helsinki in Finland by ferry, and cross the Finland / Russia border heading for St Petersburg.
From St Petersburg to Moscow, taking in some of the Golden Ring, before hopping on (and off) the Trans-Mongolian Railway which ends in Beijing, China.
There are a few sites they'd like to see in China, and Julie would very much like to go back to Japan, not least to take Andrew there for sushi!
Working their way in a southerly direction across China, possibly through Hong Kong, and into Vietnam. Cambodia. Laos. Thailand. There may be an excursion into Malaysia, Singapore and Indonesia while en-route through Bhutan, Bangladesh, Nepal, to northern India.
This far ahead, their plan becomes a wishlist of Countries in Central Asia based on money, visas, time and serendipity.