The purpose of our packing dry run 4 months ago was to see what our packing lists looked like in the flesh.
As I mentioned then, it's all too easy to fall into the trap of thinking we need to cater for every eventuality – the "oh, that'll be handy" thoughts that prompt the reflexive action to drop another item on the packing pile.
How are we stopping ourselves from taking everything and the kitchen sink, while still doing our best to adhere to the Boy Scout motto "be prepared"?
Well, mainly by trying not to confuse "being prepared" with "taking everything". If you have been a Boy Scout, a Girl Guide or have a Duke of Edinburgh's Award, I'm sure you'll remember that most of the activities we did each week were learning – learning how to use nature and the materials at hand to make shelter, to make fire, to find food, to survive.
In essence, we were learning resourcefulness.
And resourcefulness doesn't count towards our baggage allowance.
With that I'm mind, here's the list of things we decided to take that do count towards our baggage allowance:
Andrew's Kit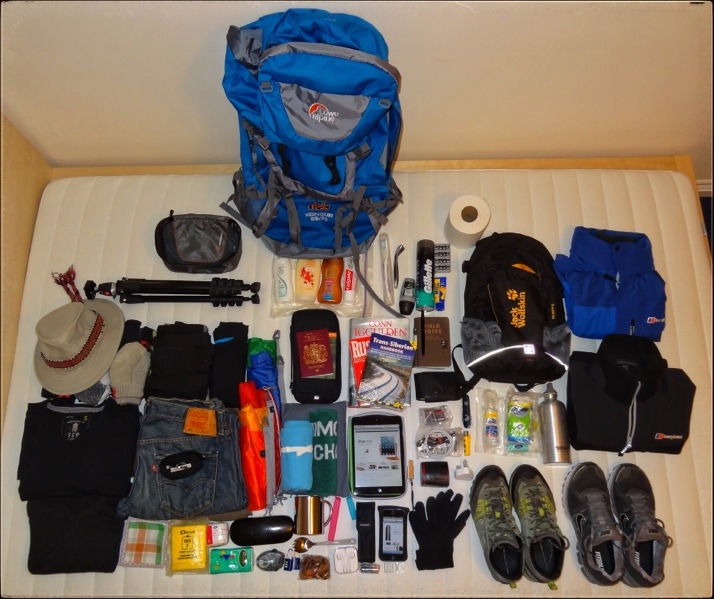 Essentials & Admin
Passport
Drivers License
Copies of Passport, Drivers License & Visas
Copies of Travel Insurance Documents
Debit Card
Credit Card: Halifax Clarity, currently the best choice for overseas spending and cash withdrawals
$USD Emergency Cash
Spare Passport Photos (for visas as we go)
Vaccinations Record Card
Travel Document Wallet – keeps everything together and organised
Couple of books
Kit
Rucksack: Lowe Alpine TFX Kongur 65:75
Drysacks: Exped Ultralite Fold Dry Sacks (x5: xl, l, m, s, xs) – for easy packing, organising, and keeping my stuff dry
Day Sack: Jack Wolfskin Velocity 12 – great little rucksack for carrying a few essentials while out and about, and it comes with a rain cover
Small Penknife: Victoronix Ranger – includes scissors and a bottle opener – essential!
Small Padlocks and Retractable Cable Lock for Rucksack – to deter opportunistic thieves, especially while we're sleeping on trains
Water bottle: Sigg 1ltr – A hand-me-down that I've had for years, and taken almost everywhere
Mug & Spork
Cotton Sleeping Bag Liner – handy for trains, and as an extra layer in the cold
Tech
Digital Camera: Sony DSC-HX9V – superb. 16x optical zoom, good manual settings, panorama, full HD video and GPS/geotagging. Charging cable, spare battery, case, 4 memory cards (2x 16GB, 2x 4GB)
Mini Tripod: Manfrotto MKC3-P01 Compact Photo Kit – bit of a luxury, but I love long exposure shots, and want to experiment while we're away
Apple iPad Mini: 64GB WiFi – for staying in touch, booking places as we go, sorting photographs, and updating this here blog. Charging cable, USB camera connection kit and case
Mobile Phone: Cheap Samsung E1120 and UK PAYG SIM – for emergencies and the odd text message. Mains charger
Small 8GB USB Memory Stick – contains copies of our documents
Torch: LED Lenser – very small and very bright. Spare batteries (3x AAA)
Notepad: Field Notes – lo-tech, but very handy for jotting down times, what we've spent while out shopping, thoughts and ideas.
Clothing
5 normal and 1 long-sleeved t-shirts
2 pairs of jeans
1 pair of hiking trousers
1 belt
1 pair of shorts which double for swimming
14 normal, and 1 pair of hiking socks
14 pairs of underwear
5 handkerchiefs – I do like a clean handkerchief
1 woollen jumper
1 fleece-lined hoody – bought in Riga, as a t-shirt, jumper and jacket wasn't enough!
1 Jacket: Berghaus Men's Choktoi II GoreTex Fleece – everyday jacket, superb – especially when carrying a rucksack
1 Waterproof Jacket: Berghaus Benvane GoreTex Jacket – excellent waterproof jacket with rolled up hood in the collar
1 pair walking shoes: Scarpa Crux – I've hardly taken them off since I got them last year. They are the most comfortable and grippy shoes I've ever bought. When I wear them out, I'll be getting another pair
1 pair trainers: Nike Air Pegasus 28 – I'm hoping to get a few runs in here and there, and I'm not really a fan of sandals or flip-flops
1 pair of gloves – they're liners really, if they aren't warm enough, I'll pick up some proper gloves later
1 Tilley Hat of trekking – keeps the sun off my head and out of my eyes. I also get comments about it when I wear it: "that's a great hat" an old lady once said to me in Galway. And no, she wasn't taking the Guiness.
1 beanie hat – also bought in Riga as the Tilley doesn't keep the wind from my ears!
1 pair of Sunglasses, and case (thanks to Stu's sister Karen for the case ;o)
Washbag & Toiletries
Toothbrush, case, and toothpaste
Bottle of multi-wash: shower gel, laundry, and washing up liquid in one
Shaving razor, shaving gel, and spare blades
Suncream
Deodorant
Aftershave – the last of my bottle from home, until it runs out
Toilet Roll – when you need it, you need it
Mosquito Spray
Large travel towel
Small hand towel – actually a bar towel
Small bottle of hand sanitiser
Ear plugs
Lip balm / chapstick
Julie's Kit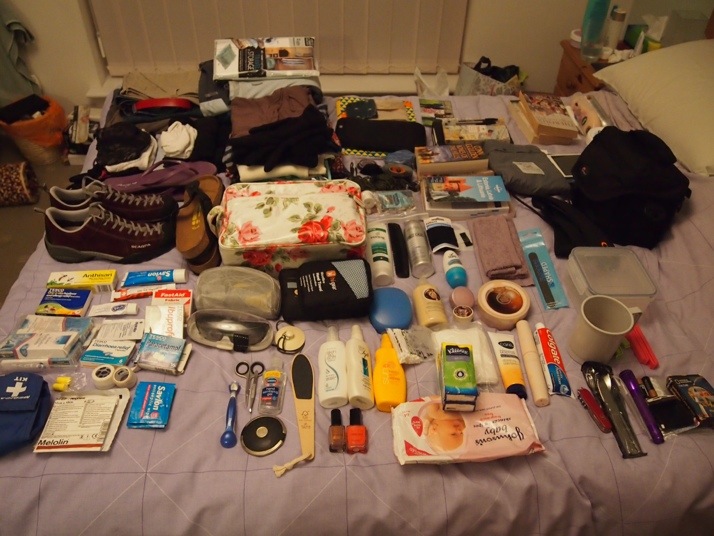 Essentials & Admin
Passport
Drivers License
Copies of Passport, Drivers License & Visas
Copies of Travel Insurance Documents
Debit Card
Credit Cards: Halifax Clarity, currently the best choice for overseas spending and cash withdrawals and Santander Zero, also no charges for spending abroad
$USD Emergency Cash
Spare Passport Photos (for visas as we go)
Vaccinations Record Card
all kept in Travel Document Wallet
Books – just a few…
Kit
Rucksack: my old Eurohike one – it's getting a bit battered but it's comfortable
Rucksack Liner – completely waterproof just in case
Travel compression roll bags to compress clothes and save space
Karrimor Small Rucksack– big enough to fit my camera bag, book, packed lunch, etc for hand luggage while on the move
Radley Across Body Bag – for day to day use
Money Belt
Small Penknife – includes corkscrew!
Compass
Mug & Fork, Spoon, Knife Set
Cotton Sleeping Bag Liner
Tech
Compact System Camera: Olympus PEN E-PM1 – with 3 lenses, flash, spare battery, charging cable and 2 memory cards (8GB)
Camera Bag – with rain cover and enough space for all camera related paraphernalia and my tripod
GorillaPod Tripod – Hybrid size, so that we get some photos of both of us!
Apple iPad Mini: 32GB WiFi – for staying in touch, booking places as we go, sorting photographs, and updating the blog. Charging cable, headphones and case
Torch: Mini Maglite
Hardbacked Notebooks and pens – for diary writing
Clothing
3 normal and 3 long-sleeved t-shirts
2 long sleeved shirts
2 vest tops
1 pair of jeans
2 pairs of hiking trousers
1 belt
1 pair of shorts
1 bikini
1 sarong – can double as a scarf, shawl, light blanket, etc.
10 normal, and 2 pairs of light hiking socks
10 pairs of pants and 3 bras
1 fleecy jumper
1 pair leggings, sports top and sports bra – going to try to do some yoga
1 Waterproof Jacket
1 pair walking shoes
1 pair Birkenstock Sandals
1 pair flip flops
1 pair of gloves
1 fleecy hat
1 Polar Buff – fleecy snood to keep my neck warm
1 pair of Sunglasses, and case
Washbag & Toiletries
Conditioner, comb, mousse and hair bands
Toothbrush, case, and toothpaste
Shower gel
Soap and soap dish
Body butter
Moisturiser
Lip balm
Deodorant
Suncream
Insect repellent – from Avon (thanks Dawn!)
Large travel towel
Small travel towel – for drying my hair
Small bottle of hand sanitiser
Bottle nail varnish – my one concession to bringing make-up!
Nail scissors, tweezers, compact mirror
Shared Kit
Medical Kit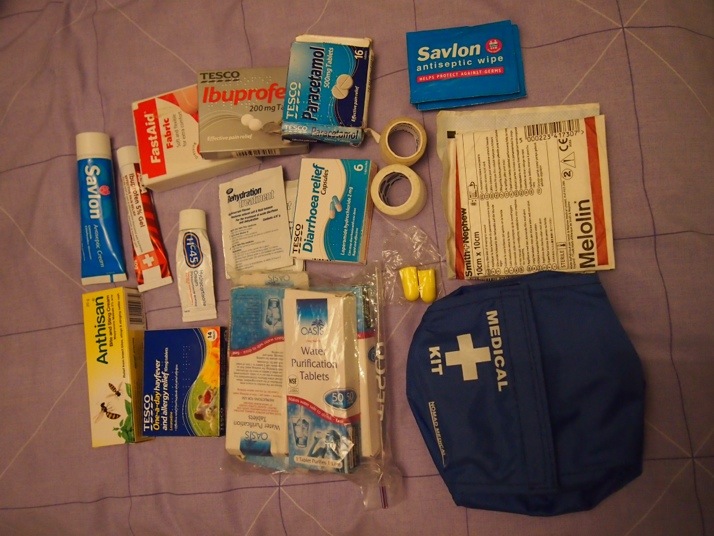 Paracetamol
Ibuprofen
Rehydration sachets
Imodium tablets
Selection of plasters, dressing, micropore tape
1 bandage
Antiseptic wipes
Antiseptic cream
Antihistamine cream – for insect bites
Antihistamine tablets
Hydrocortisone cream – for eczema
Ibuprofen gel
Water purification tablets
Too much? Too little? What do you think we've missed, or what wouldn't you be without? Let us know in the comments.. :o)