Like most capital cities, Havana has a wide variety of things to see. Andrew has already written about his highlights, here are mine.
Museo Nacional de Bellas Artes
Cuba's Fine Art Museum is spread across two buildings in Centro Havana, one dedicated to Cuban art and the other to international art. We visited the Cuban building first and I was blown away by the quality and variety of the works on display. The exhibits are arranged chronologically, the first few rooms are dedicated to colonial art with some arresting portraits, landscapes showing the countryside and life in the past with a few maps thrown in for good measure.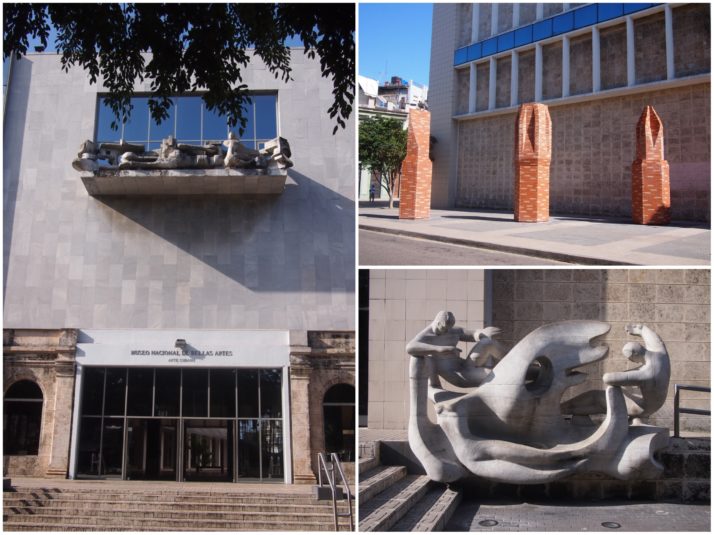 Outside the Cuban building of Havana's Fine Art Museum, sadly no photographs allowed inside
The rest of that floor (about three-quarters of it) shows how art progressed in Cuba from the late-19th to mid-20th century – this was my favourite part, I especially enjoyed the satirical cartoons of Rafael Blanco and Wilfredo Lam's paintings which reminded us of Picasso. The second floor exhibits works from the mid-20th century through to the current day, also worthwhile but by that point we were starting to get museum fatigue (and hungry!) so probably didn't enjoy them as much as we might have done.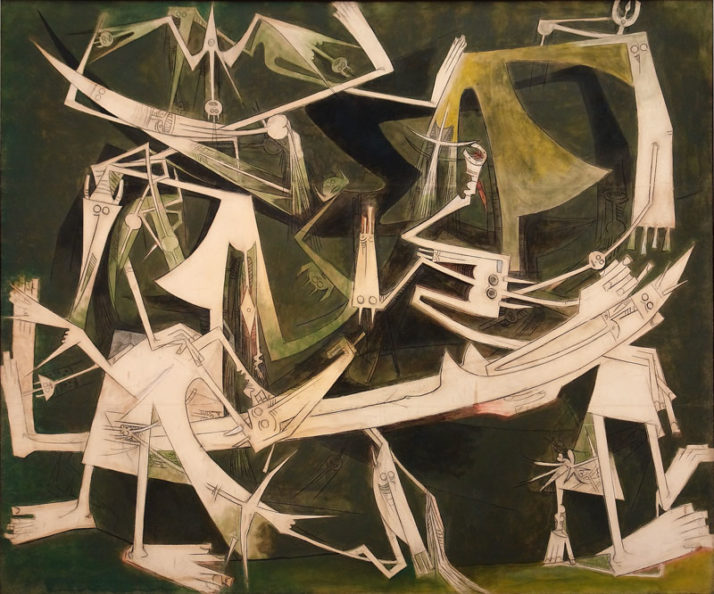 'El Tercer Mundo' (The Third World) by Wilfredo Lam [photo credit: Transregional Academies]
Having refueled in a nearby cafe, we spent the afternoon in the international building and found the display of mostly pre-20th century European and Latin American art to be a bit lacklustre after the Cuban works. The stained glass ceiling in the central stairwell was spectacular although we worried about whether it would survive as it was in desperate need of renovation and the building seemed to be crumbling around it. Also in this building was a temporary exhibition by Francis Alÿs, mostly video installations covering the time he spent embedded with the British army in Afghanistan, immigration across the Straits of Gibraltar and his attempt to create a 'bridge' of boats stretching from Cuba to Florida.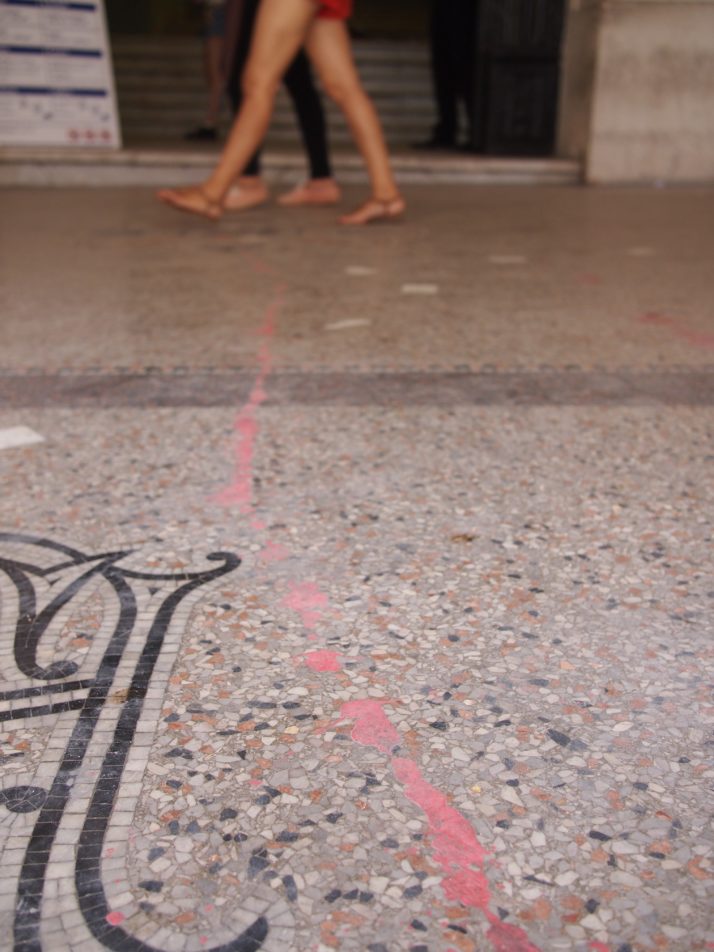 Francis Alÿs is known for creating trails of paint from art galleries out into the surrounding cities
Fusterlandia
In search of more art, one day we made the long journey out to Jaimanitas on Havana's western fringe to visit the home and workshop of José Fuster. Our guidebook suggested we take a taxi but we were sick of haggling prices and still feeling like we were being ripped off, so we took a chance on a local bus. We perhaps should have been a bit better prepared with landmarks around where we were supposed to get off but we managed OK and after a one hour bus journey (total cost MN4 = £0.12) and a 40 minute walk along a shady road we arrived feeling slightly smug.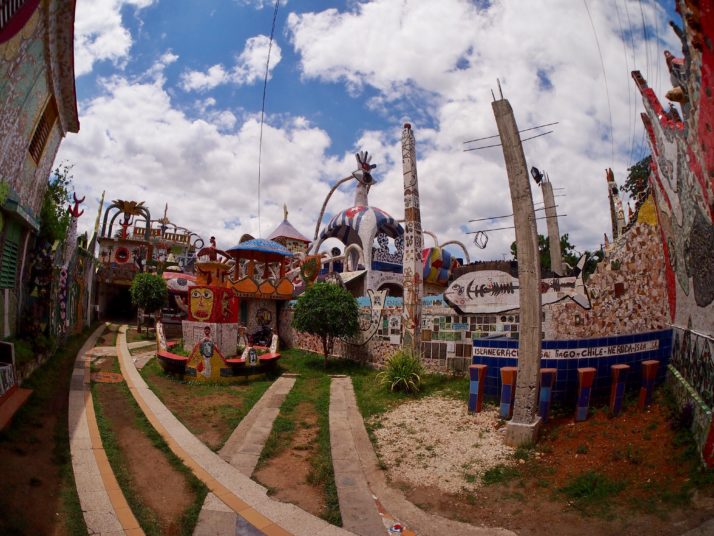 Wow! I guess we've arrived at Fusterlandia, José Fuster's home and workshop
Fuster has turned not only his home but half of his neighbourhood into something reminiscent of Barcelona's Park Güell (created by Antoni Gaudí) with lots of organic forms and bright tiles covering every surface. We loved wandering the nearby streets checking out the colourful buildings and decorated walls, there's even a tile covered unicorn!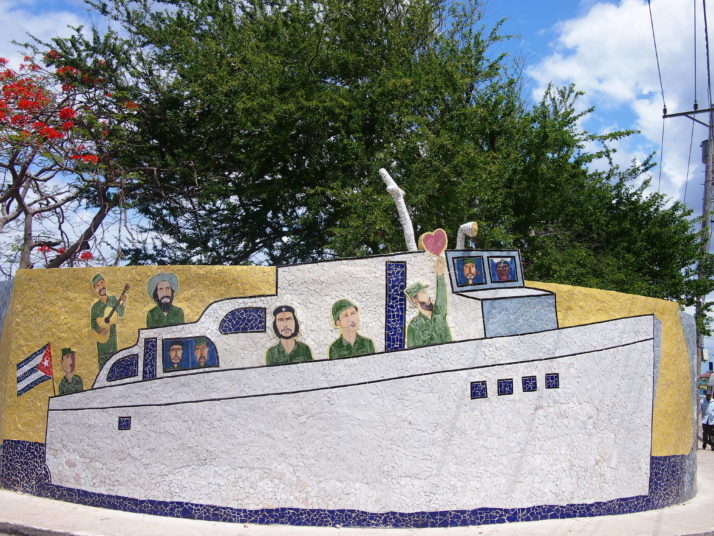 A tile mural of the Granma yacht and some of the revolutionaries who sailed in her
When we arrived Fusterlandia itself was closed for lunch but at 2pm we were able to go in and explore. It's an overwhelming experience with seemingly every available surface covered in tiles, and every time we turned we spotted something new. There are lots of animals, cockerels especially appear very often, as well as hearts, a mermaid and a pavilion in honour of the Cuban Five.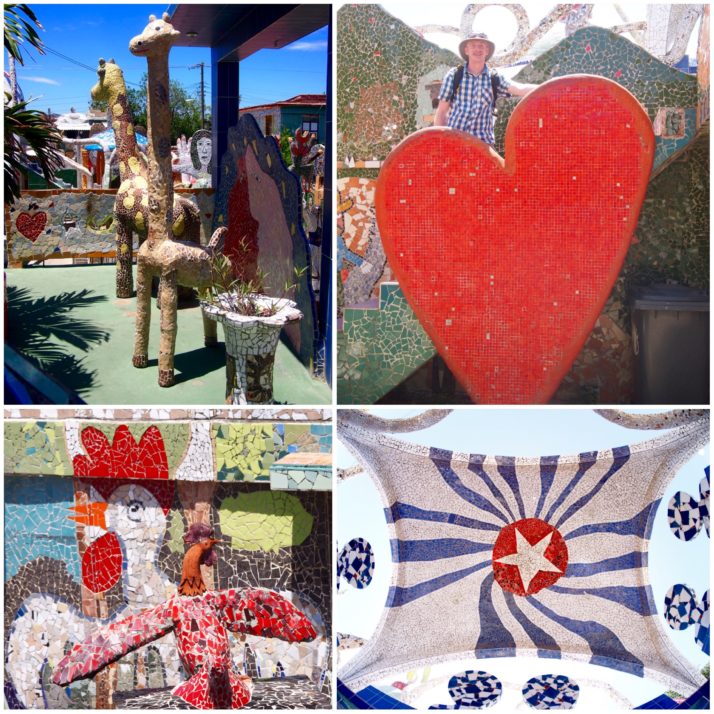 Fusterlandia details (clockwise from top left): giraffes; a heart; the Cuban Five; and cockerels
Hershey train
We love travelling by train but it turned out to not be a straightforward way to get around Cuba – the rail infrastructure is not very good and the schedules are unreliable. In fact the only train that we travelled on was the electric line from Havana to Matanzas, though we got off midway in the small town of Camilo Cienfuegos (aka Hershey). I don't want anyone to get the wrong idea, this electric line can not be compared to Japan's shinkansen, or even the East Coast Mainline back in the UK, it's an old interurban train – basically a very rickety tram!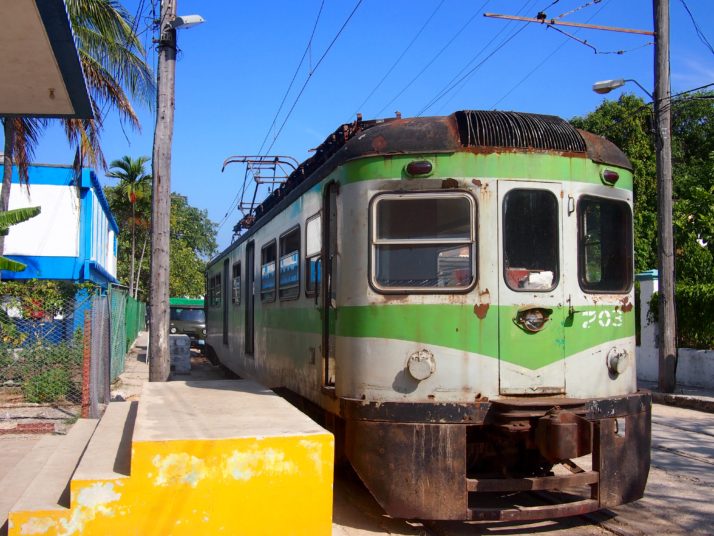 The rather dilapidated looking Hershey train at Casablanca station in Havana
The line was built in 1921 by American chocolate tycoon Milton Hershey to link his sugar mill (in the town then known as Hershey) with Havana and Matanzas. Before the Revolution the sugar produced here was shipped to the US to be turned into chocolate, but in 1959 the factory was nationalised (and the town was renamed after a revolutionary hero) and it feels as if there hasn't been much maintenance to tracks or train since then, although actually the trains were replaced with second-hand Catalonian ones in the 1990s. It's rusty and dilapidated and bumps and clangs along stopping at dozens of little 'stations' (imagine a concrete bus shelter next to the line and you'll be about right) along the way.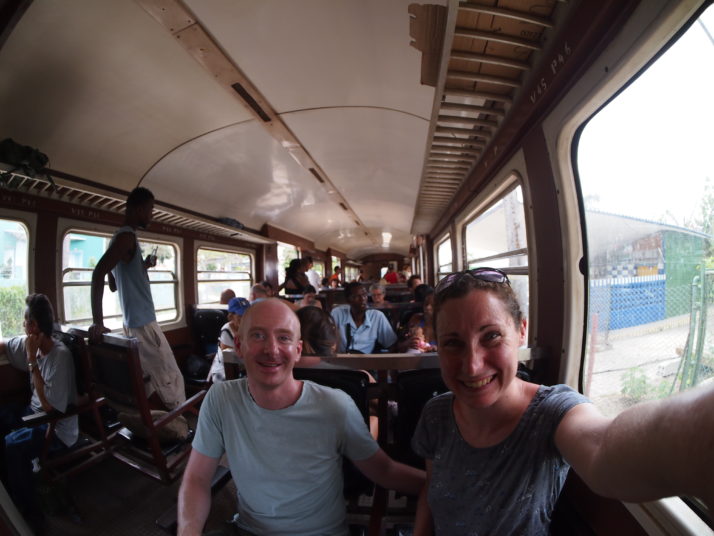 The one carriage train was pretty full leaving Havana and even more people got on at the next few stops
The sugar mill ceased production in 2002 and its rusting ruins dominate the sleepy town. We had a bit of a poke about and took some photos being careful not to cross the 'Danger No Entry' signs. While there we met an American father and son, Fred and Justin, who'd also travelled in on the train.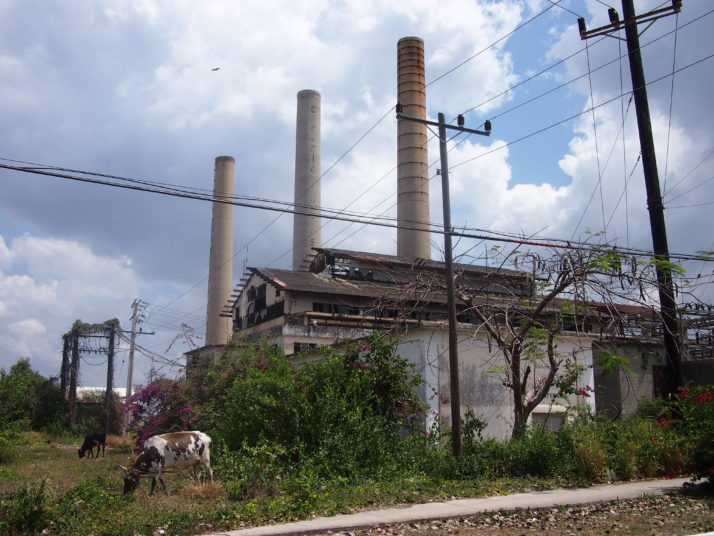 The huge sugar mill at Hershey is slowly disintegrating although its three chimneys remain intact for now
After taking photos of the mill we still had 3.5 hours to kill before the train back so we headed 1km north of town to the only other 'attraction' in the area, the Hershey Gardens, basically a rather overgrown pleasure ground with some woods, a pool for bathing and a couple of restaurants. We ate lunch with Fred and Justin swapping traveller's tales over papaya juice while we waited for the food, before setting out to investigate the rest of the gardens only to discover that there wasn't much to explore. The path wound along the river a little way to the pool where several local families were picnicking and cooling off in the water before coming to an end at a fence just a couple of hundred metres into the wood!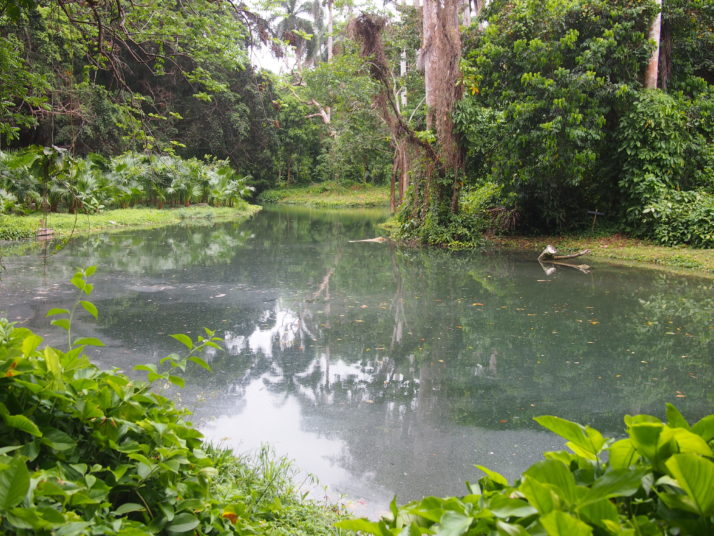 A peaceful section of the river in the Hershey Gardens
Callejon de Hamel
Tucked away off a quiet back street in Centro Havana is the Callejon de Hamel, an alleyway covered in artworks and host, at 12pm every Sunday, to a live rumba session. We thought it might be a show for tourists but there were at least as many locals there and the first band of musicians and dancers performed for an hour and a half! The drumbeat throbbed and everyone was clearly having a great time. Absolutely superb!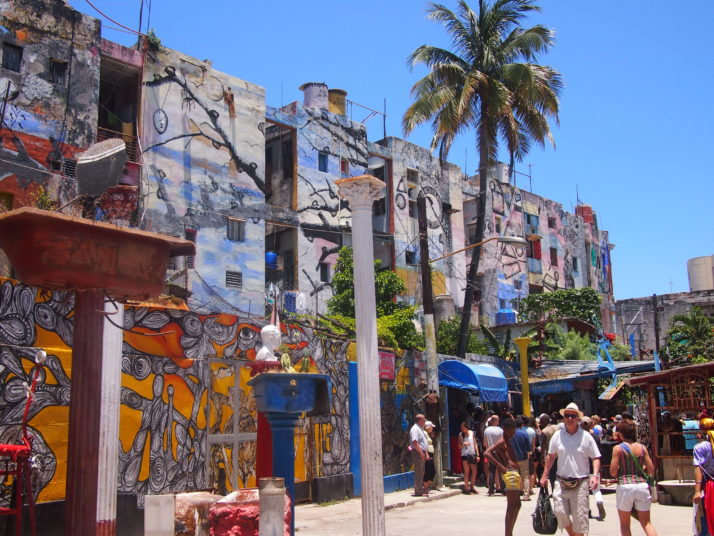 Artworks cover the surrounding buildings along the Callejon de Hamel
Cigar factory tour
Think of Cuba and one of the first things that'll spring to mind is cigars, from the iconic images of Fidel Castro with a cigar clamped between his teeth to the roll call of famous brand names – Cohiba, Montecristo, Romeo and Juliet – and so we were keen to visit the Partagas factory in Havana to see how they were made (spoiler: they're not rolled along the inner thigh of a nubile young woman…)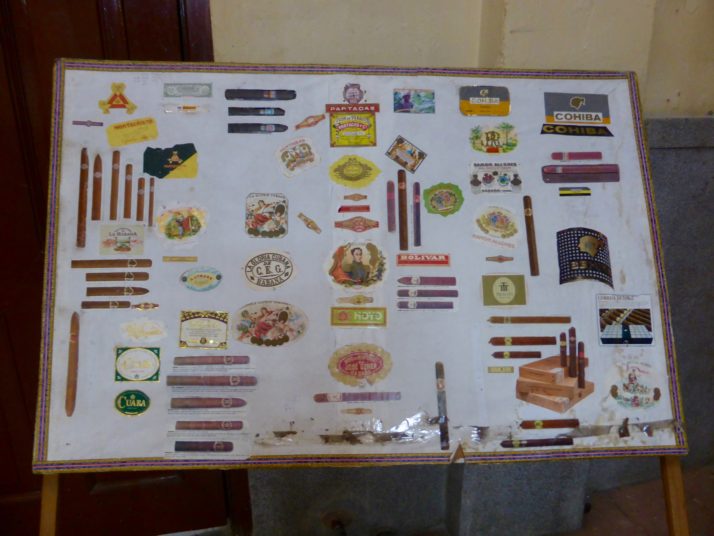 Many of the famous cigar brands are made at the Partagas factory in Havana
We thought the tour was a bit overpriced at CUC$10 (£7) each for a 30 minute visit and we were very disappointed that we weren't able to take photographs of the factory floor, nevertheless our guide Marisela was very knowledgeable and we had a small group so it was easy to get a good look at what was going on and ask questions. First she explained how tobacco plants are grown, and the different types of leaf which are needed to make each cigar (for flavour, strength and burn quality) as well as leaves from shade grown plants which are more flexible, almost stretchy, and used for the binder and wrapper.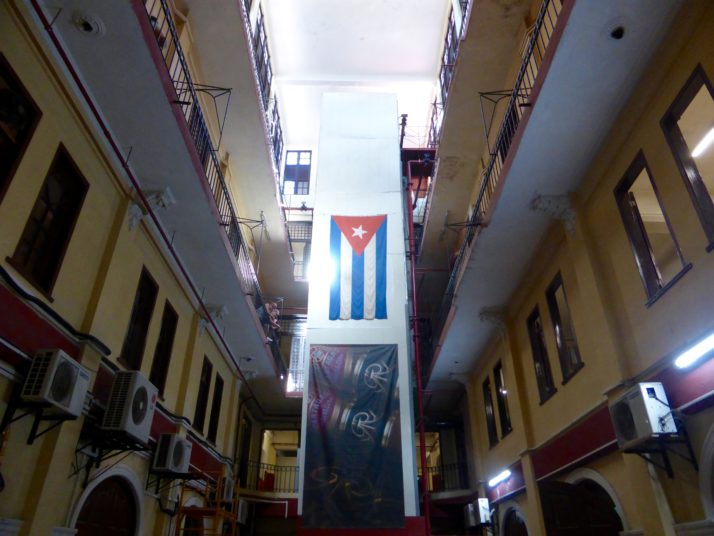 The interior atrium of the Partagas factory
Next we were taken up to the third floor where we could see the cigars being made. The workers were a mix of men and women across a wide age range and seemed friendly, smiling and winking at us as we peered in from the doorways and Marisela dashed back and forth bringing us samples to look at and smell. It is a highly skilled job and each worker must pass a 9 month training program before they can begin producing sale quality cigars (the practice duds are sent off to a different factory to be chopped up and made into cigarettes). We were interested to hear that salaries are paid in national pesos with a bonus in CUC (dependent on their output) plus 5 cigars per day.
It was fascinating to see how the cigars are rolled and pressed in forms before being bound and wrapped. Different workers each producing just one grade, length and thickness of cigar. I suspect its one of those things that looks very easy when performed by a skilled worker but is extremely difficult to get right, especially as the tightness of the roll is crucial to the finished cigar – quality control have a special machine, developed in Cuba, which measures the airflow through a sample of the production to make sure they will burn well.
Napoleon museum
Havana seems a rather unlikely place for a museum of artefacts relating to Napoleon, but here we are, one of the best laid out museums that we visited in Cuba. The displays include everything from soldier's uniforms to period furniture to Napoleon's pocket watch and were amassed by Cuban sugar baron Julio Lobo. Following the Revolution they were seized by the state and set out in a beautiful restored mansion near the university in Vedado.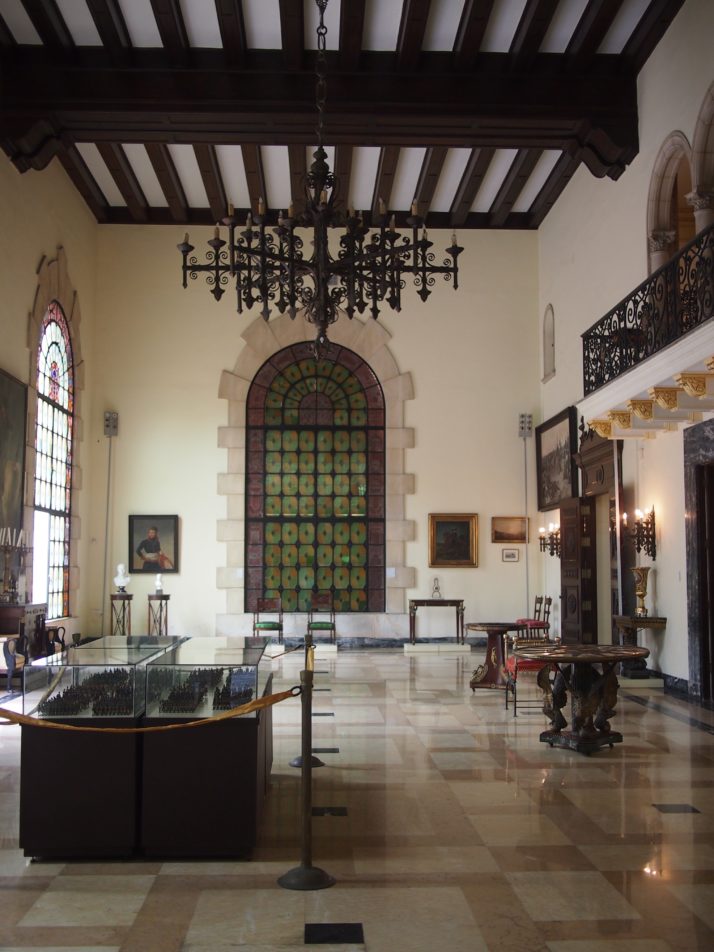 The stunning main hall of the Napoleon Museum
The museum was fairly quiet and a good way to spend an hour or so – I don't think it's on the itinerary of the bus tours – and the staff were friendly. The lovely lady on the second floor in particular spent a lot of time pointing out the various highlights set up in the bedroom and explaining to us the history of the museum collection.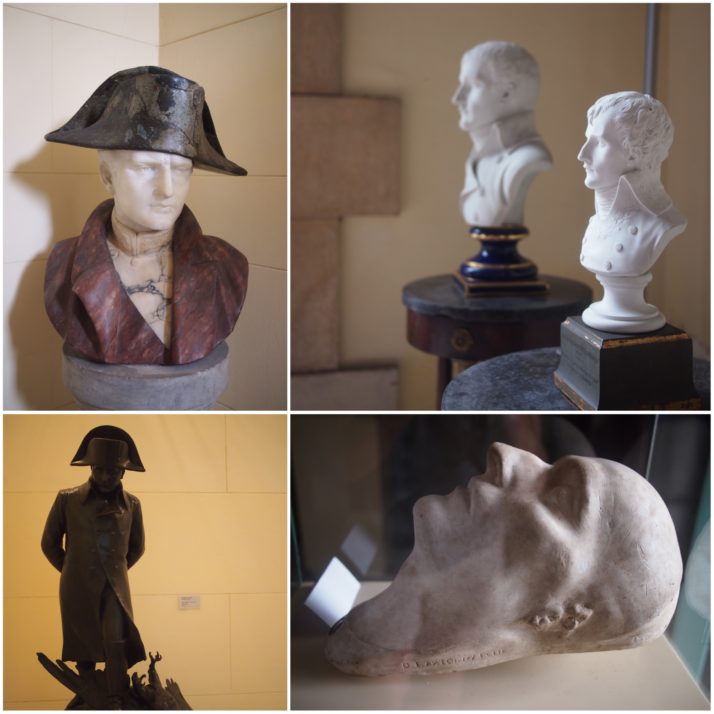 More busts and statues of Napoleon than you ever wanted to see, including his death mask in the bottom right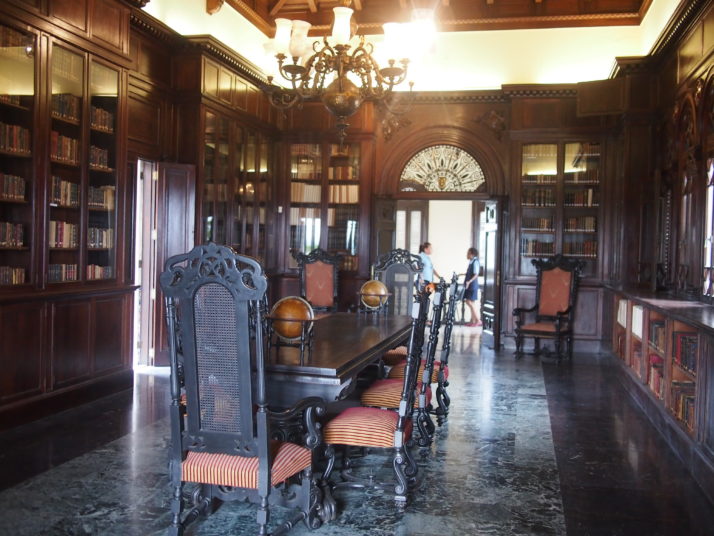 The top floor includes this magnificent library and a roof terrace with views over the city