What photo takes you right back to Cuba?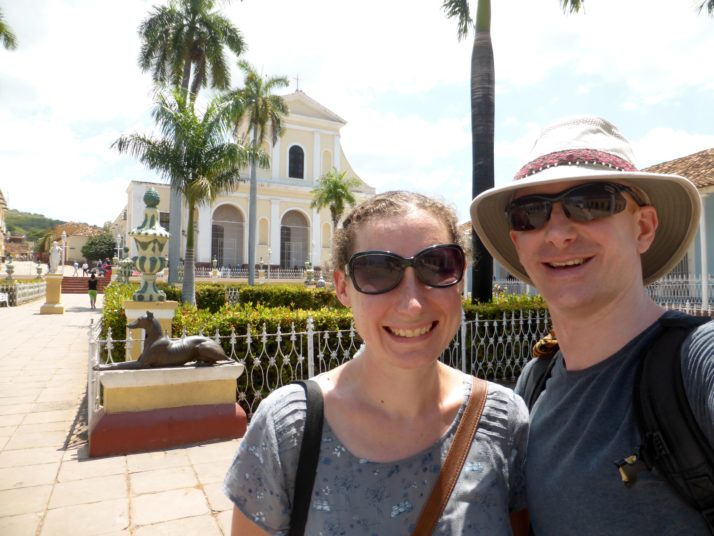 Cuba's architecture was a highlight for us and the colonial Plaza Mayor in Trinidad was a great example
How much does it cost to travel in Cuba?
Excluding our return flights from the UK, we spent £3,165 during our 45 days in Cuba – a daily average of £70.35 for two people (remarkably close to our two year trip budget!). The Cuban convertible peso (CUC) is pegged to the US dollar and the average exchange rate that we got in April/May 2016 was CUC$1 = £0.73.
We took the majority of our money in cash – either GBP or Euros are exchanged everywhere, US dollars have a 10% exchange surcharge so I wouldn't recommend carrying those. Some money exchanges rejected notes which had writing on or were torn, but in the end we had them all accepted – the offices in more touristy cities (Havana, Trinidad) seemed to be less fussy. At the end of the trip we had to withdraw some cash on our credit card and discovered that Cuban ATMs don't accept Mastercard (I think Visa is fine) and so we had to get an over the counter cash advance which was charged to our card in US dollars and hence was subject to the 10% surcharge.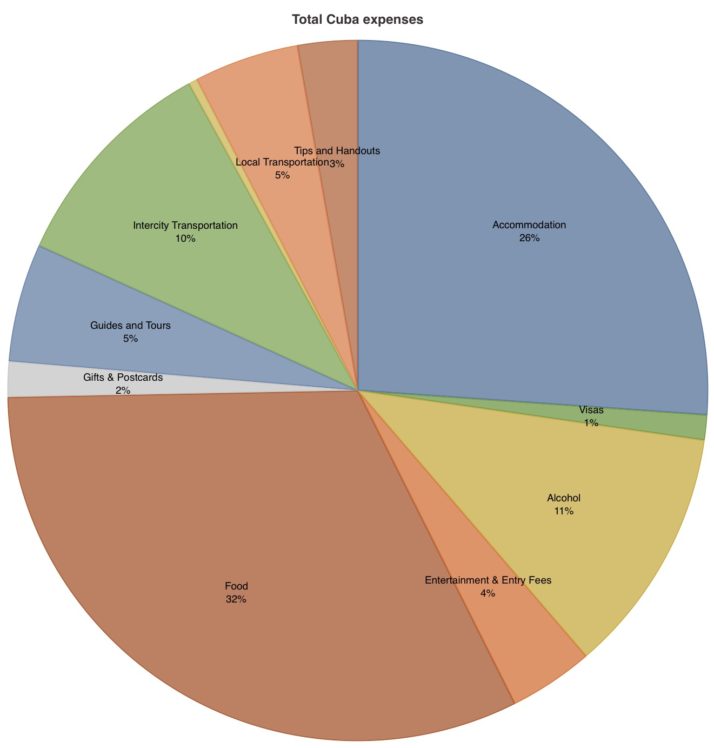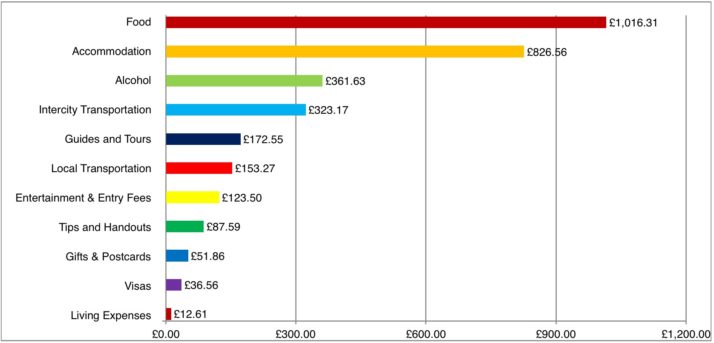 We stayed in casa particulars (guesthouses) for every night of our stay, except one night spent in the shelter on Pico Turquino. The rate was a pretty consistent CUC$25 per night (room only) across the country except in Havana and Varadero where we paid CUC$30).
It's not really possible to exist solely on street food in Cuba and so, in addition to taking breakfast in our casa particular (CUC$5 each) we often had dinner there as well which cost CUC$8-10 each. Restaurant meals were comparably priced though Havana was often much more expensive and we found that high prices rarely translated into high quality.
We found both the Viazul and Cubanacan intercity bus services to be a comfortable and reasonably priced way to get around the country.
Within cities we tended to walk everywhere so the relatively high spend for local transportation is taxis to and from bus stations which we found to be quite expensive (possibly because the scarcity of cars pushes up the price but no doubt we were charged tourist prices as well). This category also contains a few day trips that we took by taxi as there was no public transport option available.
Visas – we paid CUC$25 each to extend our 30 day tourist card (included in the cost of our flight) for another month.
Summarise Cuba in three words.
Dilapidated – from the buildings to the classic cars, it seems like a lot of Cuba has been barely maintained since the Revolution in 1959
Rum – made from the sugar cane which generated early wealth for Cuba, the national drink is everywhere and the base of many a cocktail!
Music – upbeat and very danceable, Cuba's musical heritage is rich
You really know you're in Cuba when…
.. your taxi is a 30 year old Russian model that needs a jump start!
What one item should you definitely pack when going to Cuba?
Plenty of patience for all the queues you'll have to wait in – to exchange money, in shops, at the bus station…