What photo takes you right back to Hong Kong?
That would be us on the Star Ferry, taking the Harbour tour on Andrew's birthday.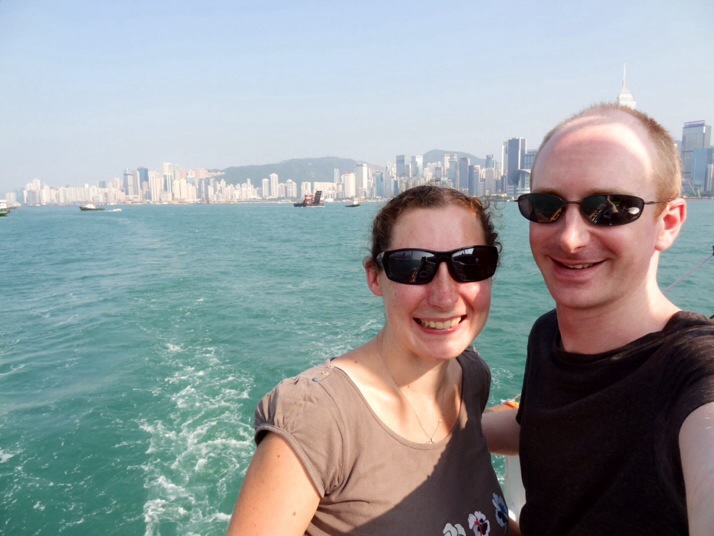 We crossed the harbour quite a few times in our 3 week stay, mostly on the excellent MTR, but sometimes we could plan our activities so that we could take the ferry because it was more of an adventure, and it's cheaper!
Summarise Hong Kong in three words.
Familiar – not really that surprising as we're from the UK, but Hong Kong felt like a hot, humid home. We often heard English on the street with British accents, the traffic drives on the left and observes the traffic signals, and the LFK area with its bars, cafes and restaurants could be a mini London albeit on the side of a hill
Different – Central Hong Kong feels like London, but step out of the MTR in TST near Chunking Mansions on the Kowloon peninsula just 20 minutes away you could be in India – the pungent aroma of curry in the air and the dark-skinned men wearing darker trousers and off-white shirts, yet walk a block further north and you're in China!
Cramped – Hong Kong is notorious for cramped living spaces. Oftentimes the door into our room would hit the bed before opening fully, and wet-room bathrooms are de rigeur, requiring good balance as a couple of them were so small we had to straddle the toilet to have a shower
You really know you're in Hong Kong when…
…you've walked a block and been offered a tailor, a suit, a SIM card, a fake watch, a curry, a massage, hashish, a fake handbag, and a bed for the night.
What one item should you definitely pack when going to Hong Kong?
Deodorant. It's a bustling, hot place and you'll often find yourself in close quarters with your fellow humans such as queues, packed MTR carriages and lifts. It's also very common to be seated with other diners at restaurants, and no one likes the waft of BO, whether from tourists or from locals. Sadly, this list was not compiled at random..