We'd always had the idea to travel overland through Europe in the back of our minds so we could visit friends, making a nice, slow end to our two year trip. Our first stop was a few days with long-time friends Heidi and Olivier in Bern, Switzerland. There's a bit of overlap with Julie's highlights, but here's the list of my favourite moments..
Old Bern and the Bears
After meeting Heidi and Olivier for coffee, cake and lunch when we first arrived in Switzerland, we had a few hours to ourselves in the afternoon to explore the UNESCO listed old town of Bern.
We loved aimlessly wandering through the cobbled back streets of the old town in the cool, crisp snow-filtered mountain air. We popped our heads in the cathedral whose spire dominates the skyline, and we also found the Rathaus or town hall.
Heidi was very keen that we visit the bears, and we weren't quite sure we'd heard her correctly.. bears? did she mean the grizzly kind? in Bern? really?
Sledging in Grindelwald
It made Julie's list and had to make mine too because it was so much fun! Sure, pulling a heavy wooden sledge uphill for 3 hours was tiring (and I nearly gave up after a particularly steep bit near the top), but the gruelling climb made the descent all the sweeter..
I was surprised how little control I had – I remember trying to stop pretty soon after we set off as it's the first thing you do when learning to ski or snowboard, and I couldn't! It was easier to turn than to slow down or stop, perhaps that's why it's so much fun!
Gruyères and the H.R. Giger Museum
Sometime before we started this trip I'd read an article about the Swiss artist H.R. Giger whom I'm pretty sure you may not have heard of either, but whose vivid surrealist dreams were the inspiration for all of the alien elements of Ridley Scott's 1979 science-fiction horror masterpiece Alien, which I'm pretty sure you have heard of.
Giger worked on the sets for the movie Alien, and was part of the team that won an Academy Award for Best Achievement in Visual Effects. I'd read quite a bit about his work and the museum so I knew what to expect, and it didn't disappoint.
Giger was a prolific artist, and most of his work explores the same biomechanical otherworldly evolution – the organic forms resemble a distorted or contorted humanity often augmented or shackled by machinery. Always dark, usually foreboding and sometimes sexually explicit. Olivier remarked that Giger might have had problems with women which was an astute observation given Giger's early life.
We all liked the museum, but I think it's fair to say that I enjoyed it the most. I remember the first time I saw Ridley Scott's Alien, and even knowing there's an alien in it (because of the title), the suspense, special effects, and feeling of being hunted by something so much more adept still frightens me when I think of it.
One question that isn't answered by the museum is this – why is it in the grounds of the idyllic Gruyères Château St. Germain? Because Giger bought it in 1998!
Cheese
Yes, it made Julie's list but it was a highlight for me too! Olivier was especially happy that we'd asked to share both fondue and raclette with them, though he suggested not on the same day..
It's a wonder to me how the Swiss retain their athletic figures, but then I quickly remember that the country is perfect for winter sports and summer hiking..
Hiking from Wattenwil to Thun
Speaking of which, on our last day with them, Olivier took us south for a hike through the rolling hills of Wattenwil to Lake Thun.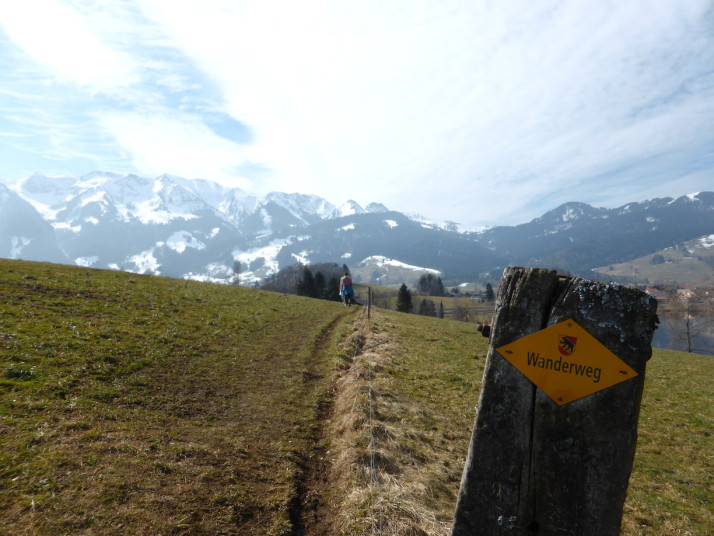 It was an overcast day but that didn't spoil the views or our enjoyment.
Geneva Motor Show 2015
The main reason for stopping in Geneva for a day or so was to visit CERN as we're both fascinated by science and discovery, but as soon as we arrived in Bern I saw posters for the 85th International Motor Show. A quick check of the entrance fees and I found the tickets are half-price for the last 4 hours of the day, which is probably Julie's limit of looking at cars!
I visited the London Motor Show with my dad and my brother a few years ago so I knew largely what to expect, but I think the variation and the concept cars surprised Julie and in the end she enjoyed it as much as I did.
We had a fun-filled, jam-packed, cheese-fuelled week in Switzerland. Thanks again to our good friends Heidi and Olivier – we can't wait to see you both again :o)