| | |
| --- | --- |
| Distance cycled | 65.7 miles / 105.8 km |
| Cumulative distance cycled | 201.3 miles / 324.1 km |
| Islands visited (daily total) | Harris, Lewis |
| Total islands visited | 10+1 of 10 |
| Average speed | 11.2 mph / 18 kmph |
| Weather conditions | Overcast |
If anything, the midges were even worse in the morning. After eating our breakfast in the blackhouse, we struck camp as quickly as we could and struggled to get the panniers loaded on the bikes while keeping the clouds of midges off our faces. The only relief was to begin cycling, at which point they couldn't keep up with us. Ha!
We retraced our route back through the rocky landscape to the main road and soon arrived in Tarbert, the capital of Harris. We restocked our food supplies making sure we had enough to get us through the weekend until the shops reopened. That left our panniers pretty full but passing the Isle of Harris gin distillery on the road out of town we found that we had space for a bottle of gin and some tonics!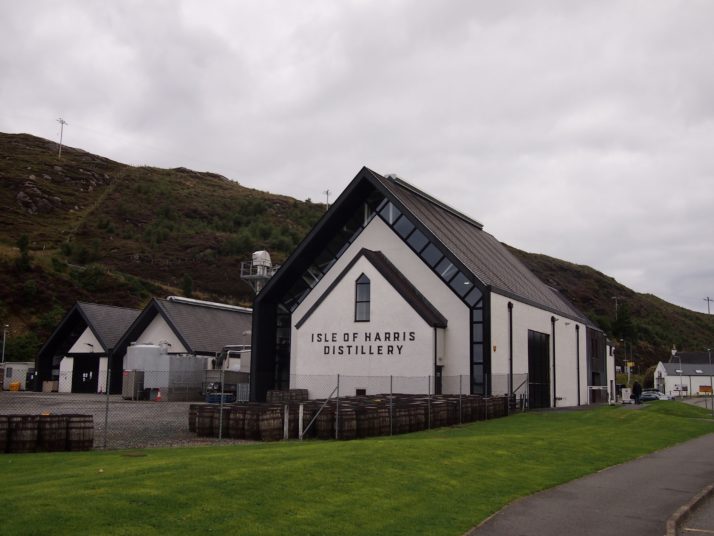 For the most part the Hebridean Way is quite flat with gentle ups and downs, we'd heard that the exception to this was just after Tarbert when there was A HILL. It was definitely the most uphill section but really not that bad, neither particularly steep nor long. From there it was rolling ups & downs between dramatic craggy hills until we stopped for an early lunch in a spot with a beautiful view over Loch Seaforth.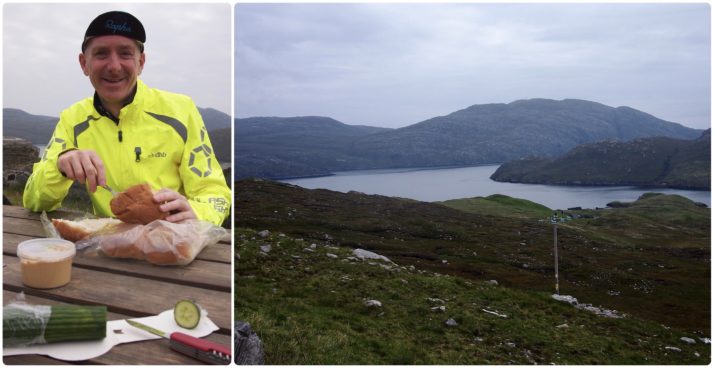 From there we were zipping down the other side of the hills at a rather alarming top speed of 37mph which brought us into Lewis, our final island. Confusingly its not actually a separate island to Harris though they are very distinct in landscape. Heading north and with a slight tailwind and pretty flat road the cycling felt really good. There's a real lack of campsites in this part of Lewis and we'd thought to wild camp, but having arrived at our potential camping spot around 3pm and with knowledge of bad winds and rain forecast for tomorrow we decided to press on and do 2 days of cycling in 1.
Reaching the western coast we turned off the official Hebridean Way trail towards Uig. At about 45 miles into the ride, I was still feeling pretty good though Andrew was starting to tire. The last 20 miles felt never-ending though the scenery made up for the tired legs. Eventually we arrived at the beautiful campsite in the dunes at Ardroil beach though as we pitched the tent the midges were annoying again. Instead of setting up the beds we went for a walk on the huge beach accompanied by a tailless dog who kept bringing us bits of seaweed stalk and looking at us expectantly.
An epic day, over 65 miles which would be a long day for us even without the extra weight of the bags.