Hong Kong can be an expensive place to visit. It's difficult to find budget accommodation (even dorm beds are about £16 each on Hong Kong Island) and we've had to try quite hard to eat cheaply (it's definitely not as easy as mainland China), and you could easily get through quite a lot of money very quickly if you went shopping in one of the many upmarket shopping malls here… However we have found it relatively easy to keep costs down on sightseeing. Lots of these suggestions will work for any place that you're staying, but free days out did seem to be especially easy in Hong Kong.
Walking
Walking the streets is always a good way to get a feel for a place and you can often stumble upon some interesting sights, be it a temple or a restaurant with tanks of fish outside! The Hong Kong Tourism Board (HKTB) publishes a booklet with a number of different walks which we found helpful in giving our wandering a little direction and telling us some of the history of the things we were seeing. We particularly enjoyed the Mong Kok markets walk and the Ping Shan Heritage Trail.
I dread to think how much one of these would cost for dinner!
Ping Shan Heritage Trail (clockwise from top left): Tsui Sing Lau Pagoda, interior courtyard of Kun Ting Study Hall, restoration work in Hung Shing Temple, plaster mouldings in Ching Shu Hin
Parks and Gardens
Hong Kong has some beautiful parks. We especially liked Kowloon Park which is just off Nathan Road, very close by if you're staying in hectic Chungking Mansions and need some peace and space! They're very clean, not too busy and usually have lots of different areas – water features, aviaries, and exercise equipment as well as plenty of shady benches under the trees. Most of them even have free wifi thanks to a scheme run by the Hong Kong government – just look for the freegovwifi-e network and input govwifi for both the username and password. We spent several relaxed afternoons blogging in the park!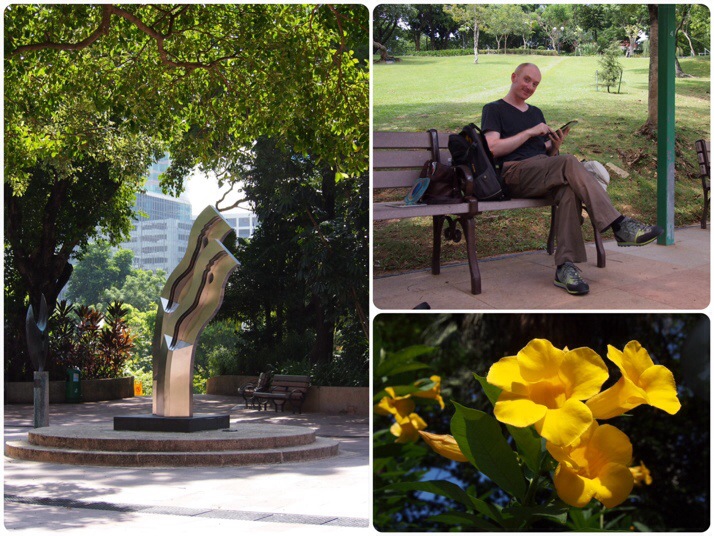 Sculpture in Kowloon Park, Andrew blogging in Yuen Long Town Park, pretty flowers
Also worthy of a mention is the Nan Lian Garden which is attached to the Chi Lin Nunnery in Diamond Hill. Its sculpted banks of trees and central pond with golden pagoda was well worth the trip.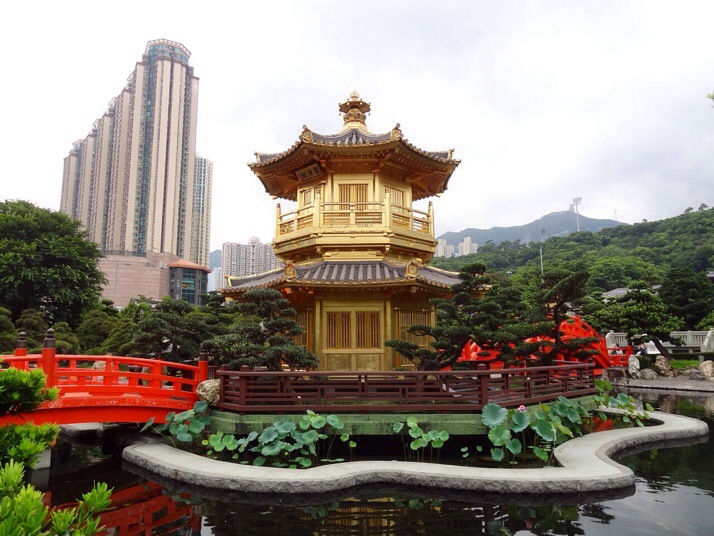 Observation deck
We discovered on one of our self-guided walks that the Bank of China Tower in Central (1 Garden Road) has a free observation deck on the 43rd floor. You'll need to take your passport and register at the reception desk in the lobby to get a lift pass but there was no one else there when we visited and the view was stunning.
Museums
Seven of Hong Kong's museums are free on Wednesdays. To be fair they only cost HK$10 each (about £0.80) on a non-free day so they're hardly going to break the bank, but every little helps…
We had three Wednesdays and so naturally we visited three of the museums…
the excellent Hong Kong Museum of History tells the Story of Hong Kong from its natural history to the different ethnic groups who lived there and the story of the British colonisation

the Hong Kong Heritage Museum had fascinating exhibitions ranging from Bruce Lee, to fashion design, to traditional woodblock printing and more…

Hong Kong's Museum of Art has an excellent location on the shorefront in Tsim Sha Tsui. We particularly enjoyed the exhibitions of traditional Chinese painting and the fascinating guided tour of the Xubaizhai collection
Tai Chi
If you spend any time in China or Hong Kong and happen to be up and about fairly early then it's likely that you'll see locals doing Tai Chi in parks and open spaces. In Hong Kong you get to have a go as well! Three times a week on the harbour front near to the Hong Kong Museum of Art there is a free Tai Chi class taught by husband and wife team William and Pandora (and run by the HKTB). We really enjoyed it although we often found ourselves thinking we were doing quite well just before noticing that our feet were in entirely the wrong position!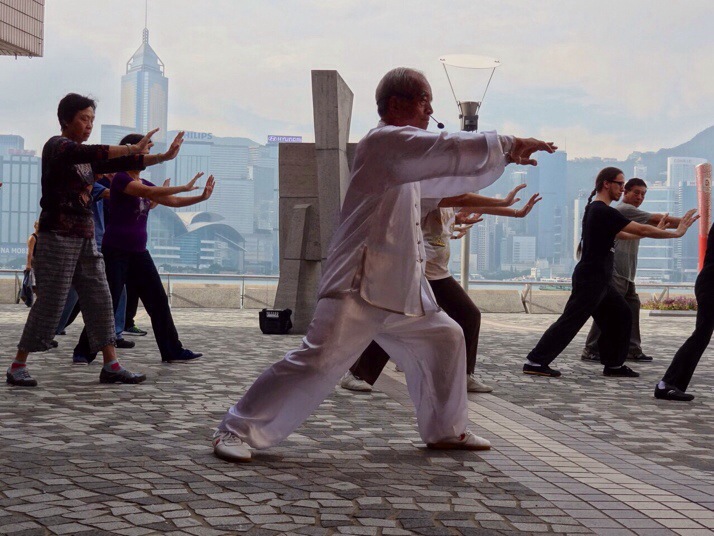 A Symphony of Lights
To be honest, we didn't find this free light show (which runs every night at 8pm) to be as spectacular as its blurb suggested:
"A Symphony of Lights" has been awarded the world's "Largest Permanent Light and Sound Show" by Guinness World Records. This nightly spectacle combines interactive lights of 45 key buildings on both Hong Kong Island and Kowloon with musical effects to showcase the vibrancy and glamorous night vista of Victoria Harbour.
Nevertheless, it is definitely worth heading to the waterfront to see the Hong Kong skyline at night.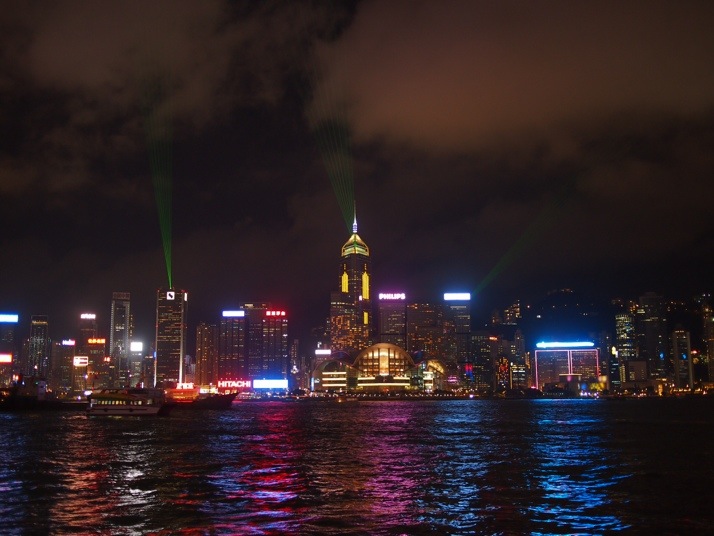 Laser show. English narration happens on Mondays, Wednesdays and Fridays.
Markets
I always love visiting local markets, and there are some interesting ones in the Mong Kok area of Hong Kong. We also enjoyed exploring the local food markets where we got splashed by a fish trying to escape, admired the unusual vegetables and marvelled at the chicken feet, cooked ducks with heads intact and miscellaneous other things that we Europeans would not normally consider to be edible…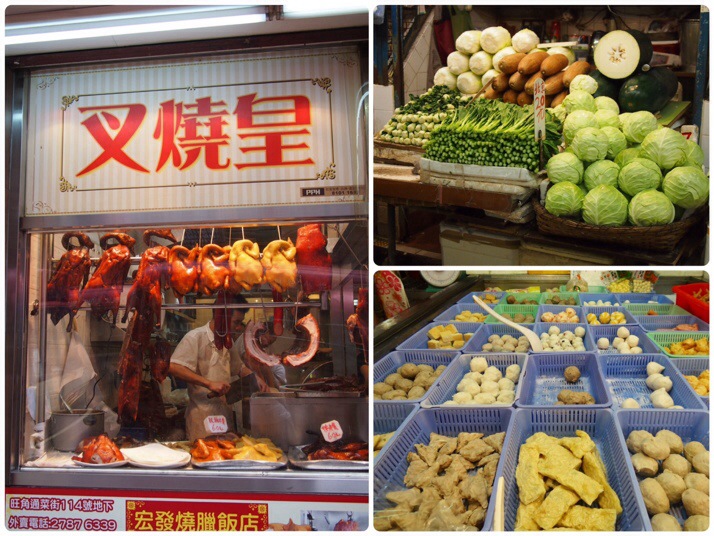 Roast meat shop (notice that the birds still have their heads), a neat display of vegetables, a selection of meat and fish 'balls'
Hiking
Not the first activity that comes to mind when you think of urban Hong Kong, but a surprising 70% of its land area is green hills, mountains and tropical forest. The trails are well marked and the scenery lovely, just remember to take plenty of water and watch out for the giant spiders…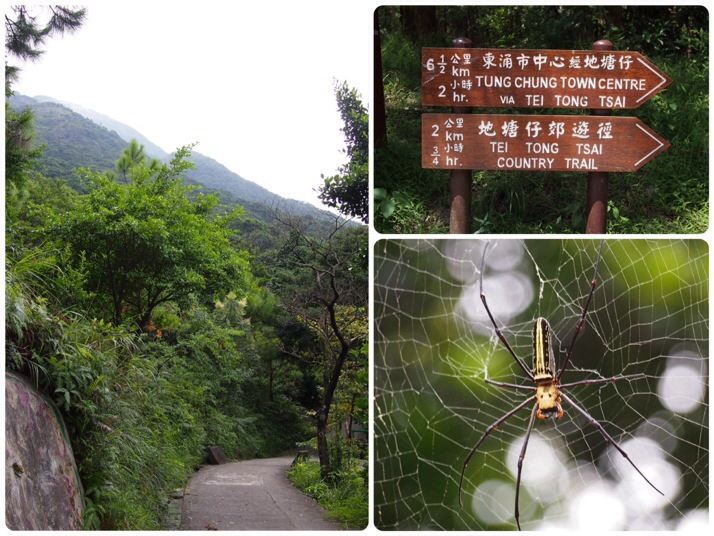 Mountains and path on the way from Po Lin monastery to Tung Chung, trail marker signs, Giant Golden Orb Weaver Spider
Temples and churches
Lots of Hong Kong's religious sites can be visited for free.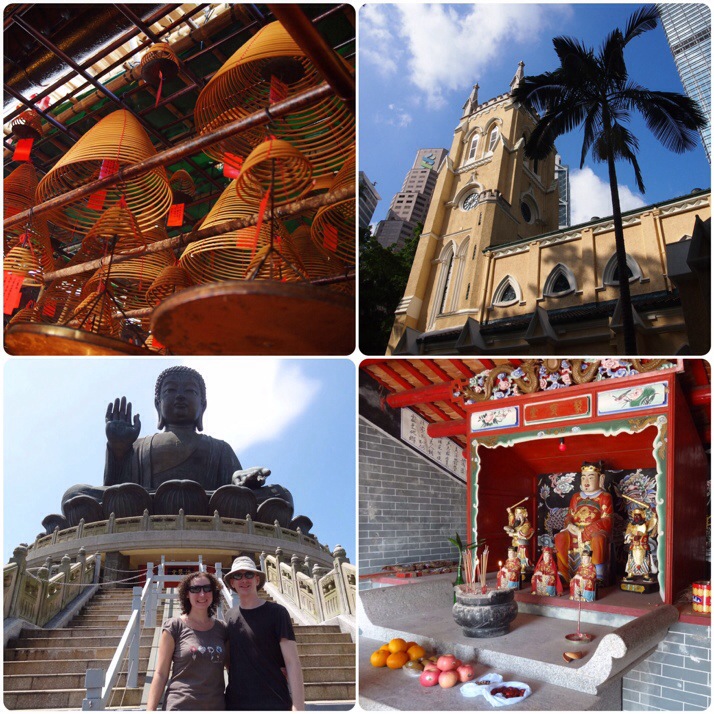 Incense coils in the Man Mo temple in Sheung Wan, St John's Cathedral in Central, Us with the Big buddha statue at Po Lin monastery on Lantau island, altar in Yeung Hau Temple on the Ping Shan Heritage Trail
Local festivals
During our first week in Hong Kong we happened to see a poster advertising the Mid-Autumn Lantern Festival. There were three locations around the country and the closest to where we were staying was Tuen Mun in the western New Territories. We weren't sure what to expect but we enjoyed the display of colourful lanterns in the park and cultural shows – Cantonese opera, youth stage, and circus artists. To find out what's on at other times check out the Leisure and Cultural Services Department website.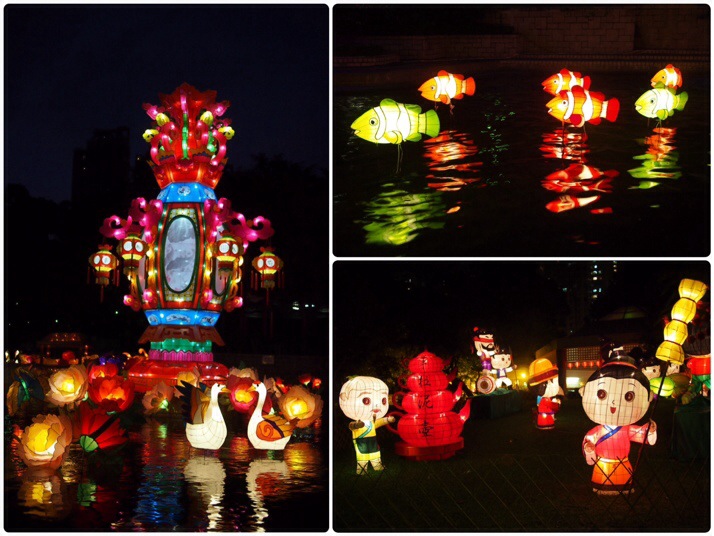 Lantern displays in Tuen Mun Park
Getting around
Although all of these activities are free, Hong Kong is a big place and at some point you'll need to use public transportation to get you from point A to B. Fortunately Hong Kong's underground rail network, MTR, is cheap, easy to use and extensive. And if you're staying for longer than a couple of days then we'd recommend picking up an Octopus card which gives you discounts on MTR tickets and saves you queuing for tickets before every journey or needing to find the correct change on the bus.