After our day trip to Mtskheta, we ventured a little further afield to the south eastern region of Kakheti which, as well as the following sites, is also famed for its wine. Enroute to our destination of Sighnaghi and straddling the border with Azerbaijan is the 6th century cave monastery of Davit Gareja. Using public transport to get out this way would have doubled the time we needed, so we took the easy option and hired a guide-taxi through our Tbilisi guesthouse.
Davit Gareja
After a long 2 hour drive through increasingly bleak and sparsely populated land we arrived at the remote monastery of Davit Gareja, a relative oasis compared to the dry and treeless surroundings. Our guide Giorgi explained that as well as carving out their single-cell shelters, the monks used diagonal channels in the rock faces to collect the little rainwater the area gets. We were surprised to find much of this part of the complex is in use; the larger caves looked inhabited, some areas were cordoned off requesting visitors to kindly respect monk's privacy, and there were about a half-dozen monks saying prayers in the small chapel which made it feel almost bustling.
From the upper courtyard we took an energetic trail up through the monastery, past a few more basic caves and a couple of armed Georgian border guards to the top of the ridge before dropping a little way down the other side. I wasn't entirely sure why we'd left the monastery and were following a path that is essentially the border with Azerbaijan until we'd gone about 100 meters..
Frescoes, frescoes everywhere! We spent a good hour or so working our way along the remains of the frescoed caves, many of which were just open to the elements. It was amazing how well they'd held up to the weather given a lot of walls had fallen away, but it was bittersweet that some Soviet visitors had scratched their names into the plaster.
Bodbe Convent
From Davit Gareja we drove another 2 hours to reach the outskirts of Sighnaghi. We'd planned to visit Bodbe Convent the following day, but as Giorgi and our fellow tourist Daniel were due to head back to Tbilisi the same day it made sense to include this small but important site in the itinerary. Set amongst tall cypress trees and lush, immaculately kept grounds, the peaceful Bodbe Convent is the final resting place of St. Nino, who converted the King and ultimately Georgia to Christianity.
Sighnaghi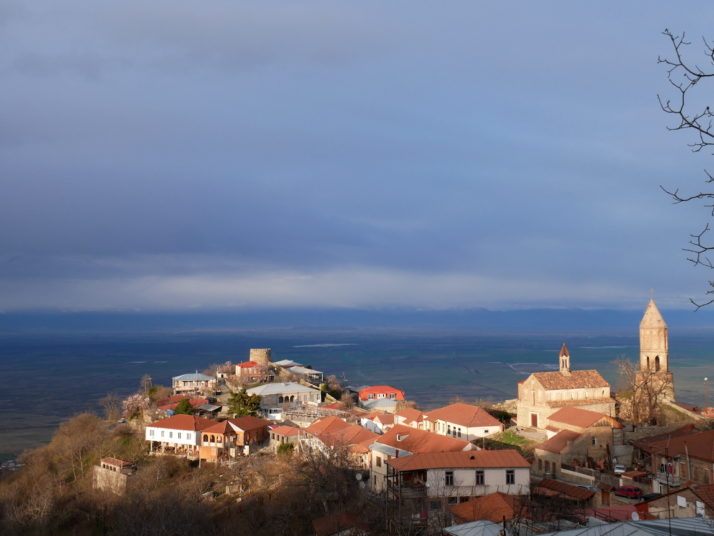 Our base for a couple of nights was Signhaghi, a laid-back, quiet, picturesque hill-top town ringed by a turret studded wall. Given that we'd already done our day's sightseeing activity before we'd arrived, we took a leisurely wander around the town's walls which afford spectacular views of the wine growing Alazani valley and Caucasus mountains beyond (when there aren't clouds in the way!).
After a lazy day of wandering around in the morning and catching up with photos and diary writing in the afternoon we spent the evening indulging in great food and very good, very local wine!
The Kakheti region makes up about 60% of Georgia's vineyards and has been a wine producing area for over 8,000 years. To this day the Georgians take enormous pride in their traditional method of natural fermentation in large clay pots called qvevri sunken into the ground. They also use the whole grape – skin and pips – which turns their white wines a rich sunset amber colour, though they're still light and refreshing. Delicious!