As we mentioned in our post about Catania, the town sits at the foot of Mount Etna – Europe's tallest active volcano at a height 3,329m (10,922ft). Having climbed Mt Fuji earlier this year, we wondered if it would still be possible to hike on Mt Etna this far into the winter season, and to our delight, it appears that only eruptions cause it to close!
Mt Etna is a still very much an active volcano and had erupted in August this year – just 4 months ago – and a couple of craters near the top are still emitting a little ash. I'll say at this point that we didn't know about the August activity until I was researching this post.. not that it would have changed our plans!
Getting there
As we're finding in Sicily, information about public transport is relatively easy to find, but locations of bus and train stations are a bit trickier, and the English versions of websites aren't as complete as their native Italian counterparts. This is just a little niggling pain when trying to plan our manoeuvres..
Anyhow, we confirmed our plans with the very friendly lady at the Catania Tourist Information office who also checked the weather and suggested we go sooner than we'd originally planned. Two days later we were up and out at the bus station near the train station waiting for the 08:15 bus that goes to Rifugio Sapienza some 1,910m (6,266ft) up Mt Etna.
08:15 came and went. Then 08:30. The somewhat official guy at the bus stop kept checking his watch and reassuring us in Italian, but when he showed us a pricelist for a tour of Etna by taxi we started to get a little concerned.. he kept checking his watch so we decided to keep waiting with the other handful of others clutching their coffees.
5 minutes later the bus came hurtling around the corner. We picked our seats and tried to catch up on a little sleep during the 1½ hour journey.
The Hike
The friendly bus conductor told us all that he'd return to the drop-off point in front of the semi-circle of souvenir shops at 16:30 to take us back to Catania. Rifugio Sapienza is just over half-way up the side of Mt Etna, and this large open-air car park offers little protection from the bitter winds that whip through – it was a very cold first experience, and for the other 3 tourists who hadn't come dressed to hike in winter conditions we think it put them off as we didn't see them again until the return journey!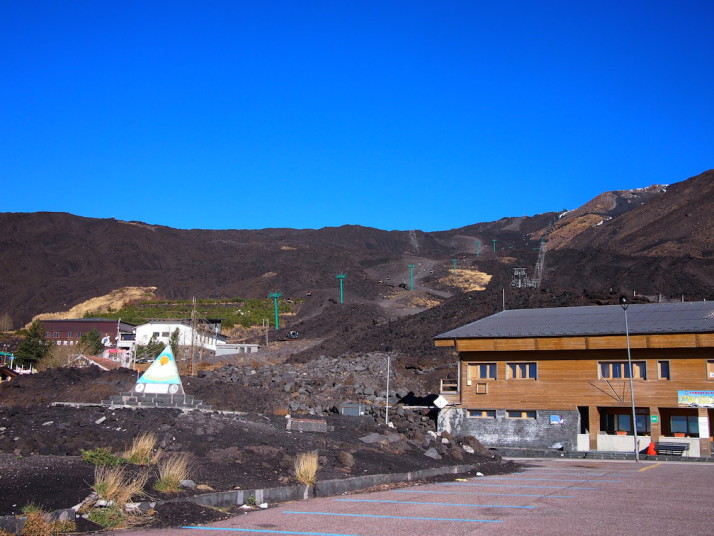 1910m: Rifugio Sapienza, the starting point is very similar to the Yoshida-guchi 5th Station on Fuji, in that it's a giant car park with cafes, restaurants, a hotel and, of course, souvenir shops.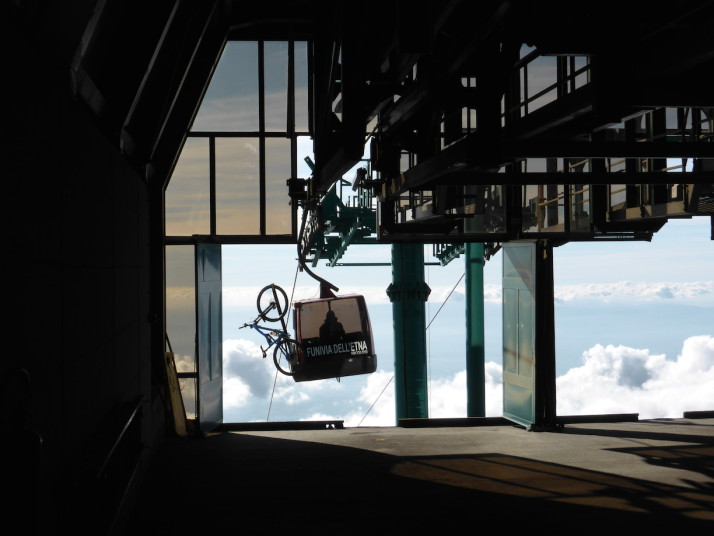 1910m: While it's possible to hike up from Rifugio Sapienza, we decided to take the cable-car to Montagnola and hike further from there. We'd read this section takes about 4 hours to hike or about 20 minutes on the cable-car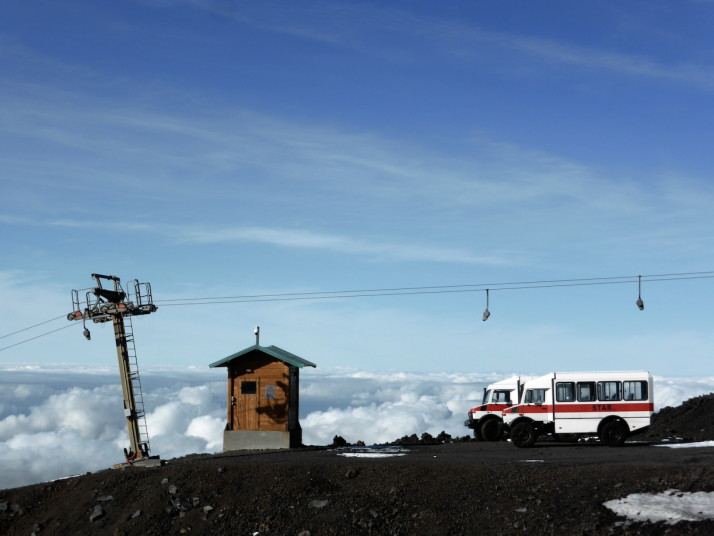 2500m: From Montagnola we could have taken one of the cool Unimogs to the guide station at 2920m, but it wouldn't be much of a hike if we didn't actually do any hiking!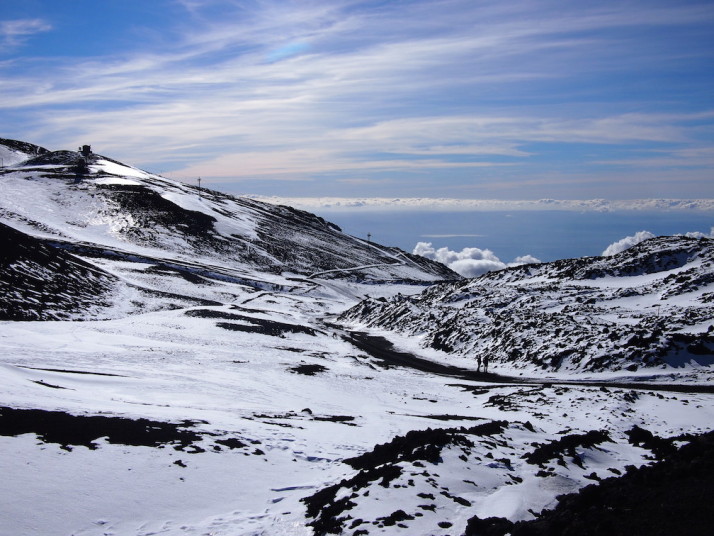 ~2600m: Starting out on our hike to Torre del Filosofo. At this point we were starting to feel a little short of breath because of the altitude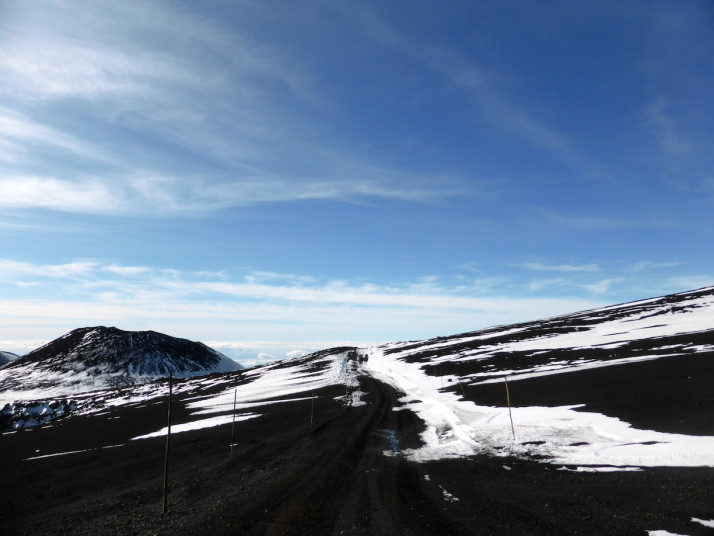 ~2650m: Looking back down the trail. The landscape is binary – coffee black volcanic rock and egg-white snow with the sky providing the only colour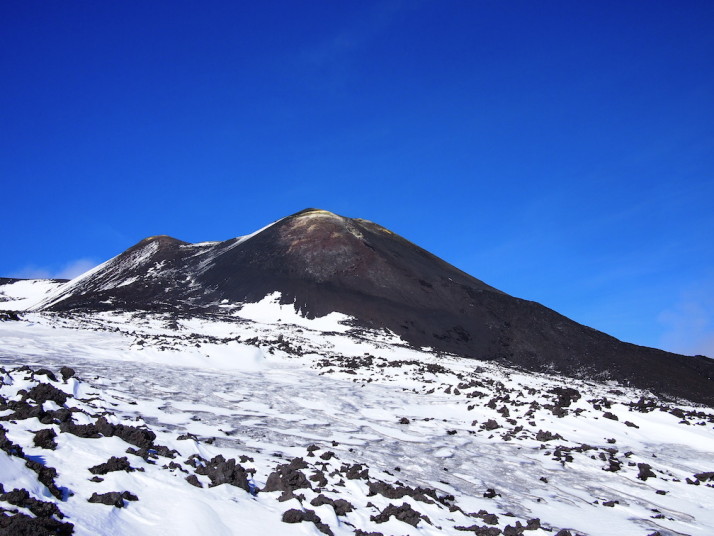 ~2700m: Finally, the sulphur yellow of the top of Mt Etna pops into view

2920m: Torre del Filosofo, or the top station. We'd read that it's not permissible to venture further without a guide, but aside from a signpost there wasn't anyone there to stop us if we were so inclined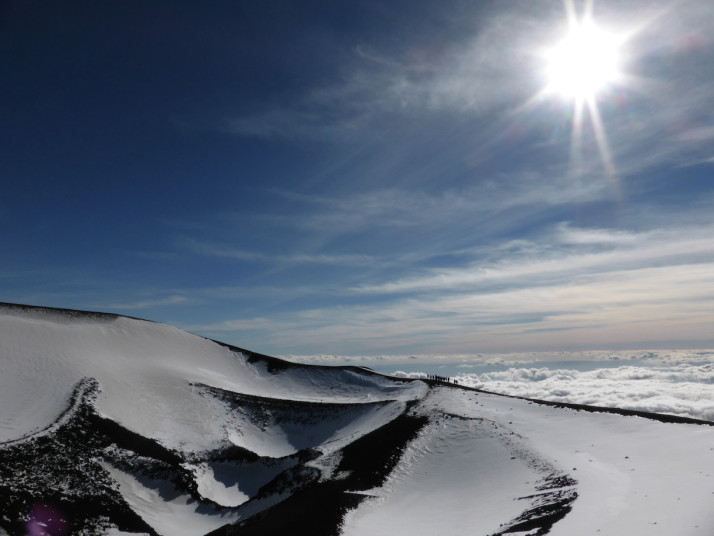 ~2950m: We climbed the ridge of the nearby craters and were rewarded with amazing views of Etna behind and above us, and a blanket of cloud below that covered Catania. Views like this are usually the reserve of aeroplane journeys! We'd arrived at the top just after a Jeep-Bus, which made for some great photos – having people in our shots gives some perspective of how massive these volcanic craters are!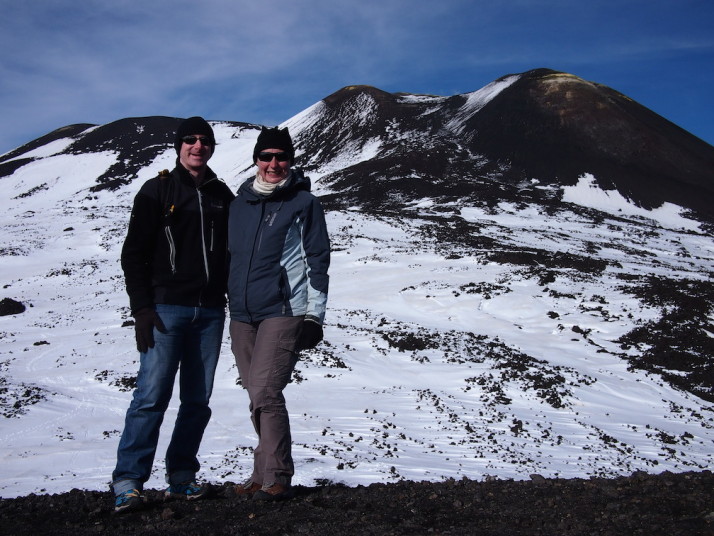 ~2950m: The highest point we reached was on the ridge of one of the large craters. Time to pose for a photo with Mt Etna herself!
After circling the craters (and taking a lot of photographs), we headed back down the same track alongside a couple of mountain bikers and 3 skiers!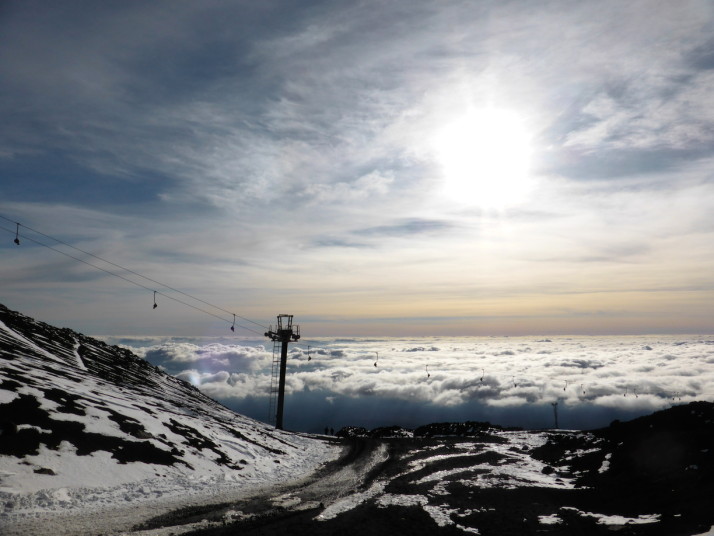 ~2550m: The downhill was a lot easier and as we didn't have to stop to catch our breath as often it was quicker too. We made it back to Montagnola and then via the cable-car to Rifugio Sapienza with plenty of time to spare before the return bus to Catania!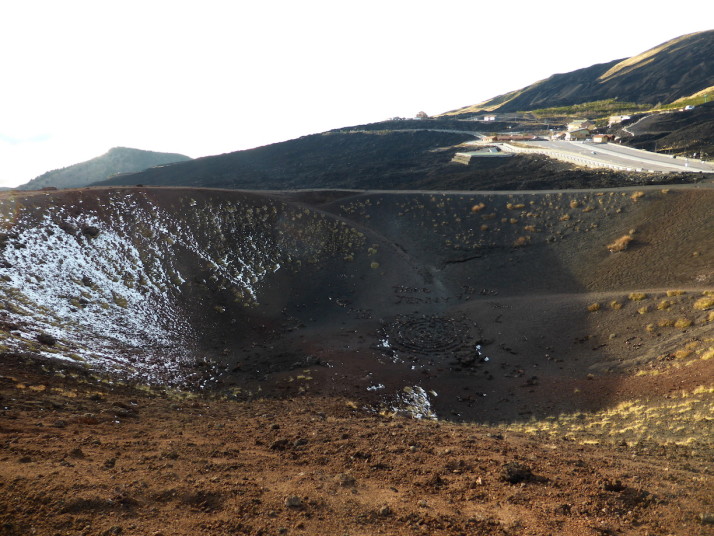 ~1915m: Just to the east of the big car parks are a couple of recent craters that we decided to wander around while we waited for the bus. This is the Crateri Silvestri which was formed in 1986.
Despite hiking in December rather than July, Mt Etna was warmer than Fuji, and was nowhere near as arduous. Next time we're bringing skis for the downhill leg though!