If you haven't been to Russia then you might have a preconception about how Russian people are. Cold? Reserved? Rude and unhelpful? That was along the lines of what we thought before we came here.
Admittedly, there is sometimes a lack of awareness of other people – we've learnt not to follow too closely when going through swing doors because people don't look behind themselves and just let go, so if you're not careful you get a door in your face… But when we've had contact with individuals, we've been constantly amazed at the level of generosity and friendliness.
The most recent example was on Wednesday in Ulan Ude. Andrew needed the knee of his trousers mending (don't laugh, but he fell off his bike!) so we found a small clothing repair shop. We explained to Nadya, the seamstress, that we don't speak Russian, but it was fairly obvious what needed to be done and, to our surprise, she started straightaway. She spoke a little English and asked us some questions as we waited, but pretty soon she wanted help to interrogate us, and enlisted Nikolay, a used mobile phone salesman who shares the same unit, and speaks excellent English (although he claims to be a bit rusty). We chatted for about 15 minutes while Nadya stitched up the tear at the same time as chipping in with the conversation. When it was all fixed, Andrew asked how much and was told that it was a present for us. So, we got to have a chat with lovely, interesting people, the trousers were expertly mended straightaway (we expected to drop them off and collect them in a few days), and she didn't want us to pay for the repair. I can't imagine that happening in the UK.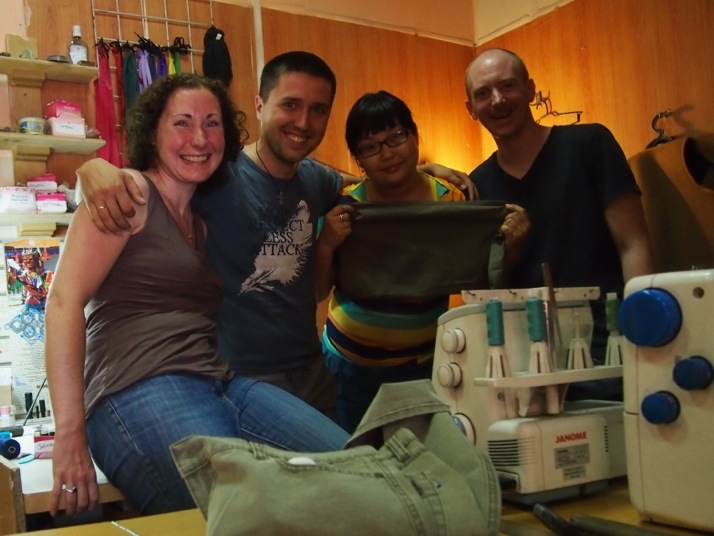 Julie, Nikolay, Nadya and the mended trouser leg, and Andrew
Another great experience happened in our hostel in Krasnoyarsk, we were waiting in the common room to use the kitchen after a Russian guy who was making a large pan of amazingly aromatic soup. Moving around him as he was finishing, I indicated that I thought it smelt great and before we knew it he had dished us up a bowl each! His English was about as good as our Russian which made conversation very limited but he told us it was Solyanka and I managed to work out all the ingredients so I might have a go at recreating it when we get home.
EDWARD'S SOLYANKA RECIPE
Russian sausage – something like a Matteson's sausage
Corned beef
Black olives
Gherkins
Carrots
Potatoes
Dill
Paprika?
All diced and cooked in stock (?). Serve topped with a dollop of mayonnaise.
We've had several nice experiences on the train. Andrew had a long, sign language assisted discussion in a mixture of broken English, Russian, and German with Vasily, a salesman. And on the train from Krasnoyarsk to Severobaikalsk, we watched the woman in the next compartment expertly crochet and stitch together a small toy. We were very pleased with ourselves when we worked out that it was an owl, and absolutely gobsmacked when, on finishing, she got up and presented it to Julie. We hardly exchanged a sentence with her, and still don't know whether she intended to give us it from the start, or gave it because she saw our interest. His name is Sova (Russian for owl), and he now lives in my backpack.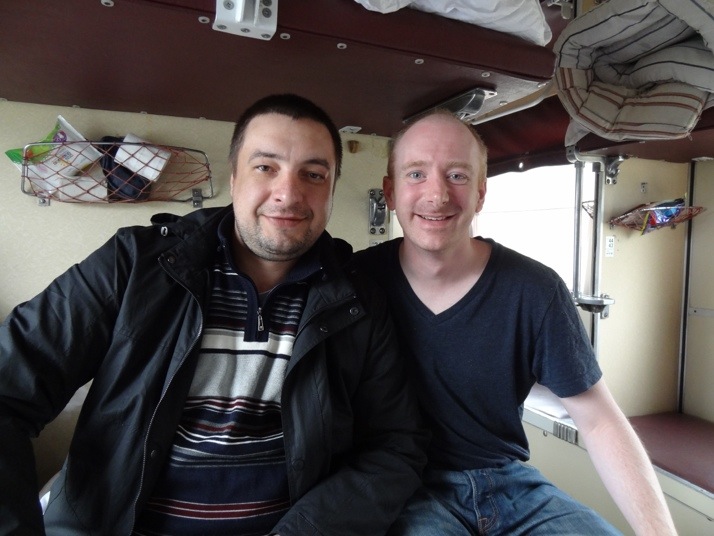 Andrew and Vasily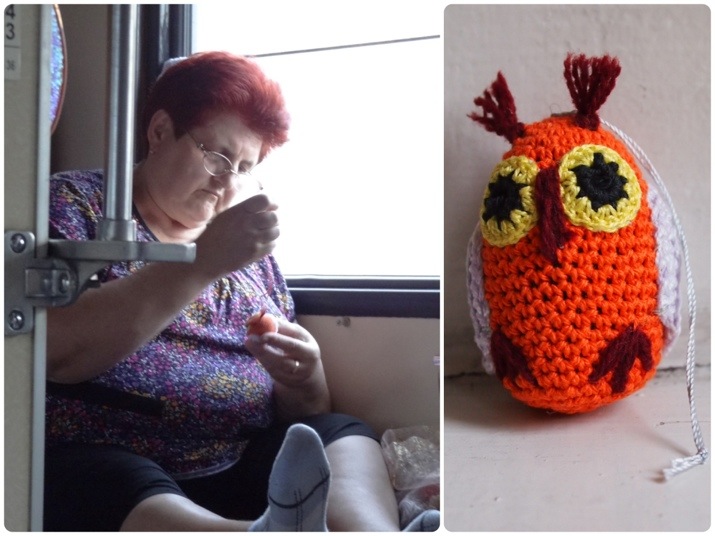 Sova and his creator
These are just a very few of the many kindnesses that we've experienced over the last 10 weeks of travel through Russia. Not many Russians speak English, many not even a few words and so without their patience, generosity and good humour over our mangled attempts at Russian and creative sign language, our journey would not have been nearly as easy or as pleasant.