China is the first country that we've visited twice on this trip. Last time we were focussed around ancient China with the Great Wall and imperial sites in Beijing, the ancient city of Pingyao and all the archaeological sites near Xi'an, this time we've seen some of the country's more recent history with the Bund in Shanghai and the Massacre Memorial and Presidential Palace in Nanjing. Even after two full months we've barely scratched the surface of what China has to offer and we're certain that we'll be back.
What photo takes you right back to China?
The highlight of our trip through China this time was our three day stay in Zhangjiajie with its breathtaking scenery.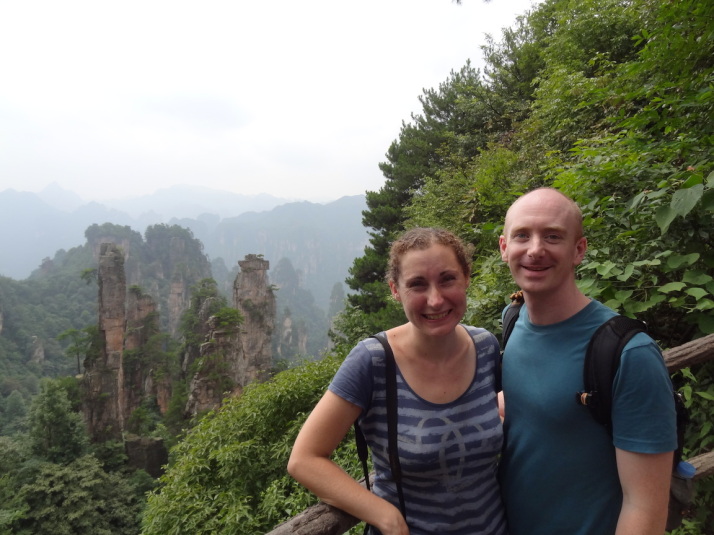 Summarise China in three words.
Populous – There are 1.35 billion people living in China but the scope of that never really hit us until we came here. Shanghai and Beijing each have around 20 million residents and some of the "smaller" cities we've visited (Suzhou, Hangzhou, Nanjing, Wuhan) have 6-7 million inhabitants. To put that into perspective, it's way more than any city in the UK other than London and even our capital has only 8.4 million.
Enormous – pretty much everything is on a scale that makes our jaws drop, from the size of cities to the dozens of apartment blocks being constructed on their edges to the massive sandstone karsts in the Zhangjiajie National Park
Delicious – we'd remembered really enjoying the food last time we were in China but it was even better than we remember!
You really know you're in China when…
…you're being jostled and barged when trying to get on or off a train or subway, or through a ticket gate. You know you've been in China for too long when you start to join in!
What one item should you definitely pack when going to China?
A good book and some films on your laptop or tablet to while away the hours you'll spend on trains. China is so huge that it takes a long time to get from place to place which we don't mind as we love the chill out time on the overnight trains.