When we were planning our trip to Cuba, we'd decided to skip the green valleys of Cuba's primary tobacco growing region as we're non-smokers, we'd see two other national parks in the east and we'd read other travellers' reports that the weather is unpredictable.
However, once we arrived in Cuba, everyone we met, and I do mean everyone, said that we simply had to fit it in because it's so beautiful.
We did, and they were right!
Finding ourselves firmly on the typical tourist trail, we were able to try Cubanacan who are the other state-run coach company, which transfers from a lot of the swanky central hotels in Havana and is a lot more convenient (and cheaper) than getting a taxi to the Viazul bus station. The coach trip was pleasant and uneventful, until the final descent into the Valle de Viñales and we caught our first glimpse of the unique mogote strewn landscape..
From what we could make out, the little town of Viñales exists almost entirely for the service of tourists. The main street is lined with cafes and restaurants, a handful of shops, a bank, and a money exchange, while the rest of the town is comprised of casa particulars – we varied our route through the town's back streets and it seemed like every house had a room for rent!
Once we'd settled ourselves into our casa and had a spot of lunch, we picked a direction and went exploring. The main street isn't very long and we soon found ourselves down a dirt track between the deep red fields dotted with tobacco drying sheds.
Horseback riding is a very popular activity in Viñales, and while we can see the appeal of letting the horse do the work so you can appreciate the scenery, we favoured the cycling option and arranged to hire a couple of bikes through our casa.
No sooner had we set off than I attempted to change gears and the chain snapped! While a friendly gentleman helped me look for the missing link in the road, Julie made her way back to our casa to get in touch with the lad who'd rented us the bikes, who just happened to ride past, came over and simply swapped the disabled 'Flying Pigeon' for a double suspension 'Mongoose'. I thanked them both, met up with Julie and we set off again..
Not having intended to visit Viñales, we hadn't done a lot of research about the area and the bike rental was simply that – here's a bike, see you later! – no maps, hints, or suggestions! We used a combination of the Lonely Planet and the offline maps of Cuba on my phone to plan out a rough loop that took us past the Cueva del Indio, through a town called the Republica del Chile and the recommended Valle el Silencio.
Viñales is a lovely place to cycle. It's pretty flat, the scenery is varied and interesting, there are plenty of trails and when we were on the roads there wasn't much traffic. Outside of the town there are a few places to stop for refreshments and lunch dotted here and there, though the further we travelled they were fewer and farther between. The second half of our route took us out into the wilds and it had gone 3pm by the time we found somewhere for lunch. We'd consumed all of our snacks and 4 bottles of water cycling through the heat of the day, and we hadn't realised how ready for a break we were!
The eco-farm we found in the Valle el Silencio is very much on the independent tour guide itinerary as it's well set up for small groups of tourists. We shared a main meal between us which was plenty, and included in the price was a tour of the adjacent organic farm which we were a little reluctant to do at first as we feared it'd be a hard sell. Our bottoms weren't quite ready to get back onto the bikes so we relented to the tour and it turned out to be really interesting.
Our young guide explained that what they grow and harvest here is primarily used in the restaurant and to feed the family. They grow a little bit of everything, I lost count of the different types of fruit but something we hadn't seen in our travels thus far was cocoa growing on the tree.
The tour also included one of the farmers demonstrating how cigars are made in the countryside and as we'd seen them made by hand in the Partagas factory in Havana, it was fun to spot the differences in their technique and unlike in Partagas he was happy for us to take pictures..
Apart from a short and deeply rutted part of track immediately after our late lunch stop, the remaining trail was easy going and we slowly descended through the Valle el Silencio back to Viñales. We tracked our ride on Strava and logged just over 20 miles!
For our final full day in Viñales we hiked in the other direction from our bicycle ride, notionally in the direction of a large, outdoor painting on the side of a mogote that depicts evolution and is totally panned in TripAdvisor reviews. How bad could it be? Could it be so bad that it's actually good?
Moving somewhat swiftly on, the farm tracks circled round the defaced mogote and made for a fairly long but gentle walk through peaceful farmland. No noisy polluting engines, just the rustle of the gentle breeze through the fields.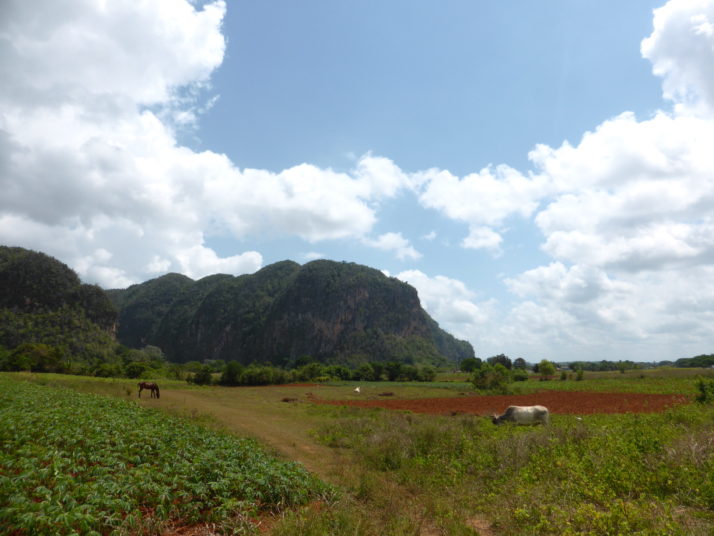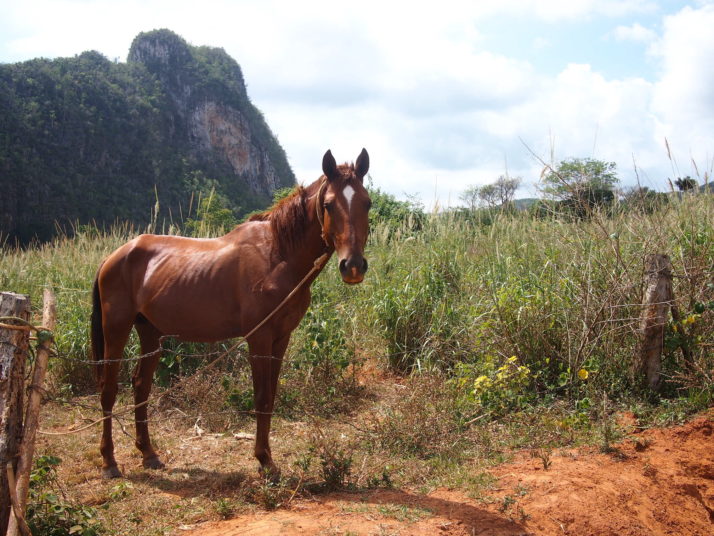 The track eventually met up with the main but not too busy road back into Viñales, and before we knew it we were back. Thank you to those that convinced us to change our plans – we're really pleased we went – it was a peaceful, un-hassly, nature filled and relaxing change after our time in Havana.