Getting our 30-day Mongolian Visas in Irkutsk was straightforward, but extending our stay once we'd crossed the border wasn't. Here's a quick guide to pay forward the help we received.
If you wish to stay in Mongolia longer than 30 days, you have to register within 7 days of arrival. Registration and visa extension can be done at the same time with the same registration form in the Office of Immigration, Naturalisation and Foreign Citizens (INFC). Note that you can only extend your visa once.
What you need
You must bring the following with you:
Passport
Passport photo – there isn't a photo booth in the building, so bring one with you
Money to pay for your registration form and extension: 1000 MNT (Tughriks) per form (required for registration and extension), ~$2.60 USD per day for extension, payable by cash or credit card
Full address and phone number of your current accommodation in Mongolia – If your accommodation is in Ulaanbaatar, you'll need the District and Sub-district too
It'll be faster if you can also bring the following with you:
Photocopy of Passport and Current Mongolian Visa – these can be on the same piece of paper, and on the reverse of your explanation letter (see below). The front desk does photocopies for 100 MNT
Explanation Letter (sample below) – a simple letter from you explaining the reason for your visa extension request
A pen
Getting there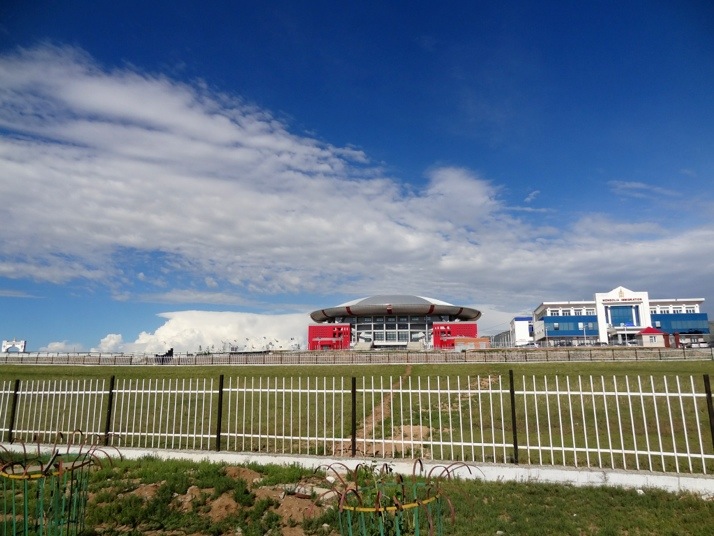 The right-most blue and white building is the The Office of Immigration, Naturalisation and Foreign Citizens (INFC) in Ulaanbaatar. You can just see the Ulaanbaatar welcome arch to the left, look out for the big red and white building with the circular roof which is next door and clearly visible from the main road
If you've arrived by aeroplane, the office is en-route to the centre of Ulaanbaatar, 1.8km from the airport. Head west along the busy main road (turn right out of the airport), and the INFC office is on your right before you pass under the Ulaanbaatar welcome arch, about 1.8km from the airport. It's easily walkable, but there isn't a footpath.
If you've arrived by train, bus, or are already in the centre of Ulaanbaatar, take bus #11 heading south from outside the Bayangol Hotel. Get off at the Ulaanbaatar welcome arch, about 30 to 40 minutes later. The bus costs 400 MNT (Tughriks)
Mongolian Visa Registration and Extension
When you enter the building, the front desk is on your left, and before the stairs in front of you are doors to your left and right. To your left is a branch of the Golomt Bank, and your first stop if you are extending your visa. To your right is the visa registration hall.
Pay for your visa extension. (skip this step if you're just registering)I know, it sounds absurd to pay upfront, but you need your receipt of payment to get your application form! Go the Golomt Bank in the left hall. There are 3 cashier windows, and you're unlikely to get an English speaking clerk. If you're told you need the form first, try a different window. We hit lucky on our first attempt, but a fellow tourist from Holland was knocked back, tried a different window and paid successfully! All you need to tell them is the number of days you want to extend by (minimum 7, maximum 30) – write it down if necessary.
Collect an application form. In the visa registration hall (the hall on the right), you'll find numbered windows facing you as you enter, and down the right-hand side. On this right-hand side is a lowered information window with chairs in front of it, and the first standing-height window to the left of this is where you show your bank receipt and collect a registration and extension form, paying the clerk 1000 MNT in cash.
Fill out the form. There are plenty of tables to rest on, and there are glue-pens for affixing your photo.
Write out a simple Explanation letter, if you haven't already (see sample below). You can ask for blank paper from the front desk.
Go to window number 4 "Tourist", and hand over your Passport, copy of your passport, copy of your visa, completed application form with photo attached, explanation letter and payment receipt to the clerk. It's likely there will be a queue, don't take a number, just queue (the numbers are for the regular windows)
The clerk will check over your registration form, passport, visa, copies and receipt, and likely won't read your explanation letter. After a few minutes on their computer, they'll stamp your passport and return it to you with your payment receipt.
Congratulations!
Sample Visa Explanation Letter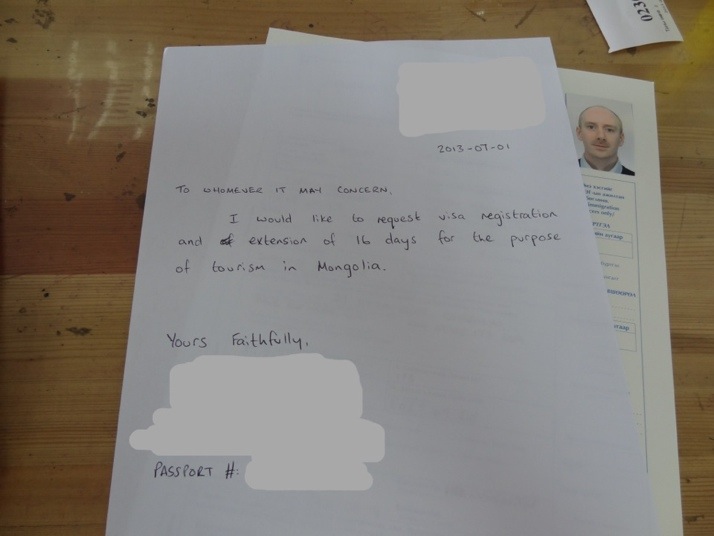 The Visa Explanation Letter I submitted
[Home Address – same as on the Registration Form]
[Todays Date]
To whom it may concern,
I would like to request visa registration and extension of [# Days] days for the purpose of tourism in Mongolia.
Yours faithfully,
[Signature]
[Name]
Passport # [Passport Number]