Many of the big cities we've visited on this trip have some kind of discount card which is valid for many of their attractions. They tend to be a really good deal if you want to tick off three or four big name sights during a short visit. Unfortunately for us they're usually only valid for 1-5 days and we want to spread our sightseeing out over a fortnight or a month rather than cramming it all into just a few days.
Amsterdam has this option too, it's called the iamsterdam card and covers public transport as well as entry to attractions for 1, 2 or 3 days. But there's another option here. If you're not bothered about public transport (and it is very feasible to walk everywhere in the centre), the Museumkaart (Museum Card in English) is valid for a full year and allows multiple entries to around 400 museums across the country. It costs €59.50 and can be bought from museum ticket offices (we picked ours up at the Van Gogh Museum). It easily pays for itself after 4 or 5 visits as museums here are pretty pricey. In total we used it for €121.50 worth of visits during our month in Amsterdam, saving over €60 per person. Granted we wouldn't have visited all of these places if we hadn't had the card but it allowed us to just have a quick look whenever we were vaguely interested.
Here are the places that we visited using the Museumkaart:
Van Gogh Museum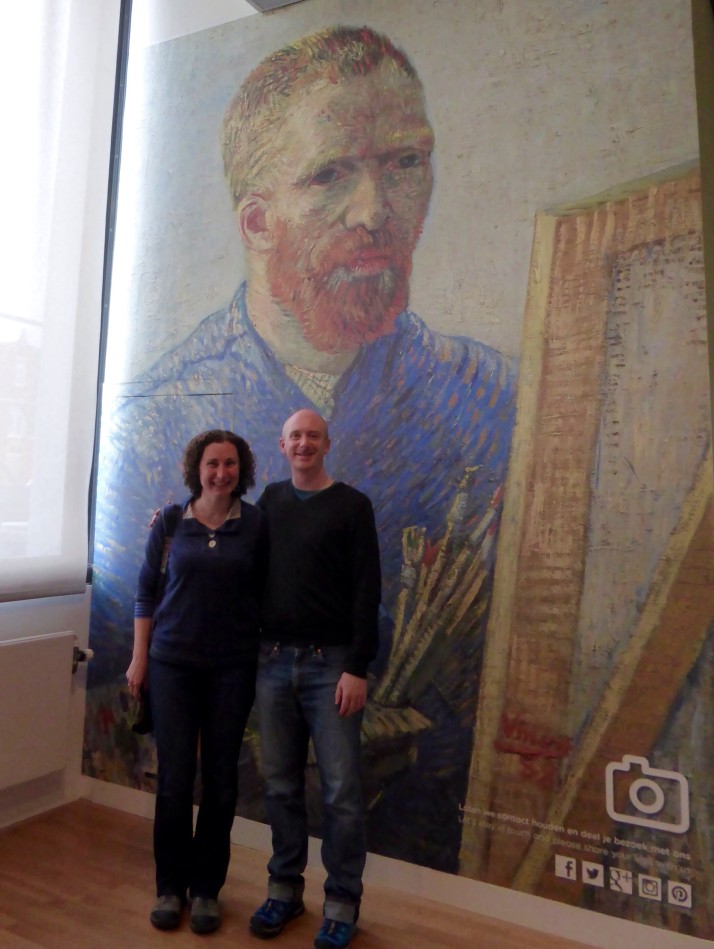 You'll never see as many Van Gogh paintings in the same place again as are in the galleries of the Van Gogh Museum. It's laid out in chronological order and includes paintings by other artists to show how his contemporaries were working and those who were influenced by him, including Monet, Manet and Francis Bacon. We thoroughly enjoyed it and were happy to visit again with Dan, Clare, Scott and Emma.
Huis Marseille Museum of Photography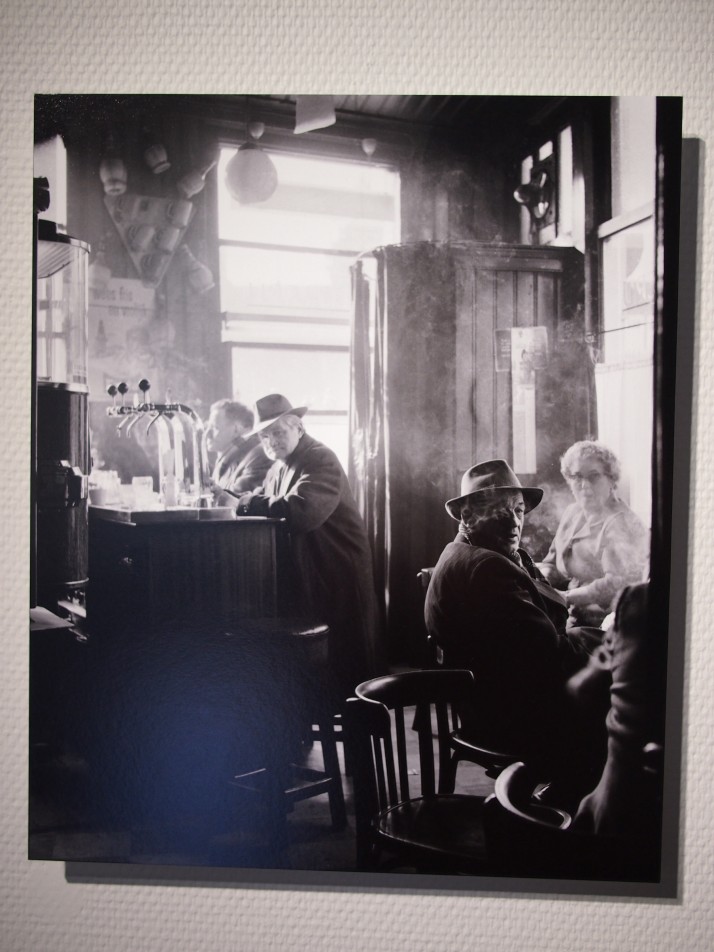 "Janus 'the Polisher' in café Hans en Grietje", a 1958 photograph by Cor Jaring
Housed in two neighbouring canal houses the Huis Marseille Museum of Photography is host to a number of temporary exhibitions. When we visited one was a fascinating collection of pictures from a photographer who had visited North Korea, but over half the space was given over to a retrospective on the life's work of local photographer Cor Jaring.
Nieuwe Kerk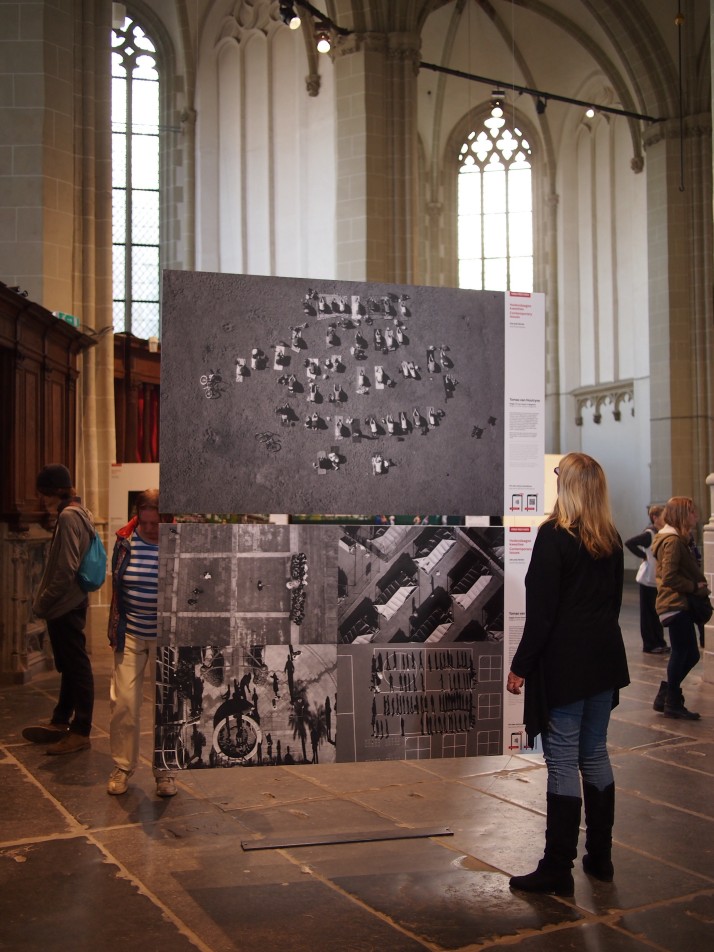 I loved this series of photographs by Tomas van Houtryve taken from a drone in the US of events which are the habitual targets of drone strikes abroad – thought provoking and visually stunning
The Nieuwe Kerk (literally New Church) is a former church which is now used for art exhibitions. At the beginning of our month here it was showing a video installation by Bill Viola, and for our final week, the winning images from the 2015 World Press Photo competition. The video installations were quite hypnotic but maybe not something we would have paid to see. Whereas we knew we would enjoy the photographs as we saw the 2014 winners in Tokyo last year. Once again we were stunned by the ability of the photographers to capture the story in the images as well as often achieving something jaw-droppingly beautiful.
Museum Van Loon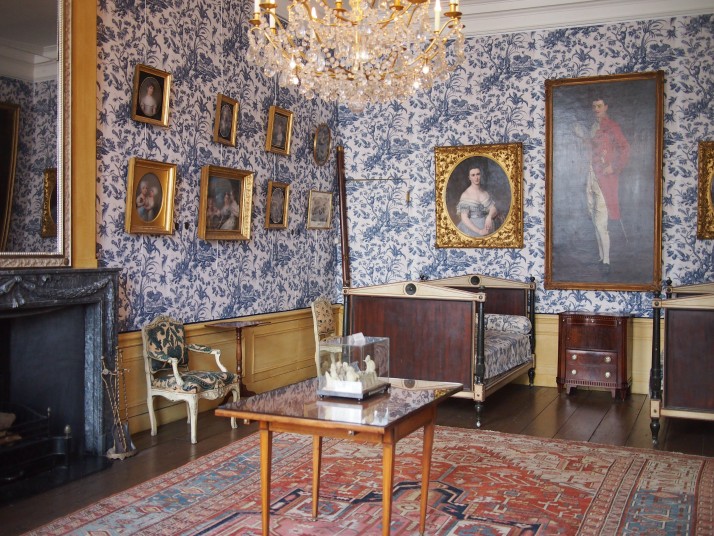 After wandering beside so many of Amsterdam's canals and admiring the architecture of the canalside buildings we wanted to have a look inside one. The Museum Van Loon is stilled lived in by the Van Loon family although nowadays they're up in the former servants quarters and the house's main rooms have been restored to their former splendour. It was also nice to spend some time in the small garden tucked away behind the house and entirely invisible from the street.
Rijksmuseum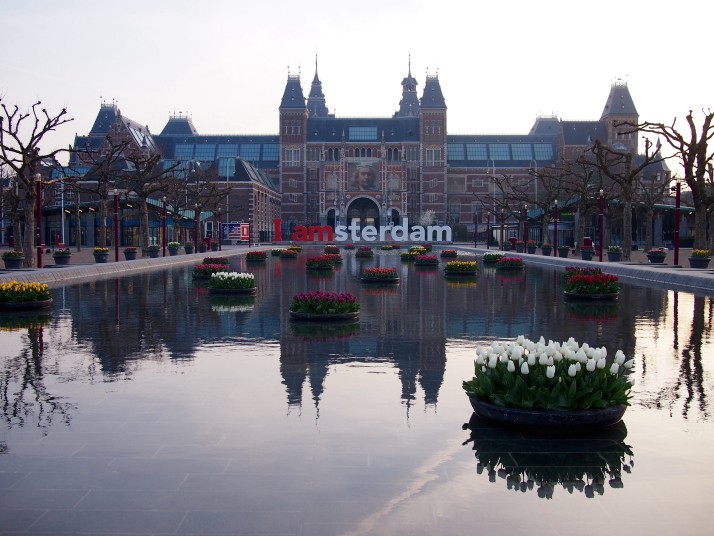 The Rijksmuseum is so huge that it deserved its own post.
Anne Frank House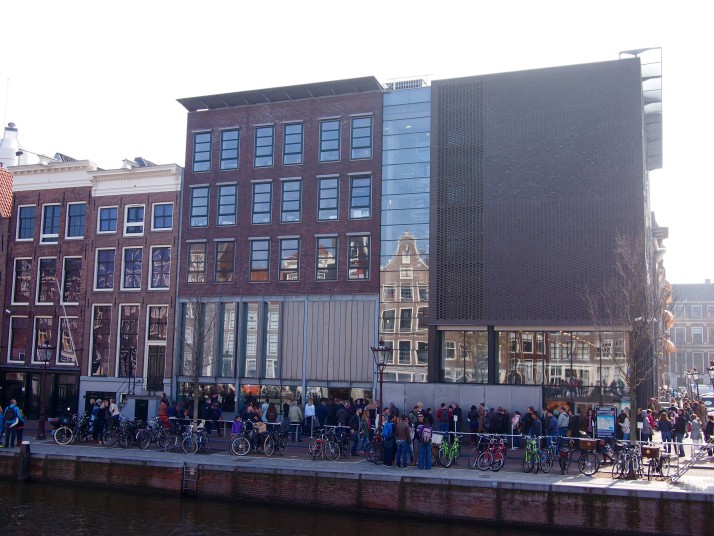 The Anne Frank House is high up on many people's to-do list when they visit Amsterdam and the length of the queue outside reflects this (seriously it winds all the way through a nearby square and around a church). We managed to avoid the queue by reserving places online the day before (timed tickets seem to be released sporadically so keep an eye on it). The museum is small but well set up for the huge flow of people, telling the tragic story of Anne's life and how she hid with her family for over two years. It was fascinating to see the secret annexe and learn a little more about the 'helpers' who brought them food and news from outside, and one of whom managed to rescue and keep the diary after the arrest in the hope that it could be returned to Anne after the war.
Stadsarchief exhibit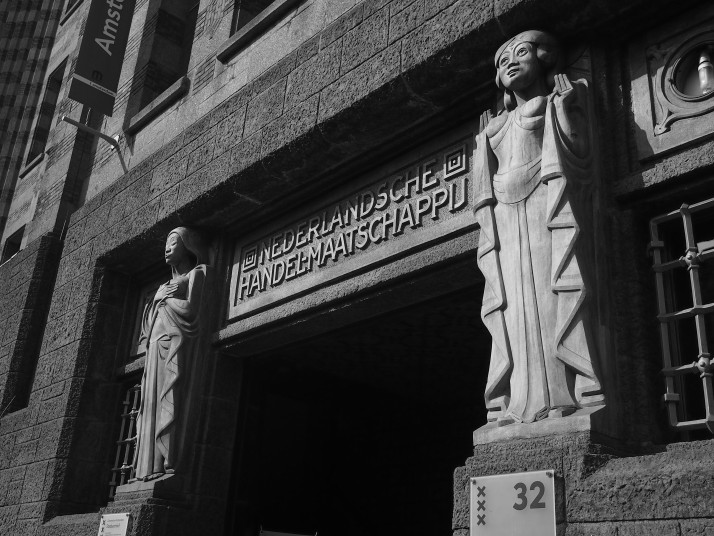 The main exhibit of the Stadsarchief (City Archive) is free to enter although it was of limited interest to us as all the captions were in Dutch only. However, the Museumkaart granted us entry to the special exhibit which was a different aspect of Cor Jaring's work than we'd seen at the Huis Marseille Museum. When he died in 2013 he left his archive to the city, and the exhibit here focussed on his chronicling of the cultural revolution which took place in Amsterdam during the 1960s. The building itself is worth a look as it is a former bank and you can see the original vault doors as well as huge leather bound archives in the basement.
Stedelijk Modern Art Museum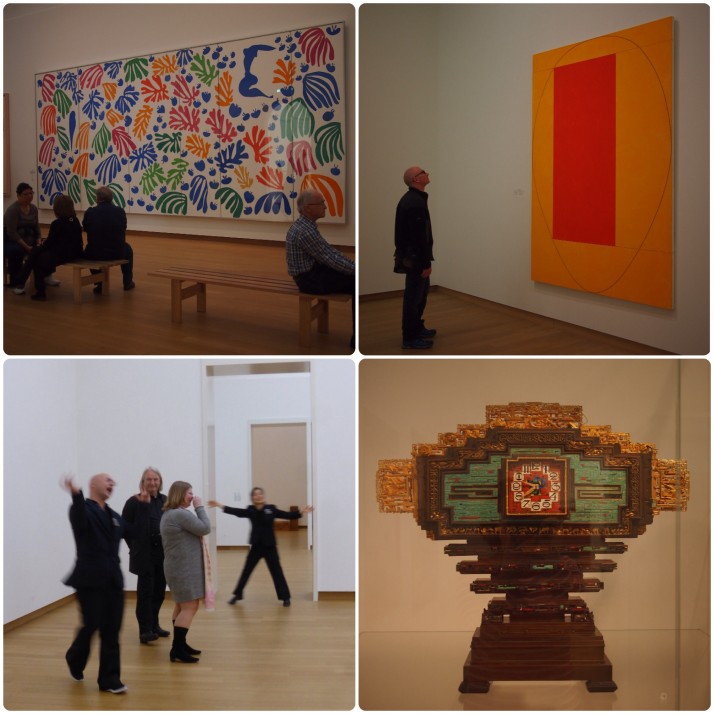 Clockwise from top left: 'The Parakeet and the Mermaid' by Henri Matisse; Andrew admiring 'Two Color Frame Painting' by Robert Mangold; a 1920s clock by Jan Eisenloeffel in the design galleries; one gallery had dancers disguised as museum staff who took visitors by surprise when they entered
Hosting a special exhibition focussing on Henri Matisse during our visit the Stedelijk Modern Art Museum is the only museum that we had to pay a surcharge (€5) to enter with the Museumkaart. We both enjoyed the Matisse exhibition as it was well set up and liberally sprinkled with works from other major artists (Van Gogh, Picasso, etc.) to add context. The remainder of the upper floor was given over to a large number of works from the second half of the 20th century while the other half of the ground floor contained a selection from the museum's large collection of design objects.
Our Lord in the Attic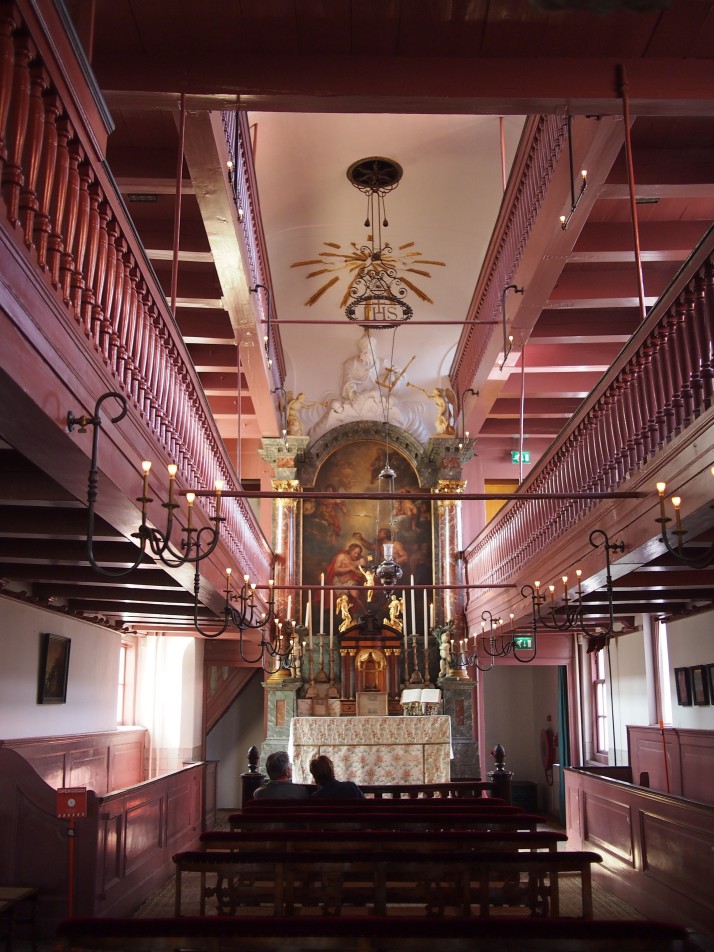 From outside, the Museum Our Lord in the Attic looks like an unassuming canal house, but climb the stairs inside and you find the top three floors have been converted into a church! This dates from the 1660s when it was forbidden for Catholics to openly practice their faith and so secret churches like this one were built. Designed to accommodate 150 worshippers, it was used for over 200 years until the law was relaxed and a new church was built.