We weren't sure what to expect from Kuala Lumpur before our visit, but we both ended up loving it. It's a relatively small city and the central area is more or less walkable supplemented by an easily navigated public transport system, the traffic was more orderly than we've seen since Hong Kong (I'd say it was a legacy of British colonialism but now we've seen the chaos of Bangladesh's streets my theory is completely overthrown!), and it was full of interesting and varied sights – more than enough to keep us going for a week at our leisurely pace, but unfortunately we only had three days. The only down-side was the extreme heat and humidity (it's not even the hot season yet) but that just meant lots of stops for cool drinks and occasional breaks in air-conditioned shopping malls to cool down.
We love KL!
Petronas Towers
The iconic image of Kuala Lumpur is the Petronas Towers, the world's tallest twin towers at 452m high, and for a time (from 1998 to 2004) the world's tallest buildings. They were designed to incorporate features of Islamic architecture, for example the cross-sections of the tower are based on a Rub el Hizb, the eight-pointed star, with additional circular sectors to allow for more interior space. Another influence can be seen in the pinnacle spires which echo the design of a mosque's minaret.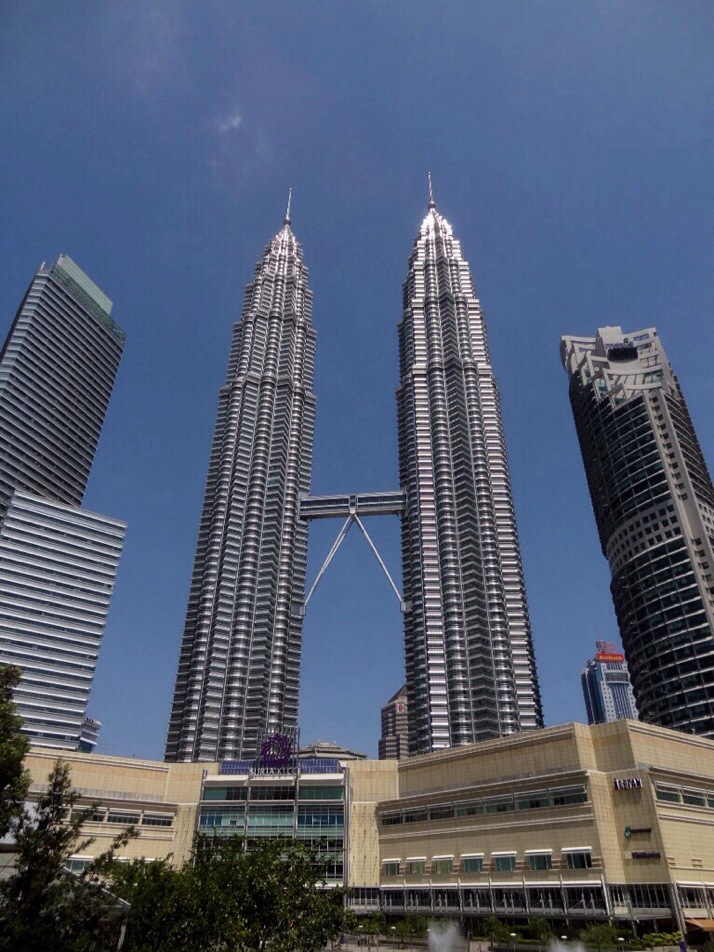 The iconic Petronas Towers
We always like to climb towers for the view wherever we go, from Riga to Yekaterinburg to Hong Kong on this trip, and when we visited Croatia in 2012 it felt like we climbed a church bell tower practically every day! The Petronas Towers can only be visited by guided tour at specific time slots with tickets for each day going on sale first thing in the morning and selling out quite quickly. Having joined the queue at 7.20am, more than an hour before the ticket office opened, we managed to secure tickets for the 9.15am time slot.
The tour began with a safety briefing projected onto smoke (I was so interested in how it worked that I forgot to listen to the emergency procedure…) before we boarded the lift to the Skybridge at floor 41. The Skybridge connects the two towers but is not connected to them. It is designed to slide in and out so that it doesn't fracture when the towers sway.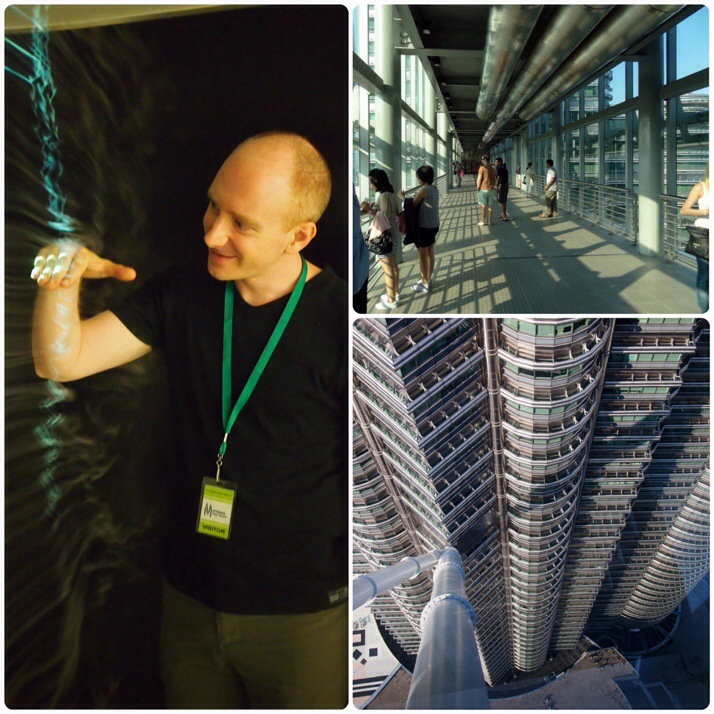 Andrew playing with the smoke before the safety briefing began, inside the Skybridge, looking down the tower from the Skybridge
Finally we boarded the lift again to whizz up to the observation deck on floor 86 (the total number of floors is 88). The lift moves incredibly quickly (between 3.5 and 6.0 m/s) with the executive lifts taking just 90 seconds to travel from the basement to the top floor. Even in the tours lift we could see the floor counter going up at roughly one floor per second.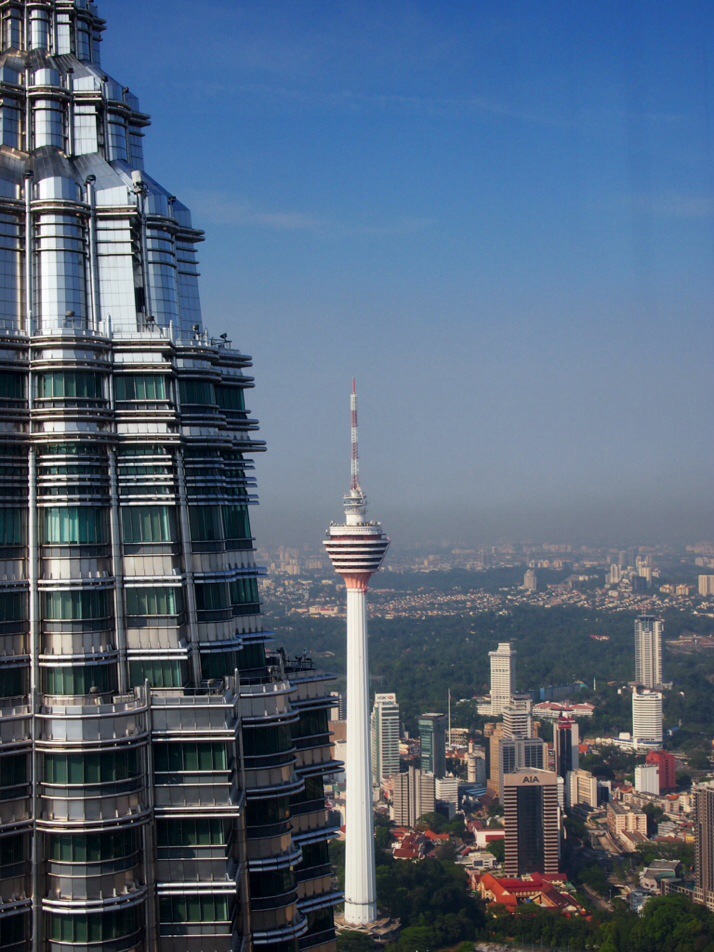 Looking down at another Kuala Lumpur landmark, the KL Tower, from the observation deck
Chinatown and KL architecture
Another popular thing to do in KL is to walk around its Chinatown. We had picked up a city map from our hostel which was helpfully marked with a couple of walking tours and information about some of the historic buildings so we spent a couple of half days wandering around and enjoying the varied architecture – everything from a traditional Chinese clan house to a Hindu temple to British colonial buildings to a hundred year old Mughal style mosque where we were given a guided tour by a very friendly volunteer and I was required to wear a not very fetching purple robe complete with hood… Many of the shopfronts in Chinatown are now below street level and the doors have been reversed so that they open inwards. This is because over the years more and more utilities have been laid under the roads thus raising its level and leaving the buildings below.
Decoration on Chan She Shu Yuen Chinese clan house, entrance gate of Sri Maha Mariamman Hindu temple, traditional shopfronts in Chinatown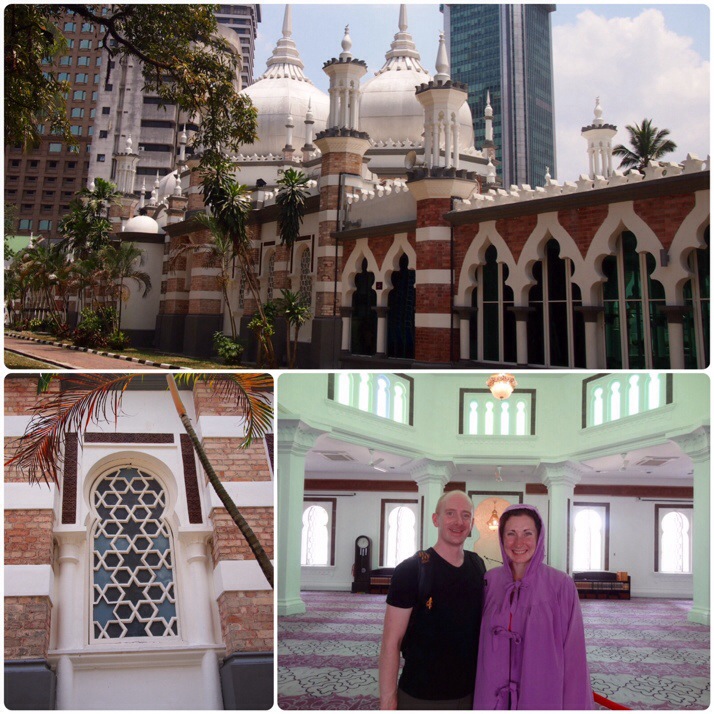 Masjid Jamek, Mughal style mosque window, inside the main prayer hall in the cover-all purple robe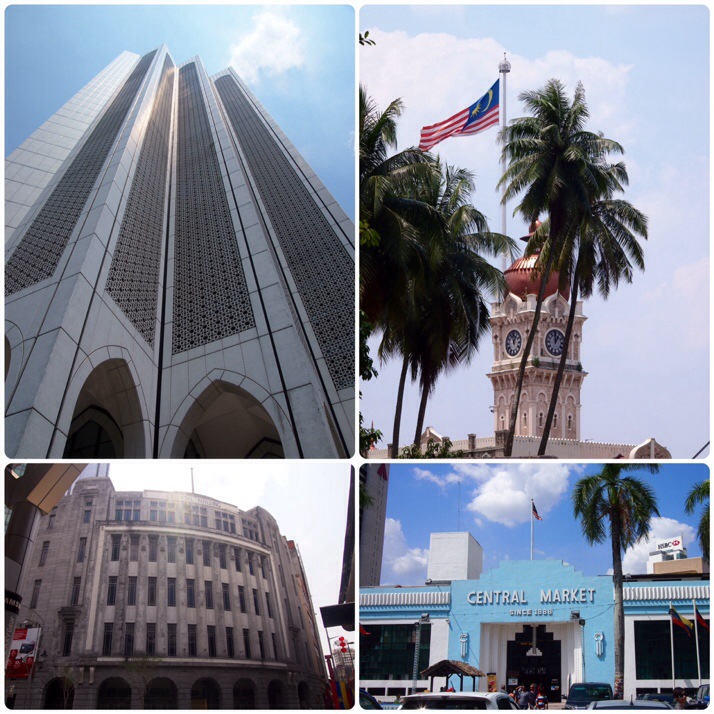 KL architecture (clockwise from top left): I loved the Islamic influences in this new skyscraper, the Dayabumi Complex, Malaysian flag and clock tower of Sultan Abdul Samad building, the old Central Market is now full of handicrafts shops, the Art Deco style Bank Bumiputra Building was originally built to house the offices of Radio Malaya
Botanic Gardens and Bird Park
On our final day we planned to do the final walking tour on our map which highlighted various points of interest in and around the Perdena Botanic Gardens, but we quickly became very lost and even after finding a plan of the park we couldn't match the landmarks to those on the map. So we gave it up as a bad job and spent the rest of the day in KL Bird Park, SE Asia's largest covered aviary, where it was difficult not to take hundreds of photos of the hornbills, egrets, parrots and other exotic birds!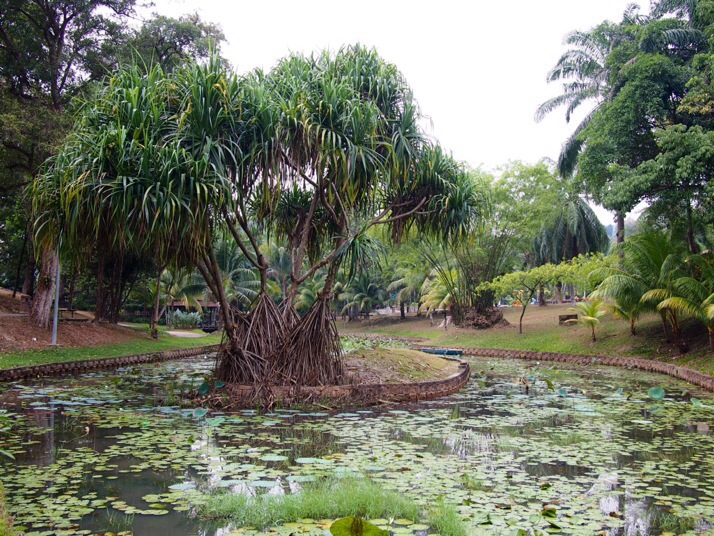 Perdena Botanic Gardens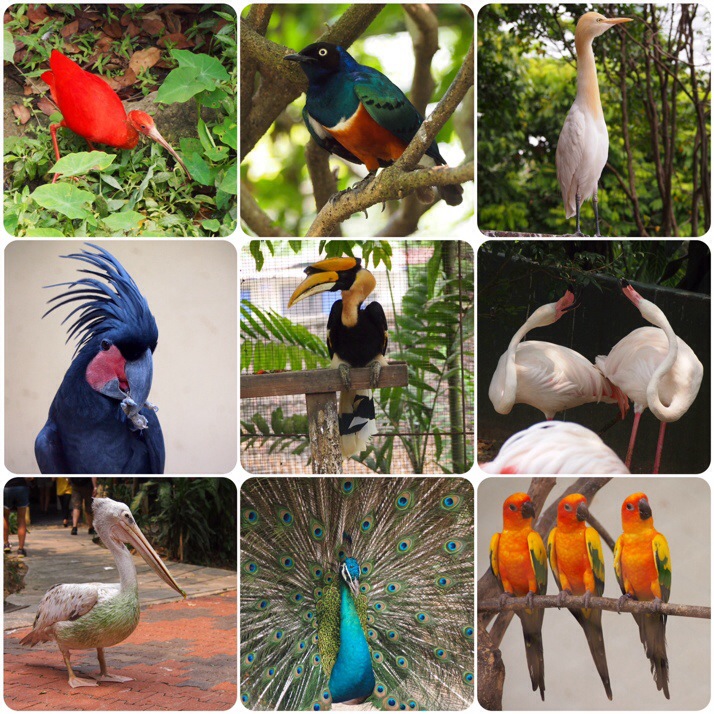 A small selection of the birds we saw at KL Bird Park (left to right, top to bottom): Scarlet Ibis, Superb Starling, Cattle Egret, Palm Cockatoo, Great Hornbill, Greater Flamingo, Spot-billed Pelican, Peacock, Sun Conure
Food
Although we only spent three days in Malaysia we did our best to try a good sample of the local cuisine. I was surprised to find out that satay comes from Malaysia and not Thailand as I'd always thought, and we had a fabulous dinner at a street restaurant where we chose our skewers to be barbecued and then doused everything in delicious peanut sauce. A bizarre local specialty is Cham, or Hainan tea, a mix of 40% coffee and 60% tea – I wouldn't recommend it… On a more pleasant note, for lunch on our second day we ate at a South Indian restaurant in an Indian section of the city and our huge and delicious meal was served on banana leaves.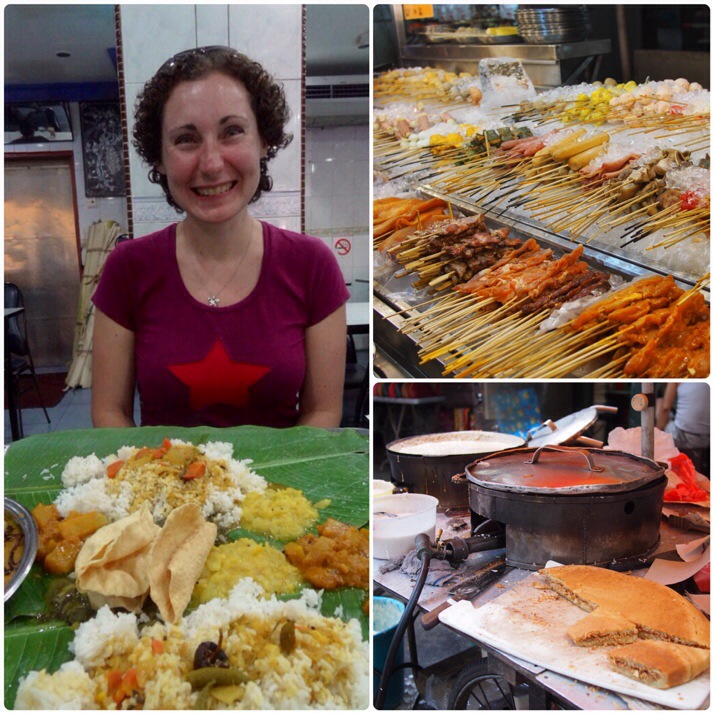 Julie with an Indian lunch served on banana leaves, trying to decide which skewers to choose at the satay stand, a kind of peanut filled waffle which we tried for an afternoon snack
Moving on
Arriving at the airport by the airport express train from Sentral station we were surprised to find that our flight wasn't on the departures board. After checking with the information desk, it seems that our airline had changed the flight time by 8 hours but hadn't thought to communicate that fact to us (OK, I'll name and shame them, it was Biman Bangladesh)… Fortunately we were able to book seats on another flight at a similar time to our original one and we arrived in Dhaka on time for a month of exploring Bangladesh but with Malaysia firmly on our list of countries to revisit.