Yerevan was the starting point for our exploration of Armenia and Georgia and in early March it was chilly, with snow on the ground and freezing fog obscuring our view most mornings, but pretty much every afternoon the sun broke through and we enjoyed its mixture of old and new buildings, public parks and lots of art.
In the 1920s there was a grand plan to redesign Yerevan, it took a few years to be completed but Republic Square was the centre of that plan and today is the focal point of the city. Around its sides are impressive government buildings in the pink tufa stone characteristic of Yerevan, and in the centre is a pedestrianised square which is supposedly paved to look like a traditional Armenian carpet from above. I'm not sure that it manages to look like a carpet, but in the summer I'm sure it's bustling with crowds watching the musical fountains whose pools were still empty after the winter when we visited.
The Cafesjian Art Centre is a modern art space unlike anything we've seen before. Housed in a huge staircase with fountains, called the Cascade, it houses sculptures beside the escalators which run between the levels and an external sculpture park in the gardens at the front and on the building's terraces with a funky range of modern art. On each internal level are galleries including two permanent exhibitions with huge pieces commissioned specifically for the museum – a mural of the History of Armenia by Grigor Khanjyan and a relief carving of the epic David of Sassoon.
We also visited a couple of smaller art museums including the excellent museum dedicated to Yervand Kochar, a contemporary of Picasso, whose 4D sculptures were unlike anything we've seen before – rotating pieces of curved metal, slotted together and painted on all sides to create something not quite like a painting or a sculpture – Kochar called them "Painting in Space".
We visited a LOT of churches and monasteries during our weeks in Armenia and Georgia but on our first afternoon in Yerevan we had one of those serendipitous moments that remind us why we travel. We'd read about a small church surrounded by apartment blocks and as we approached at 5pm its bells were ringing. We entered just as a service started and sat quietly at the back watching people come and go while priests chanted, candles were lit and incense pervaded the air.
On Tsitsernakaberd hill overlooking the city sits the genocide memorial, a sobering monument to the thousands of Armenians who lost their lives in ethnic cleansing carried out by the Ottoman Empire in 1915-22. The well laid out museum chronicles the story and includes historical documents, photographs, personal possessions and testimonies. It reminded us of the
Nanjing Massacre Memorial Hall
and the atomic bomb memorial museums in
Hiroshima
and
Nagasaki
. Outside, the eternal flame burns in a circle of 12 slabs which is beside a splintered needle representing the provinces of Western Armenia lost to Turkey in a post WWI deal between Ataturk and Lenin.
To the west of the city centre there's a former railway tunnel that runs down the hill to the park beside the Hrazdan river. It's been converted for pedestrian use and is full of graffiti, nevertheless it probably wouldn't be all that interesting were it not for the unusual zig-zag lighting which makes for a great photo.
Armenians are very proud of their culture, and nowhere is this more obvious than at the Matenadaran, literally "book depository" where historical documents and precious manuscripts are kept and displayed. Honestly, I don't think we got the most out of this museum, the manuscripts had English labels with their age and what they were (e.g. gospel) but there wasn't any explanation of the context or history contained and we wished we'd paid extra for a guided tour. Still, the illuminated documents, some of them over 1000 years old were very beautiful. Food is always high up on our list of things to explore when we visit a new country and we struck gold in our choice of
Airbnb room in the apartment of Astghik
and her family. Each morning her mother, Shoghik, produced some new homemade wonder from her fridge or oven for us to try. With a bizarre combination of her limited English, our very limited Russian, sign language and Google Translate she explained to us how each item was made, from homecured meat (basturma), preserved cheese (khorats panir) and pickles to pumpkin swirl cheesecake and the best coffee in Armenia.
Consequently our Armenian vocabularly is about 50% food words and when we finally visited the large GUM market we recognised a lot of what we saw. In the summer months I think the fresh produce would play more of a starring role but in the winter there were nuts and preserved fruit galore alongside the butchers, greengrocers, spice stalls and clothes sellers and a fabulous second-hand "junk shop" like corner of the upper level which is where we agreed we would find the furnishings for our Yerevan apartment if we lived here!
No sooner had we entered the market than the dried fruit and nut sellers started to bombard us with samples and start off on their spiel at breakneck speed (usually in Russian). This was a little intimidating and we were wandering along trying to keep our heads down when an enthusiastic vendor started thrusting spices under our nose and feeding us samples of his barberries. We politely agreed that they smelt wonderful but thank you we don't want any, undeterred he took us to his store room at the side of the market hall and started plying us with samples of pomegranate wine and apricot vodka (we refused the latter as it was 10.30am but it smelt wonderful). We gave in and bought a litre of the pomegranate wine and he decanted from the large container into an old Coke bottle before we made our escape!
We'd read of the long tradition of viniculture in this part of the world but didn't expect to encounter good beer. However, during my research on Yerevan I'd come across Dargett Craft Beer, a microbrewery serving interesting craft beers. Oh, and it was good! We visited three times and (with the help of their taster flights) tried almost all of the 20ish beers on offer, and there wasn't a bad one among them. My favourite was the apricot ale.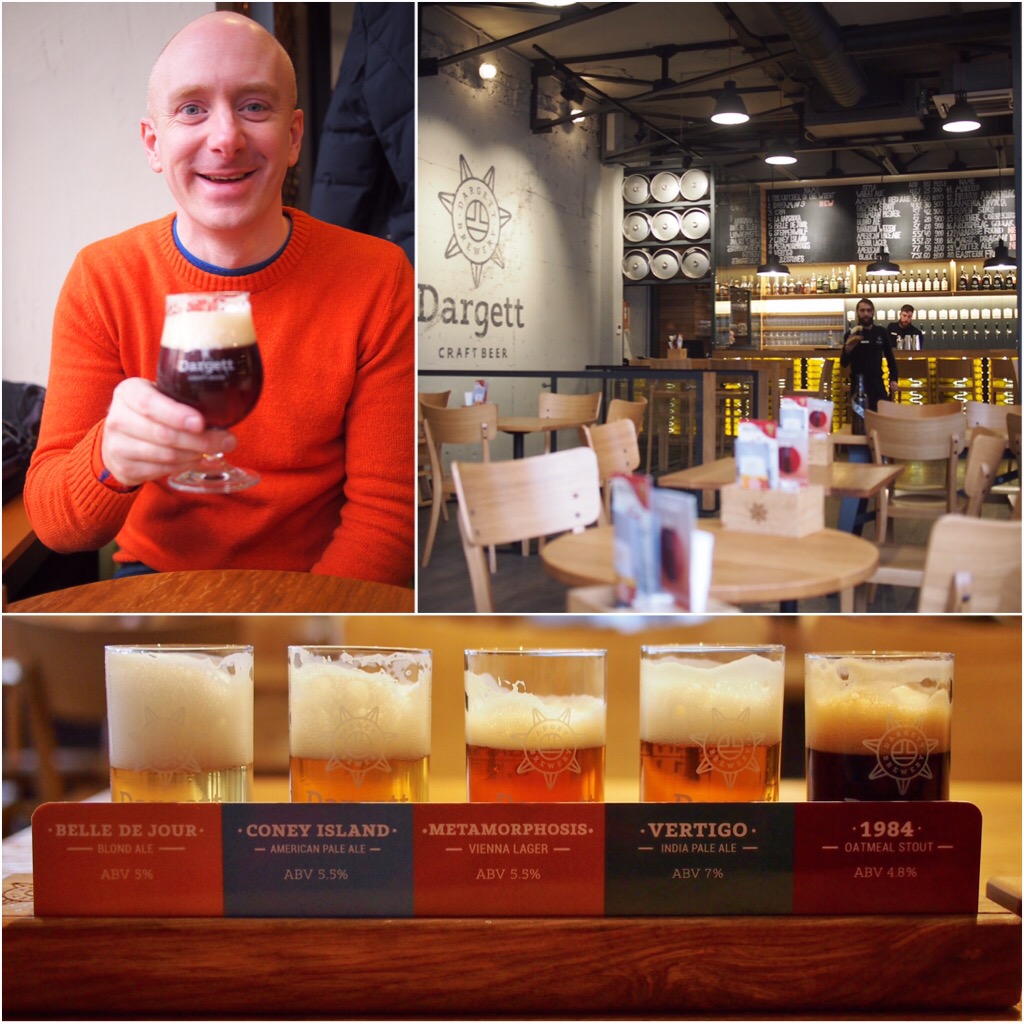 On our final afternoon in the city we took a tour of one of the city's two brandy factories, the Noy Brandy Company. Originally set up in the 19th century it closed down and fell into disrepair in the second half of the 20th century. It's now been renovated and reopened complete with cellars full of old wine barrels (though they only produce brandy here now). During the Soviet era Armenian brandy was prized across the USSR and Noy are proud that they are still the official brandy supplier to the Kremlin.
Before our visit we'd read and seen pictures of Mt Ararat which is supposedly visible from many points in Yerevan. It's the mountain where Noah's Ark came to rest and is sacred to Armenians though it is now across the border in Turkey and they can only look at it. Unfortunately for us it was quite shy and seemed to be shrouded in cloud most of the time so that we didn't even get a peek for the whole week that we were there.