So, when people say "it's Baltic" they mean that it's cold, and in our experience Riga is Baltic in all senses of the word. Actually, it's been a little warmer the last couple of days – up to about -2 degrees…
What have we been up to in our first week of freedom? After an evening in London and a yummy curry with Jo, we flew to Riga where we've been staying for a week on the top floor of a Soviet apartment block with a lady called Anna.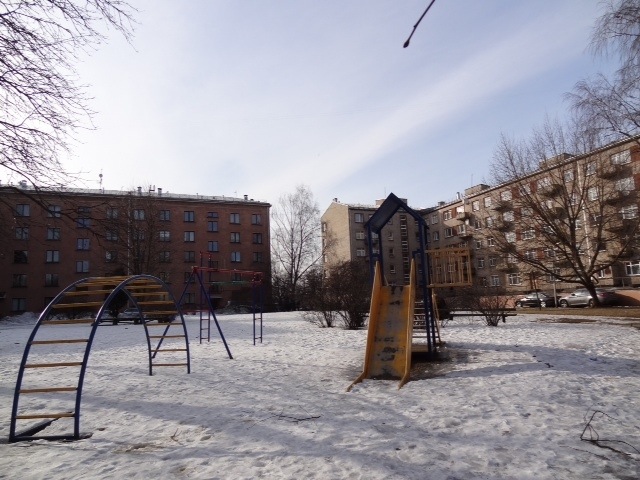 It's a short walk from the historic centre of Riga which is situated between the River Daugava (frozen!) and a narrow but pretty park around the City Canal (also frozen). The streets are cobbled and a lot of the buildings are historic – a bit like York really.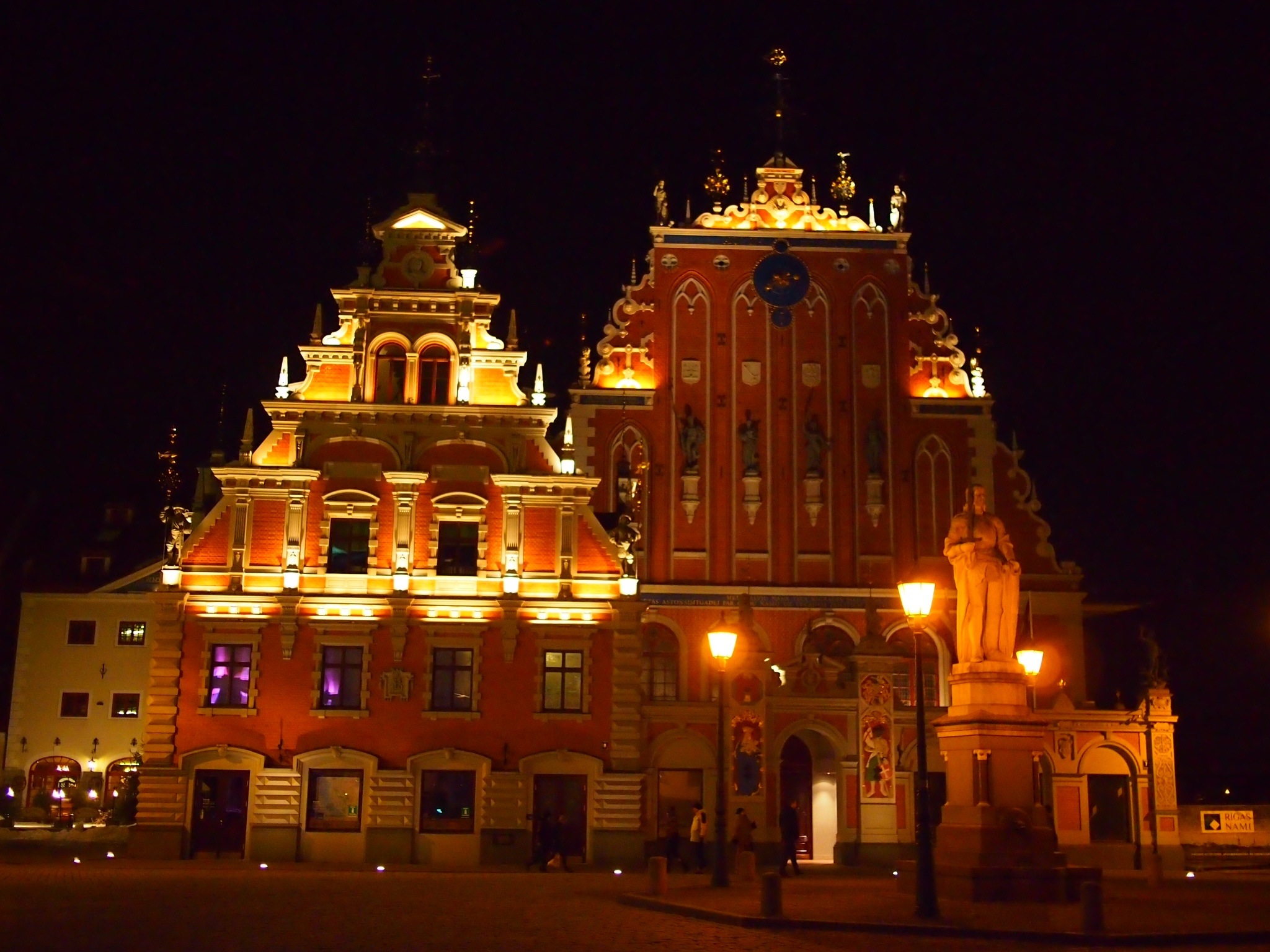 On our first day we climbed to the top of St Jacob's church tower for a view over the city.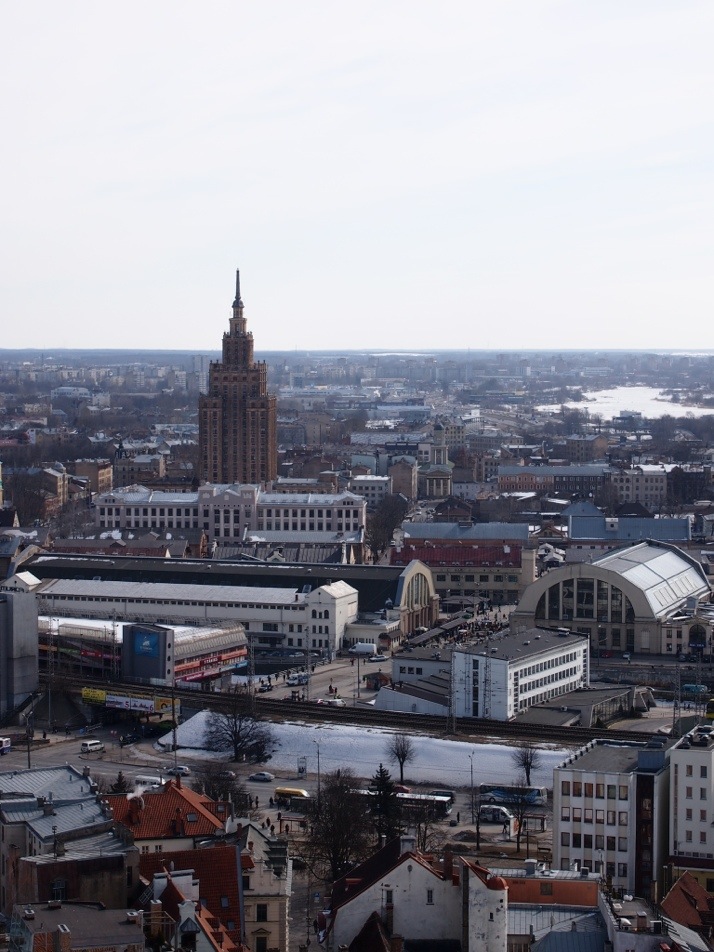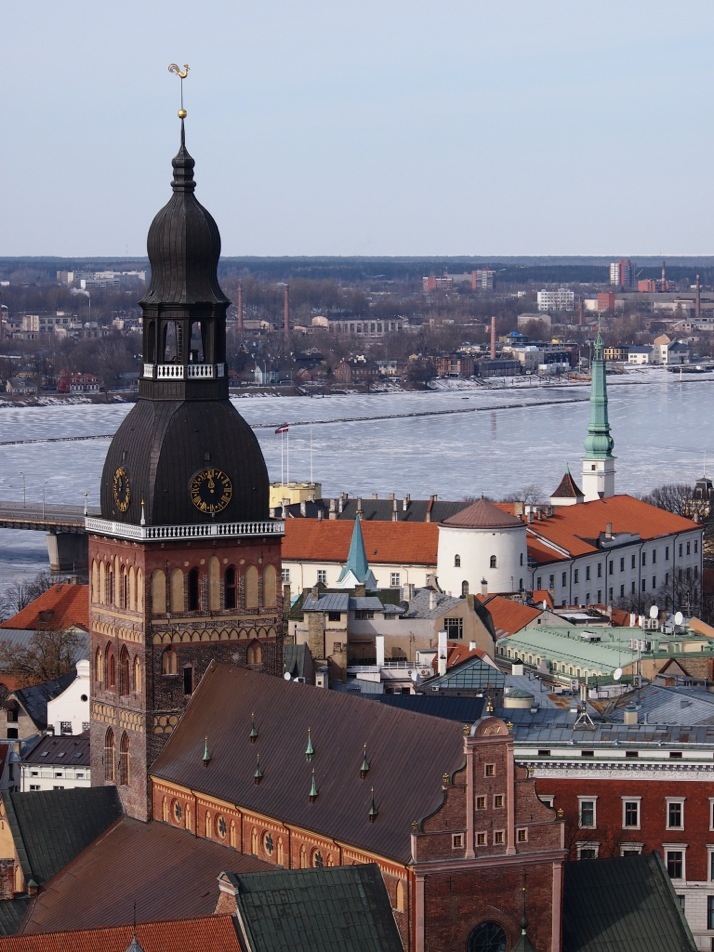 And spent sometime warming up in the peaceful interior where there's a huge seven armed candlestick.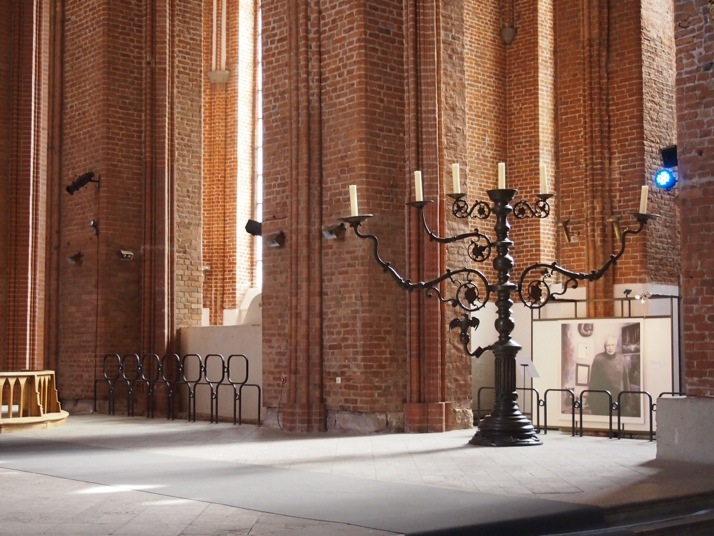 Riga also has a fantastic covered market situated in what used to be old zeppelin hangars. One hall each for fishmongers, fruit and veg, cheese and bakeries, butchers and general grocers. We spent ages wandering around and then did some shopping for our dinner – smoked fish (something like a giant kipper), baked potatoes and a couple of types of pickled cabbage from the many on offer.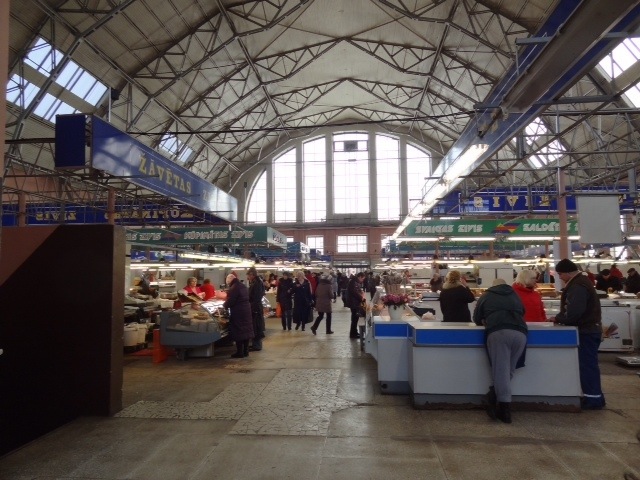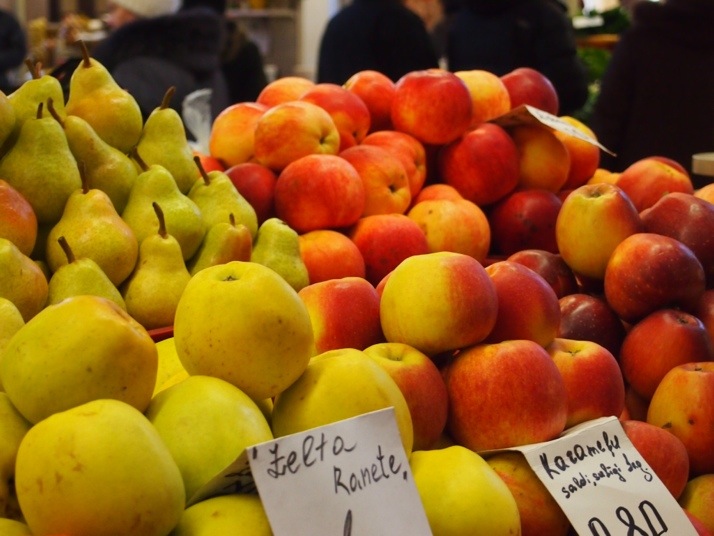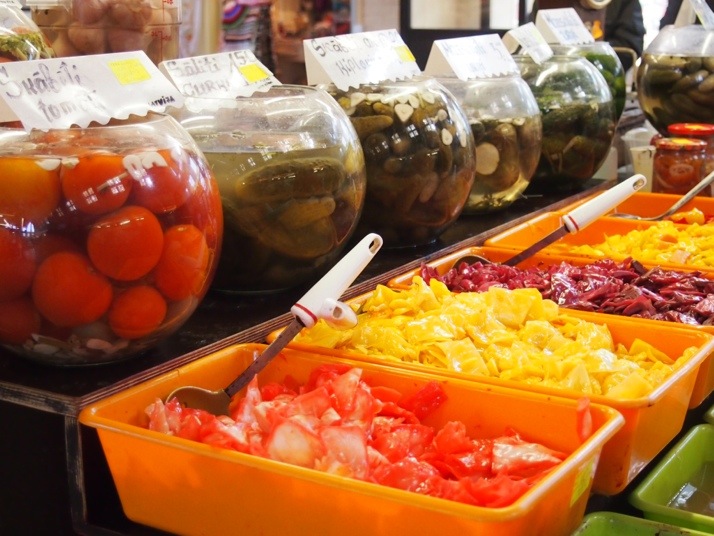 The newer part of Riga is famous for its Art Nouveau architecture – in fact it has more Art Nouveau buildings than any other city in Europe. There is a walking tour of some of the best examples in our Lonely Planet guidebook which we decided to do.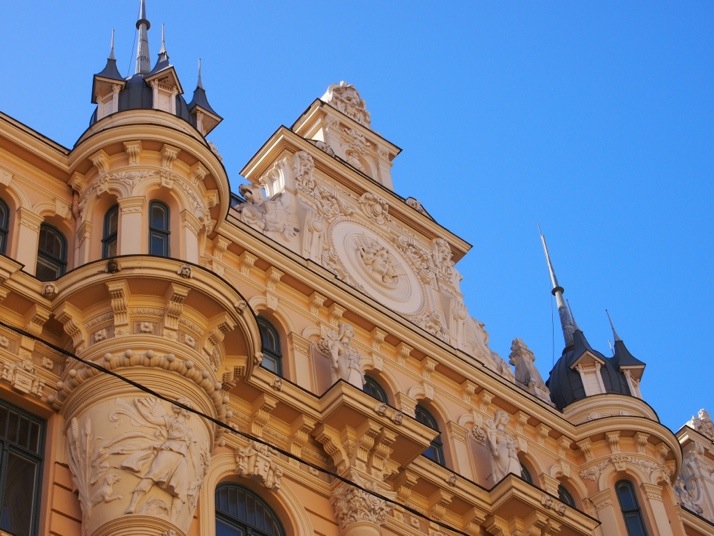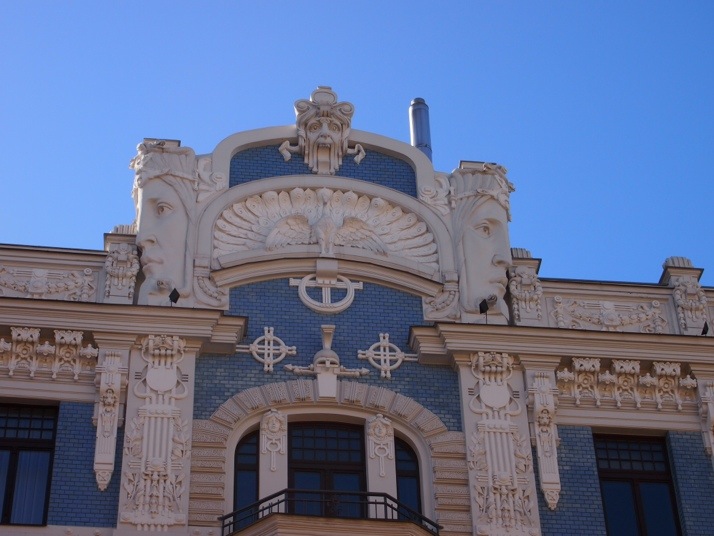 Halfway round we passed the beautiful Russian Orthodox cathedral. No photos allowed inside, but it is just as impressive as the outside with lots of gilt and brightly painted walls.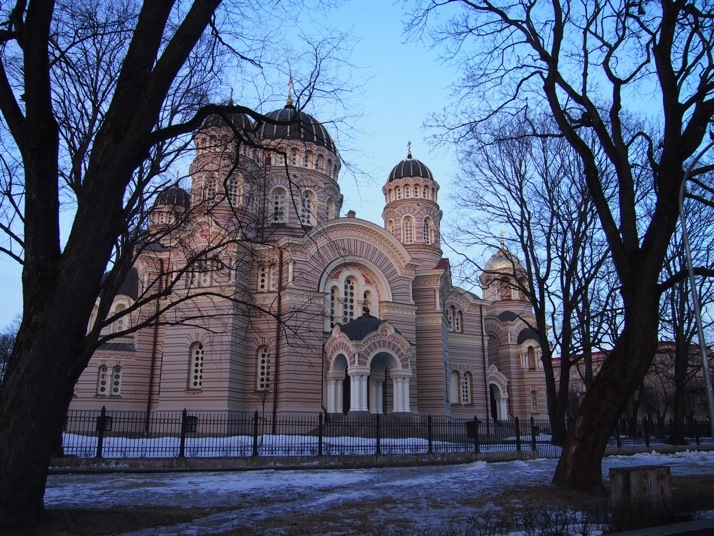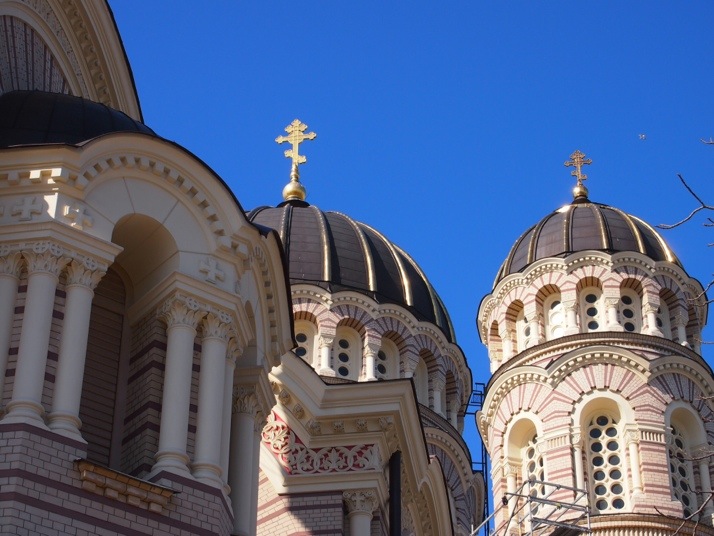 By the end of the tour we were ready to reward ourselves with hot chocolate :)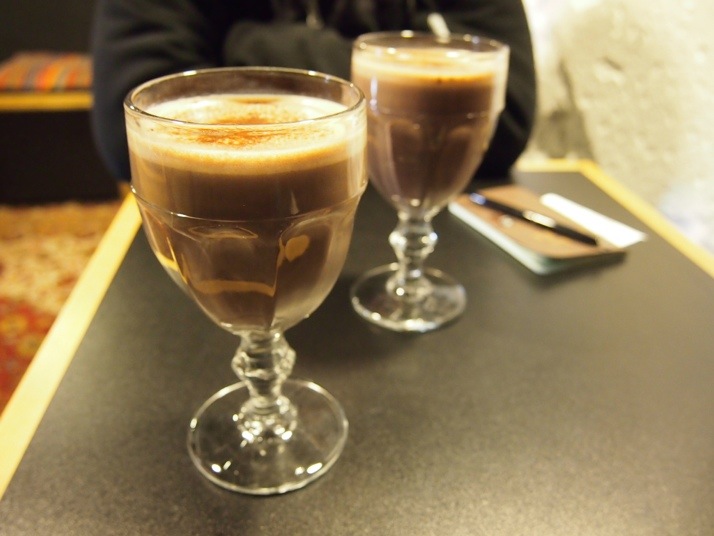 …before visiting the Museum of Occupation which tells the history of Latvia's occupation by the Soviet Union from 1940-41, then by Nazi Germany for the remainder of WW2, and again by the Soviet Union until their independence in 1991.
On Sunday we decided to take the train to the coast – Jurmala is Latvia's premier seaside resort. We managed to buy our train tickets with no problem and eventually found the platform after getting slightly lost in the shopping centre which is attached to the station. We wandered through the town and a lovely park with board walk paths and a viewing tower.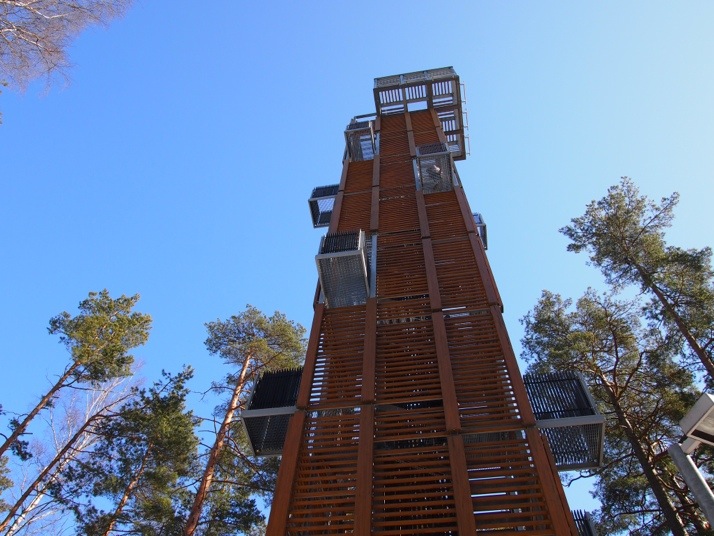 Andrew wasn't too keen on the open metalwork steps and flooring but the view made up for it.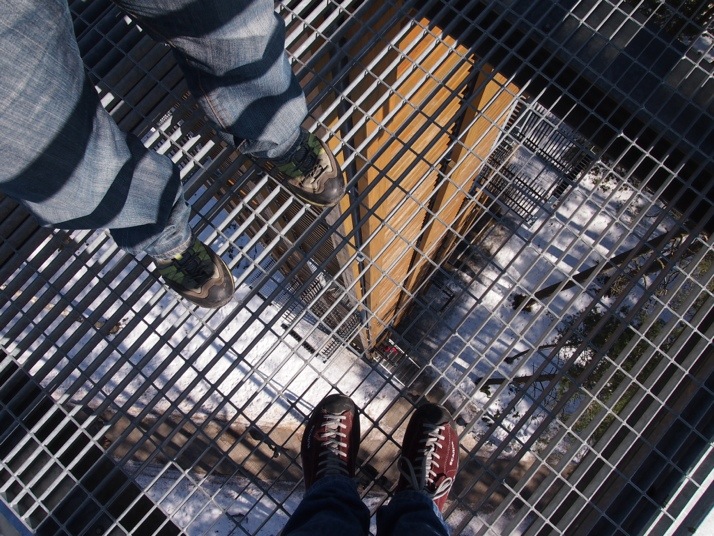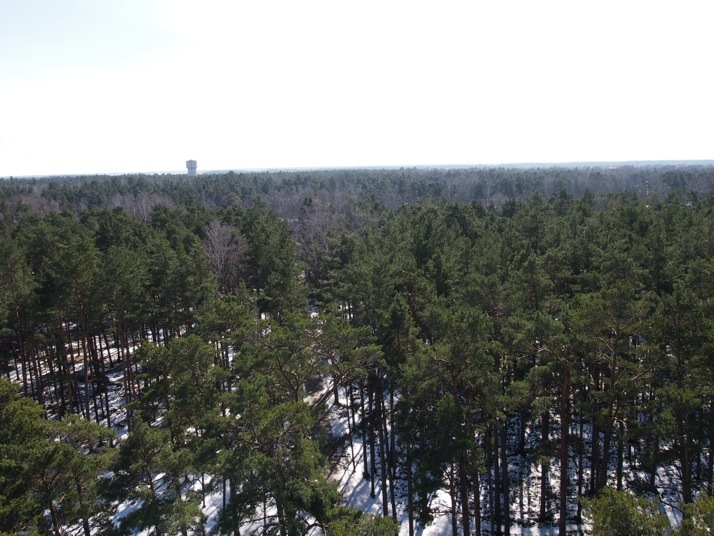 Next we headed to the beach for a walk along the sand…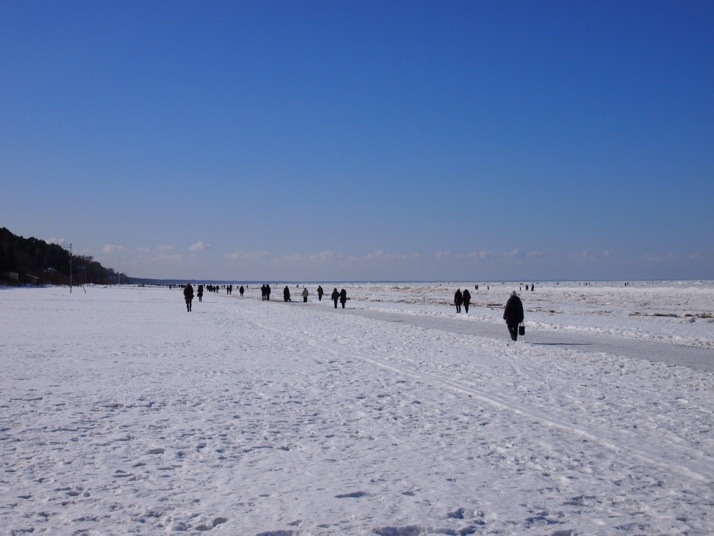 But the beach was covered with snow and the sea was frozen! Still there were a lot of families out for a Sunday walk and even skating further out. We walked out over the sea. It seemed to be frozen for miles.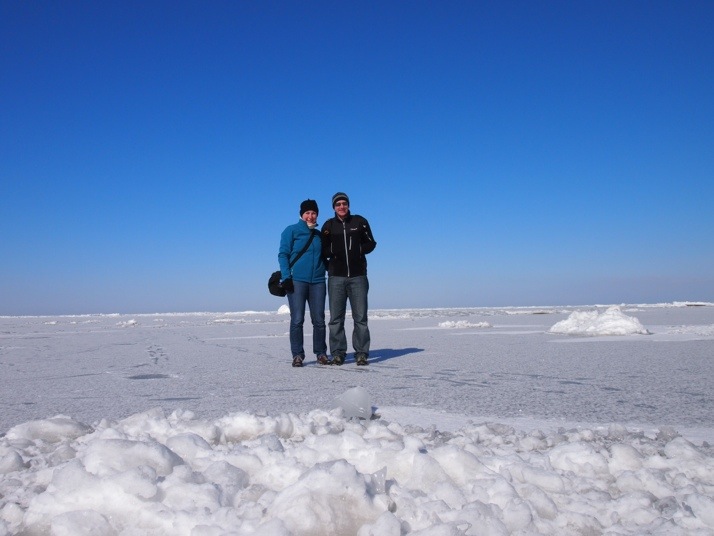 Yesterday we took another day trip, this time by bus to Latvia's Open-Air Ethnographic museum. This is a collection of old wooden buildings from different parts of the country preserved here to show visitors what life was like in the past. The buildings have been reconstructed in a pine forest by a lake and were very pretty in the snow.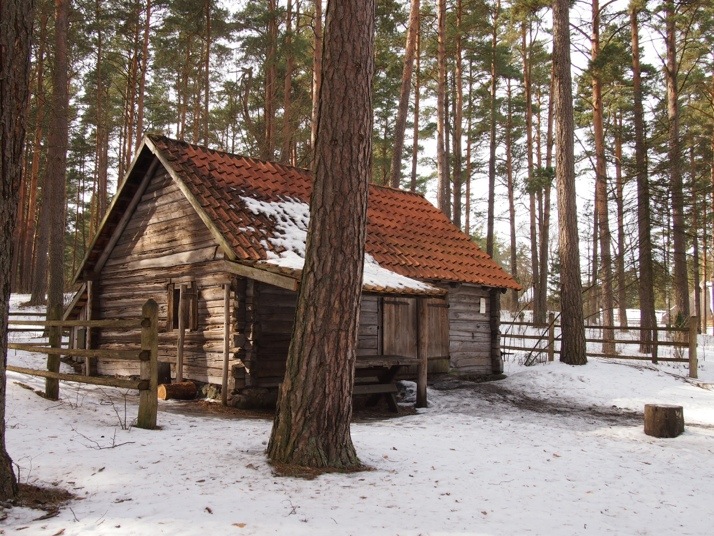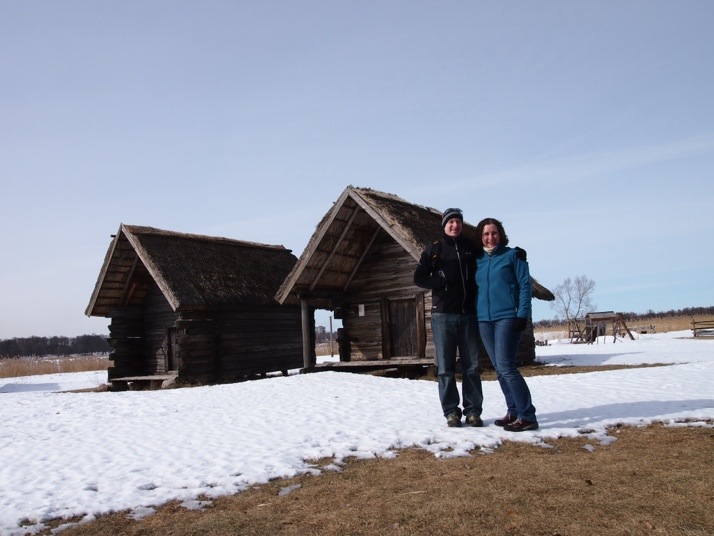 Some of them were open and had rooms set up and staff to explain what life was like. I suspect that even more are open during the summer months.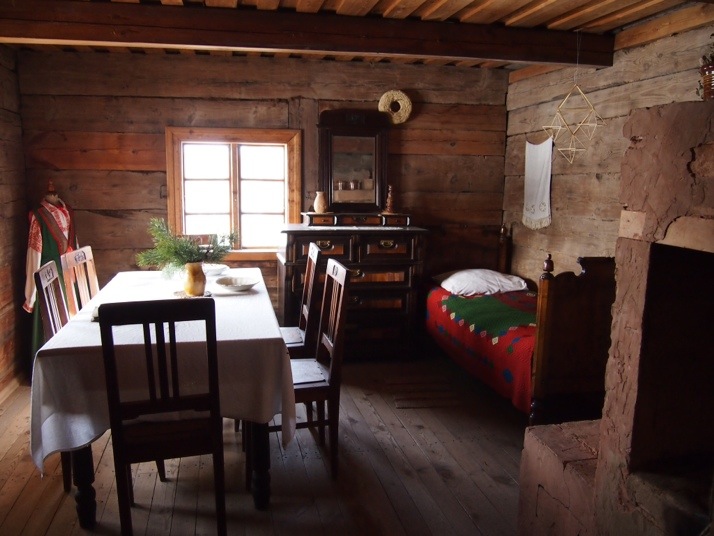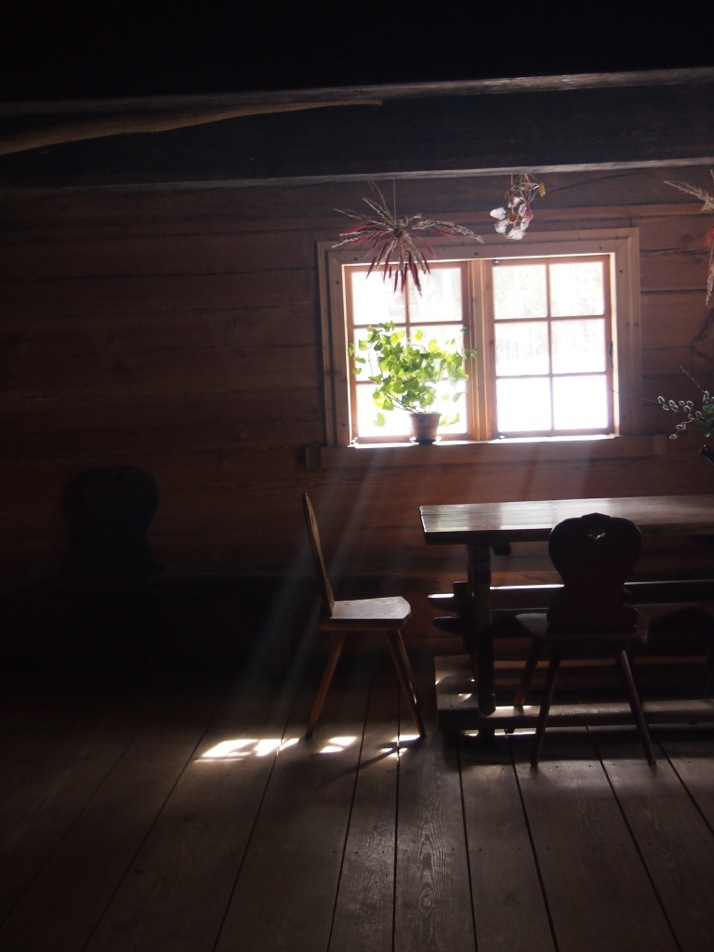 As well as houses and farm buildings, there were churches and windmills too.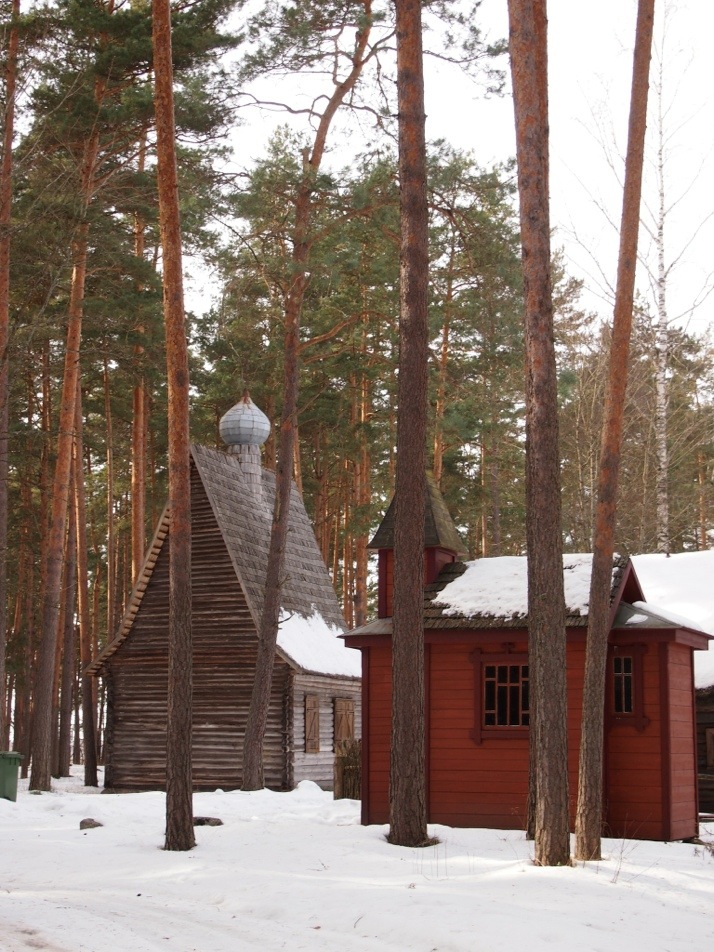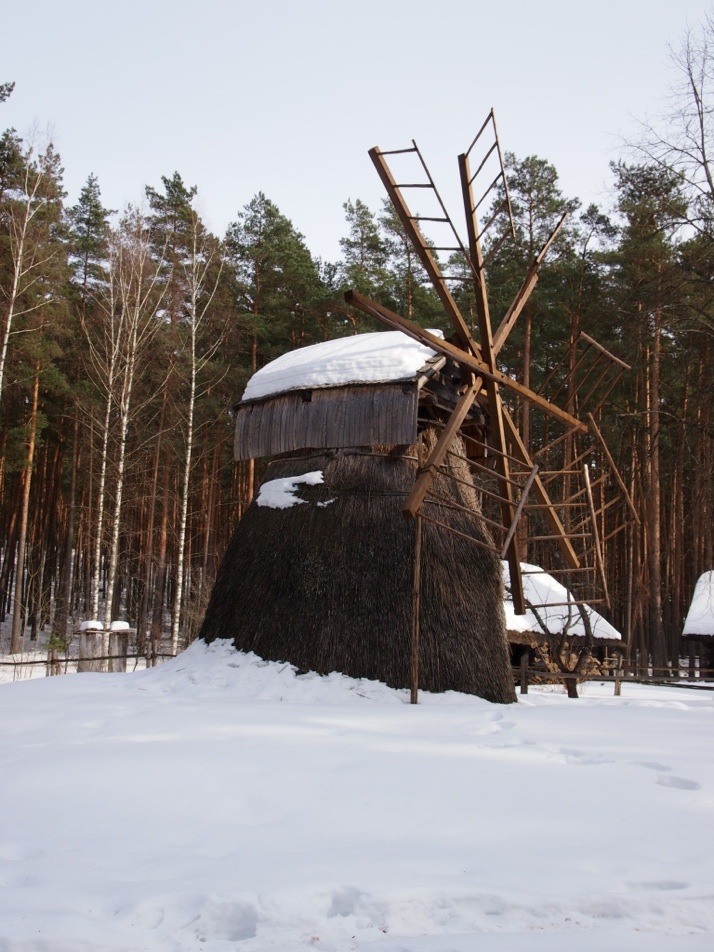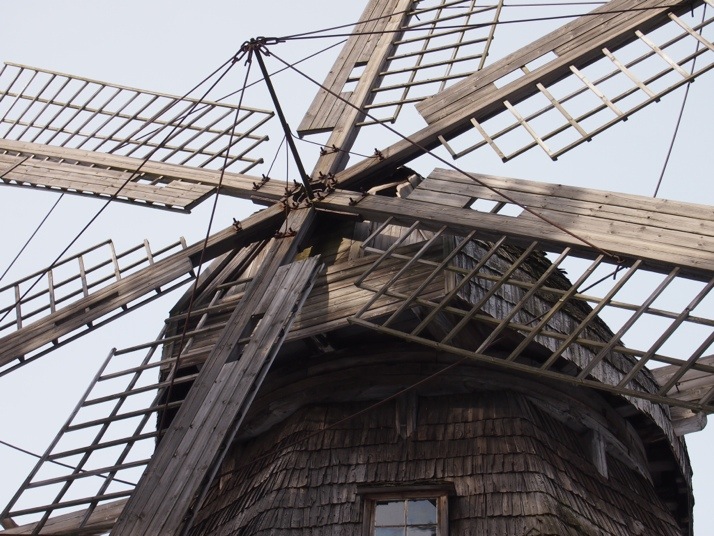 This one was my favourite :)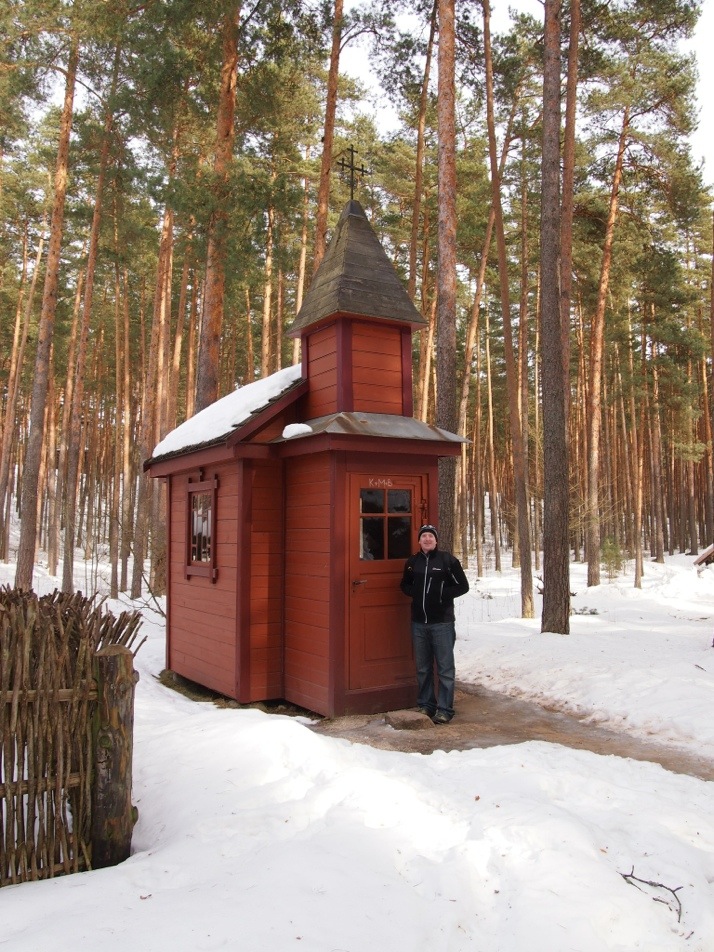 As we knew we would be out in the cold all day we'd decided not to take our own sandwiches for lunch but to eat at the on site inn. This would have been an excellent plan except that with so few visitors in the winter the inn wasn't open (the advantage for us being that it felt like we had the whole place to ourselves). So we got the bus back into the city, cold and hungry. Fortunately, we had already seen a restaurant selling just what we needed: bacon and bean soup served in a bread bowl. Perfect!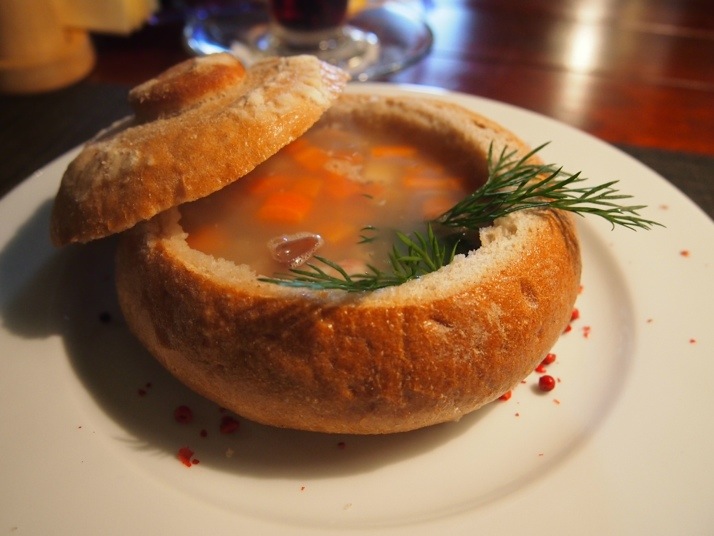 Tomorrow we're venturing out to the Latvian countryside for a few days.