What photo takes you right back to Japan?
We were really looking forward to the food in Japan and it didn't disappoint. The fresh seafood in particular was superb.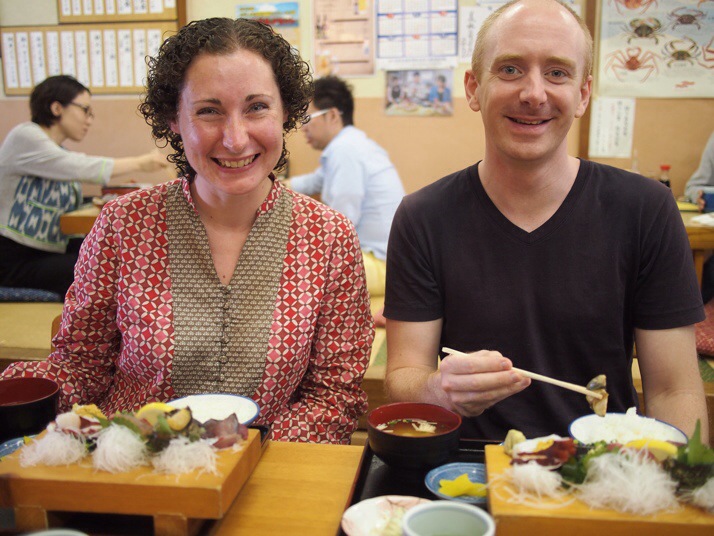 Eating sashimi for breakfast at the fish market in Kagoshima.
Summarise Japan in three words.
Delicious – "Oishi" was one of the handful of Japanese words that we learnt and it was used often, to the delight of restaurant owners.
Contrasts – From ancient temples and shrines to bright lights and high-tech, from densely populated urban areas to completely unpopulated areas of natural beauty, Japan is definitely a country of contrasts.
Omotenashi – This word which means Japanese hospitality really sums up our experience of the Japanese. When we were in Russia, we remarked on the generosity and kindness of its people, in Japan it seems that everyone is trying to make sure you have a good impression of the country, from old ladies who pressed sweets and biscuits on us, to men in bars ordering us food and drinks, to the overwhelming helpfulness of just about anyone who we asked for help.
You really know you're in Japan when…
…you're looking at one of the top three "something" in Japan. I don't know whether it's a mixture of modesty (not wanting to declare themselves the best) and boastfulness (really thinking that they are the best) or a love of order that ranks everything into lists, but it seemed like every sight we visited was ranked in some way although it was rarely stated what order or what the other two were. The most memorable example that we saw was the Ohkonotaki Waterfall on Yakushima – 'one of the top one hundred waterfalls in Japan' – seriously, who compiled that list?!
What one item should you definitely pack when going to Japan?
Walking shoes. We were both surprised by how many outdoor activites we found in Japan and how accessible they are.