The big downside of being away from home for so long is that we miss our family and friends. Although Skype's great it's just not the same as spending time together, especially with our nephews and niece. We've been fortunate to have been visited before by Julie's Mum and Dad (in China) and by our friend Jo (in Vietnam and Uzbekistan), and we were excited to line up another visit in Istanbul, this time from Julie's sister Steph, brother-in-law Tom and our nephew Olly who was just 12 weeks old when we left on this trip.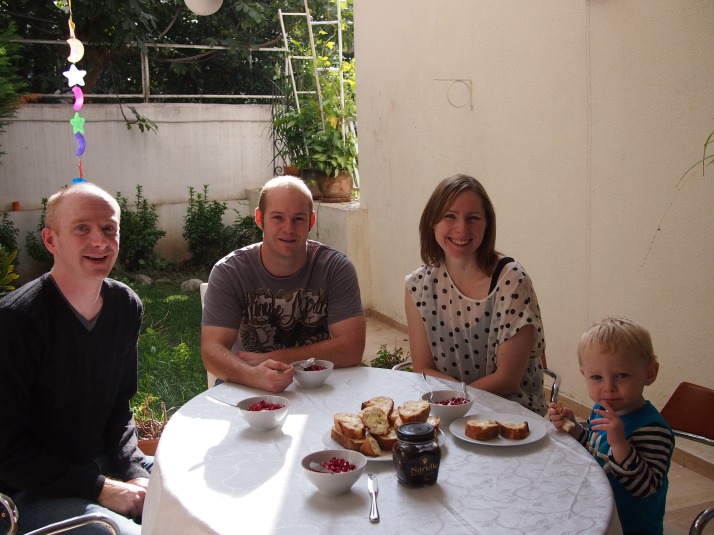 Andrew, Tom, Steph and Olly enjoying breakfast in the garden of our rented apartment on their first morning in Istanbul
Unfortunately the weather wasn't very cooperative for much of their 10 day visit with clouds or even outright rain. It seemed that autumn had properly arrived in Istanbul. Still we were able to get out for a few walks, had a go on the slides in the many playparks and chased pigeons wherever we could.
Little and big kids in some of Istanbul's playparks
Family is very important in Turkey and, in our experience, Turkish people love children (especially super cute and smiley blond haired ones). In every cafe, restaurant or fast food place that we entered, the staff made an effort to find a space for the pushchair, made a fuss of Olly and gave him enough free chips, biscuits and sweets that the rest of us started feeling a bit jealous.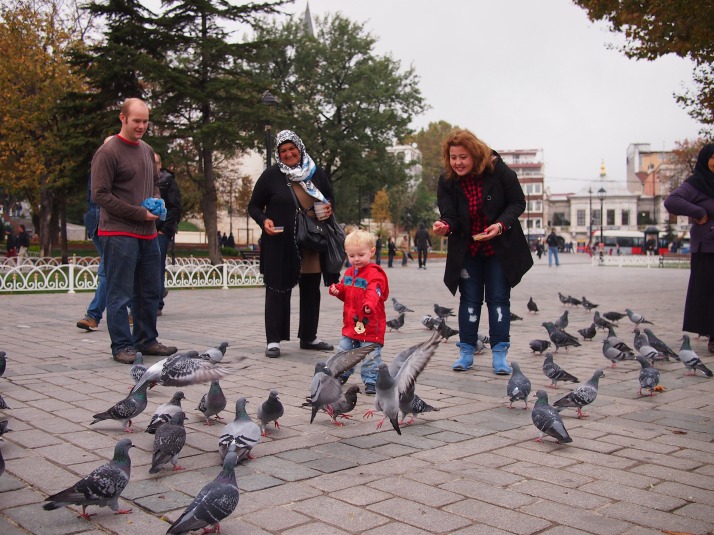 Olly making friends while feeding the pigeons in Hippodrome Square
The weather at last brightened up for our final couple of days together and on the last day we took the ferry from Kabataş to the Princes' Islands. This archipelago of nine islands lies approximately 20km southeast of the mainland in the Sea of Marmara, but is administratively included in the City of Istanbul. Only six of the islands are inhabited but the ferries, of which there are several each day, only stop at the largest four.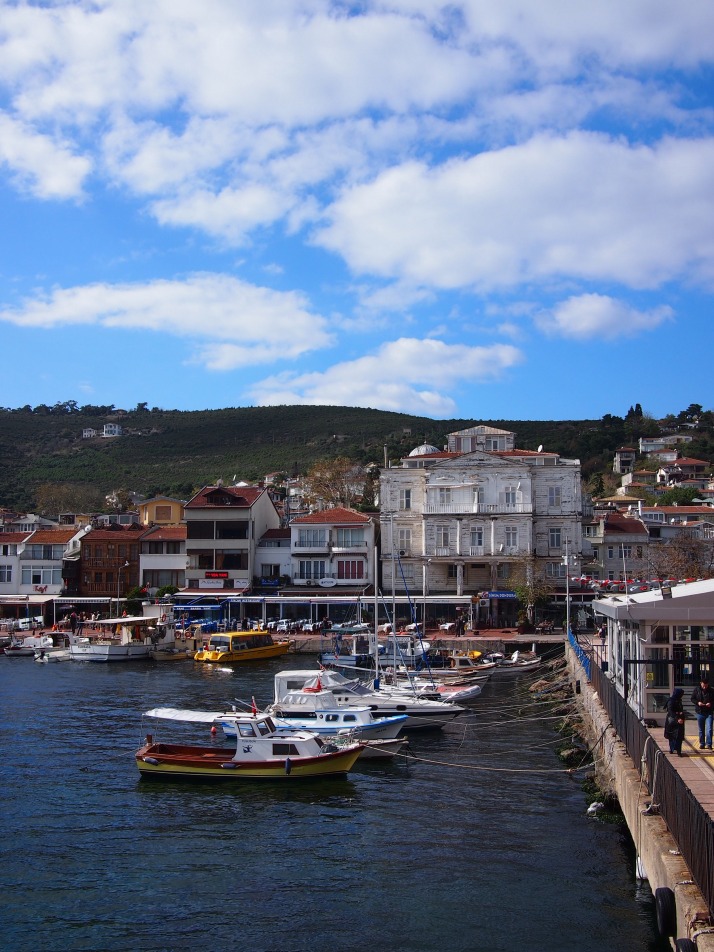 Burgazada, the second ferry stop, seen from the pier
We got off at the final island, Büyükada, which is also the largest and most populous of the group. In summer the population swells as it is a popular holiday destination as well as an easy to reach place for day-trippers. It looks as if the city's rich might be some of those who retreat there as we saw lots of very large and beautifully kept villas.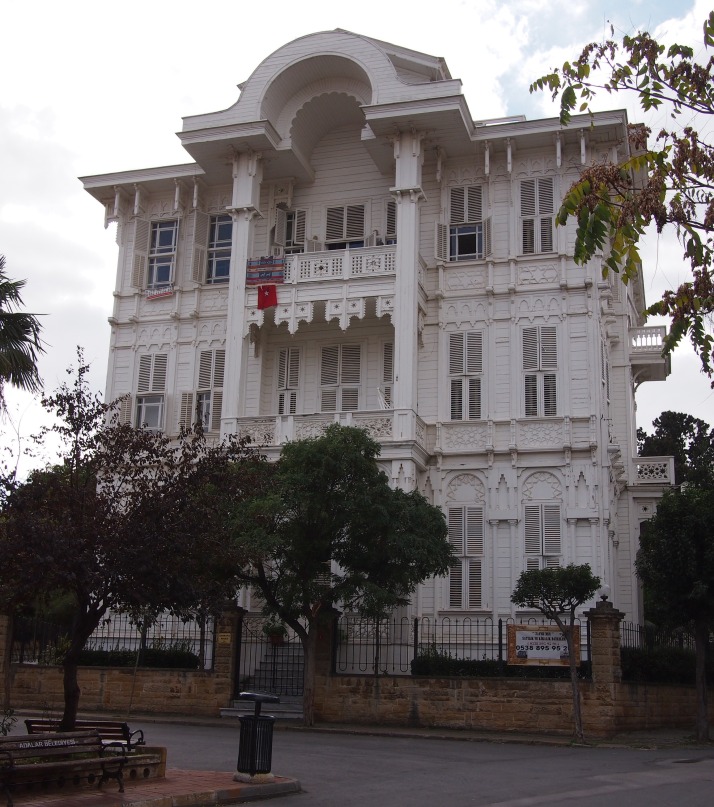 Many of the houses on Büyükada are wooden and very large though not all are in such good condition as this beautiful villa
On all of the islands, the only motorised traffic allowed are service vehicles (police, rubbish collection, etc.) so the only ways to get around are on foot, by bicycle or by horse drawn carriage, called fayton. We were ready to stretch our legs after 90 minutes on the ferry and soon noticed that several of the horses pulling faytons looked to be poorly kept so decided to stick to moving under our own steam.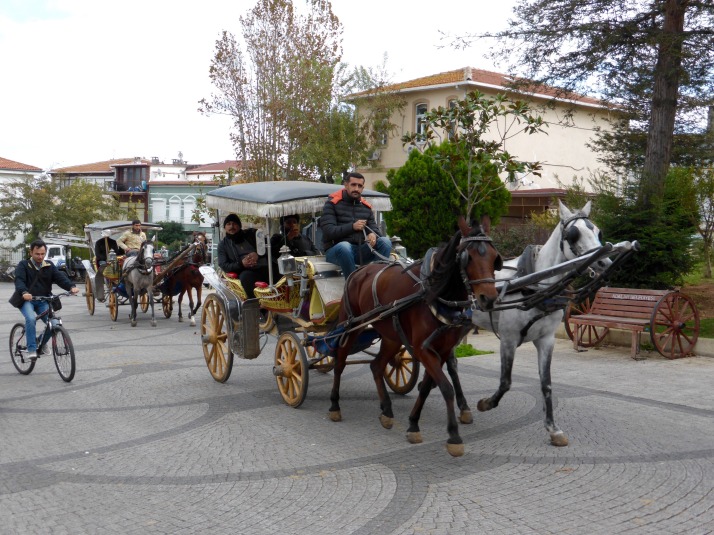 Faytons carrying day-trippers around Büyükada
We set off towards the Monastery of St George and viewpoint on top of the southernmost of the island's two hills. It was very pleasant walking the streets with no traffic noise, eyeing up the grand villas and waving at all the stray cats (hello miaow!). After we'd left the houses behind we noticed areas of picnic tables under the pine trees. They looked like a perfect place for us to eat the sandwiches that we had brought and we settled ourselves down. We were just about to tuck in when a man approached demanding 3TL per person (just under £1) to sit there. That seemed a bit steep, no wonder all the other tables were empty, so we moved on and ate as we wandered.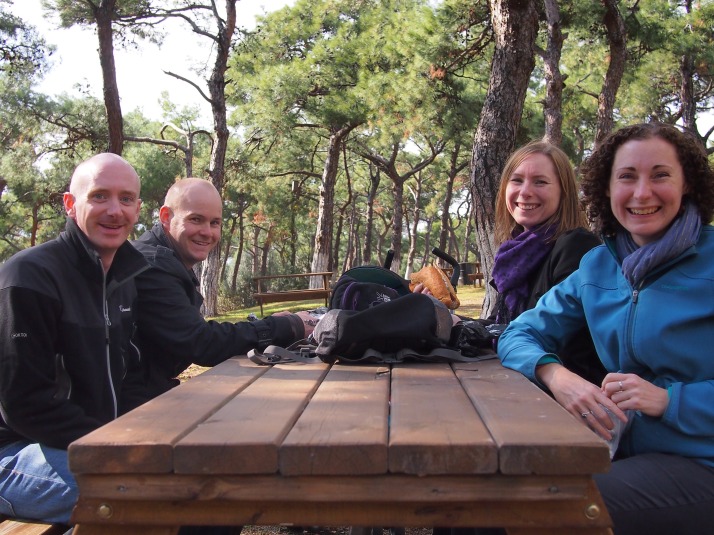 Shortly before we were moved on from our picnic table (Olly had already devoured his sandwich and is asleep in his pushchair behind the table)
Having eaten our lunch and checked the distances on the map we realised that we wouldn't have time to walk up to the monastery and make it back in time for the 3pm ferry so we took the other fork in the road and walked in a loop around to the village.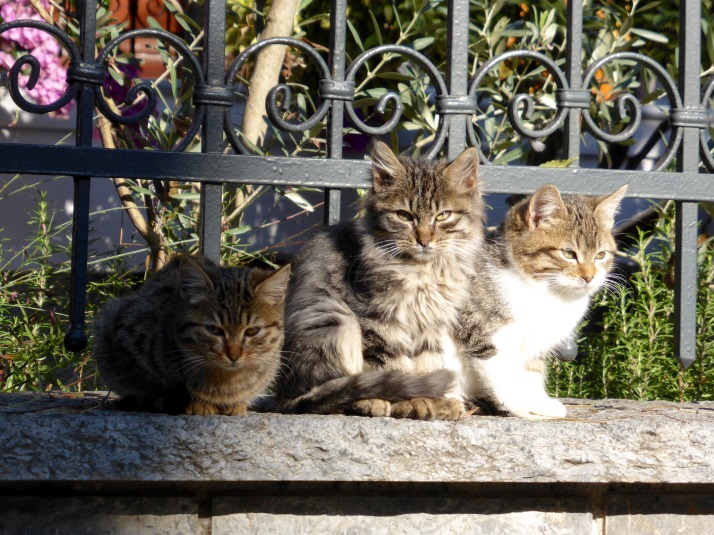 There are tons of stray cats in Istanbul and Büyükada was no exception. The locals feed them and for the most part they are in very good condition
On the ferry back we were thrilled to see a school of dolphins leaping across the wake of the boat. A fabulous end to our stay in this beautiful city.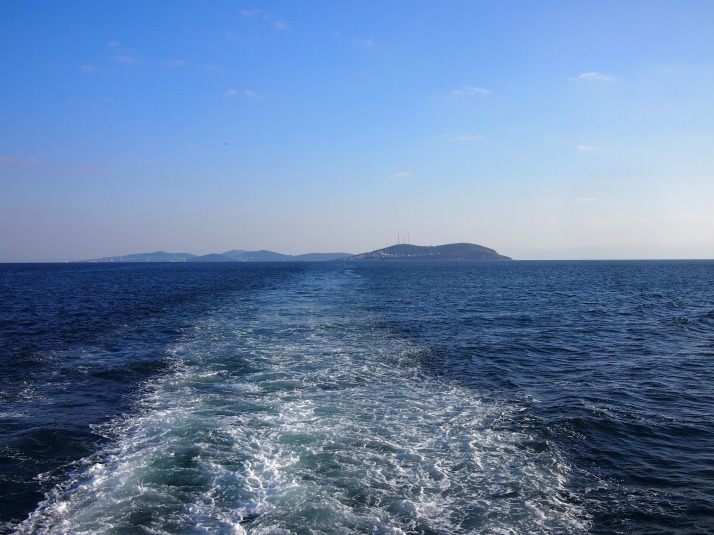 Farewell to the Princes' Islands and to Istanbul