| | |
| --- | --- |
| Distance cycled | 0 miles / 0 km |
| Cumulative distance cycled | 201.3 miles / 324.1 km |
| Islands visited (daily total) | Lewis |
| Total islands visited | 10+1 of 10 |
| Average speed | n/a mph / n/a kmph |
| Weather conditions | Windy and rainy. Very rainy |
Joining 2 days worth of cycling together gave us a fantastic semi-wild camping spot and day off to recover and explore an area of Lewis that's a good 20 miles away from the official Hebridean Way route. We'd seen a large wood carving near the entrance to the Uig Sands and Ardroil Beach community campsite so we went back to learn a little more about it..
This sculpture is based on one of the kings in the collection of walrus ivory chess pieces which were discovered nearby in a sand dune in 1831. According to the information board they're believed to be of Norse origin, and 82 of the pieces are now in the British Museum, with 11 in the National Museum of Scotland.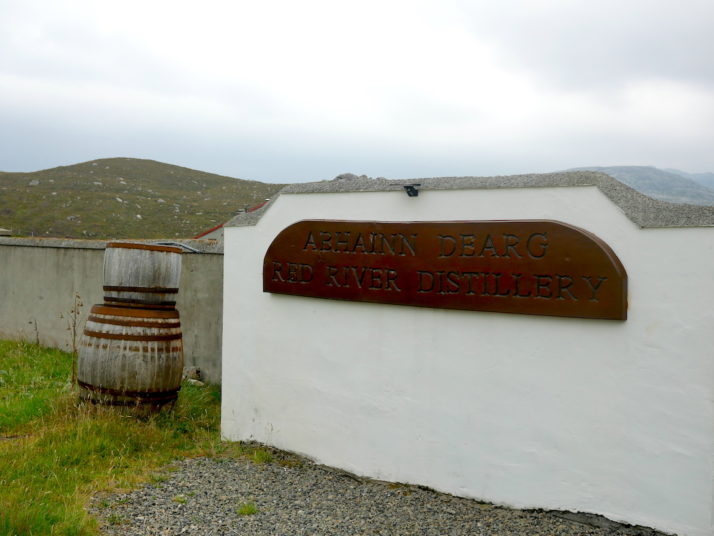 A few miles down the road is the first single-malt whisky distillery on the Outer Hebrides since 1829 – Abhainn Dearg or Red River. We understood they were open with limited spaces for tours, but like most of the businesses on the islands they're closed on Sundays.
However, in their car park were 2 more Uig Chessmen carvings..
Another reason for the timing of our day off was the weather forecast we'd been keeping a keen eye on and sure enough, at this point the weather started turning for the worse. We headed back to camp via the sandy beach as the drizzle started and before the wind picked up. From the inside it felt like our little tent took a battering!