Here's our summary of the last three months.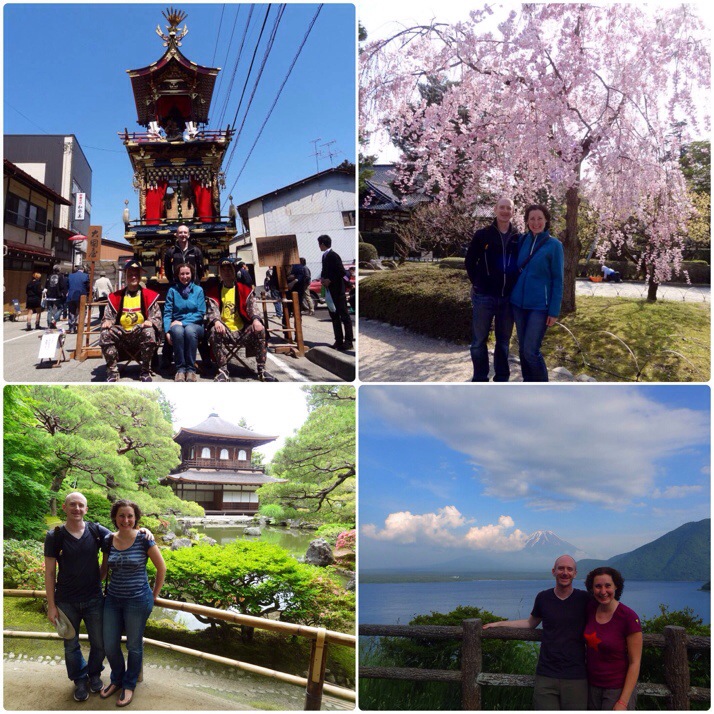 Clockwise from top left: at the spring float festival in Takayama, beautiful cherry blossom at Kenrokuen garden in Kanazawa, beside Lake Motosuko with Mt Fuji in the background, at Ginkakuji temple in Kyoto
Countries visited in the last three months (1st April to 30th June)
Singapore, Japan (total visited to date on this trip = 14)
Have you managed to stay within your budget (£70 per day)? And what has been the expense breakdown?
Nowhere near, we knew before we departed that Japan would be expensive but it still came as a shock after a year of travelling the rest of Asia, although to be fair it's probably no more expensive than travelling in Europe would be.
Our average daily spend over the three months has been £99.83. Our daily spend to date since we left home has been £69.67 which is exactly what we'd hoped – our savings to date were enough to balance the overspend in Japan.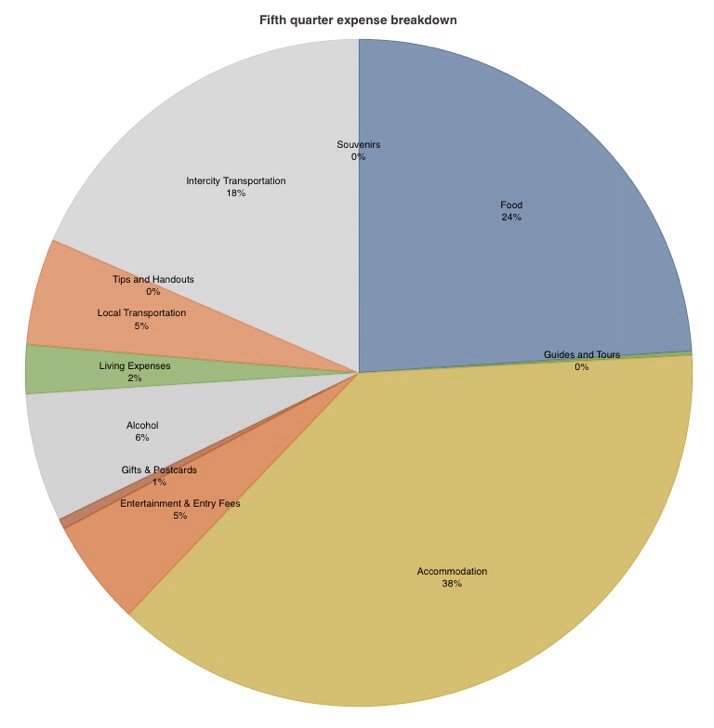 Accommodation is yet again the biggest expense at 38.0% – for most of the time we stayed in business hotels which as a couple usually work out cheaper than hostels with the added advantage of an ensuite bathroom. The downside compared to a hostel is you don't get to chat with the host or other travellers and there's nowhere to prepare meals (not that all hostels have kitchens but some do).
Food is next highest at 24.0% – we've eaten really well in Singapore and Japan and while it's possible to find relatively reasonably priced food it certainly can't be described as cheap.
Intercity transportation was high at 18.5%. We had two flights in this quarter, from Dhaka to Singapore, and from Singapore to Nagoya (Japan). When moving long distances in Japan we usually travelled by Shinkansen, the famed bullet train. Very fast, clean and comfortable but not cheap. We kept costs as low as possible by taking occasional buses or travelling by local train when moving between nearby cities.
Local transportation was comparatively high at 5.2%. Although buses and trams are not too expensive (usually £1-2 each per trip) they do add up. We also did a few long distance day trips which were possible because of the speed and efficient timetabling of buses and trains, for example to Kamikochi from Matsumoto and to Ibusuki from Kagoshima
For the first time on this trip the visa spend for the quarter was absolutely nothing – no spend and no stress! Both Singapore and Japan allow UK passport holders to stay for 3 months visa free.
What has surprised you most in the last three months of travel?
If you listen to the continental Europeans or Americans they'll have you believe that the British are plain weird for driving on the left, pretty much unique. Well, in the last 9 months we've visited no less than 6 other countries who also drive on the left (Hong Kong, Thailand, Malaysia, Bangladesh, Singapore, Japan) and while it could be argued that for some of these countries, though certainly not all, this is due to a colonial British heritage I don't think we should let that detract from a good argument.
Apart from family and friends, what are you missing most about life in the UK?
Not much to be honest. Travel in Japan and Singapore has been pretty easy, with all our creature comforts adequately provided for. Although we both love trying new foods we do get the occasional hankering for a good cheese sandwich or a plate of fish and chips.
What's the most memorable sight that you've seen in the last three months?
Julie – I loved Okunoin cemetery in Koyasan. The huge cedar trees amongst the gravestones of all ages, the surprising statues that we came across and listening to the monks' morning chanting all added up to an experience I won't forget.
Andrew – My preconceptions about Japan were fast trains, commuter-packed metros and high tech everything, so the most memorable sight is the amount of greenery and scenic beauty here. Julie won't let me have that as it's not specific enough, so I'm going to pick Mt Fuji, the iconic mountain of Japan.
Tell us a funny story from the last three months of travel.
On our first day in Kanazawa we had lunch at Omicho Market and bought a small cake each for dessert before walking across town to Kenrokuen garden. Inside the garden we found a bench from where we could admire the view while eating our cakes. Suddenly, I flinched back as I caught sight of a bird seeming to swoop very close. When I turned to Andrew to see if he had seen it, he was looking in disbelief at his empty hand which had been loosely holding his cake. A Black Kite had swooped in and taken it without touching him! Since then we've always been very watchful when eating out in the open…
Who is the person you've met that you remember the most from the last three months?
Our host in Singapore, Diana, was such a pleasure to stay with. We booked her spare room through Airbnb and it was an ideal place for some R&R after the somewhat challenging travel through Bangladesh. She made us feel right at home, from her comfy sofas, fast wifi and well stocked kitchen (Julie seriously lusted after her top quality pans and knives), to her friendly conversation and introducing us to the TV programme Grey's Anatomy which we watched avidly for a week! As an added bonus we discovered that she had lived in Japan for 6 years and didn't mind us picking her brains. Her suggestions on where to go basically established our itinerary for the first month of our stay here.
Finally, what have you found to be the greatest challenge so far?
Julie – Struggling with the budget again. We'd really got used to staying in fairly nice places and basically eating wherever we wanted while travelling through SE Asia and into Bangladesh and it's been a hard habit to break, needing to think twice about stopping at a cafe for coffee and cake, or whether to organise a packed lunch rather than relying on finding something while we're out. We don't compromise on sights and activities so accommodation, food and drinks tend to be where we try to save money.
Andrew – We've found that booking last minute budget accommodation as a couple has been hard in Japan, especially as we usually want to stay for three or four nights. It seems that as well as all of us foreign tourists, the Japanese also like to travel a lot, which meant we had to quickly firm up our plans and start booking 3 to 4 weeks in advance, rather than the 3 to 4 days we've been used to so far!