It hardly seems possible, but it is now more than 3 months since we embarked on our trip. We thought that we would do a little summary of the story so far.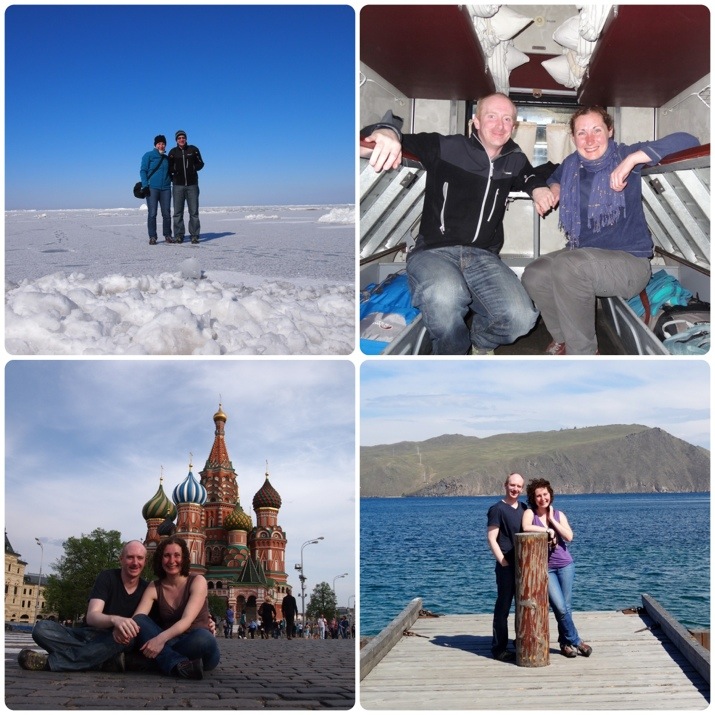 Clockwise from top left: The frozen sea at Jurmala in Latvia, our first Russian train from St Petersburg to Petrozavodsk, waiting for the ferry to Olkhon Island in Lake Baikal, in front of St Basil's Cathedral in Red Square, Moscow
Countries visited in the last three and a half months (19th March to 30th June)
Latvia, Estonia, Finland, Russia
Have you managed to stay within your budget (£70 per day)? And what has been the expense breakdown?
Almost within budget, our average daily spend over the three months has been £71.41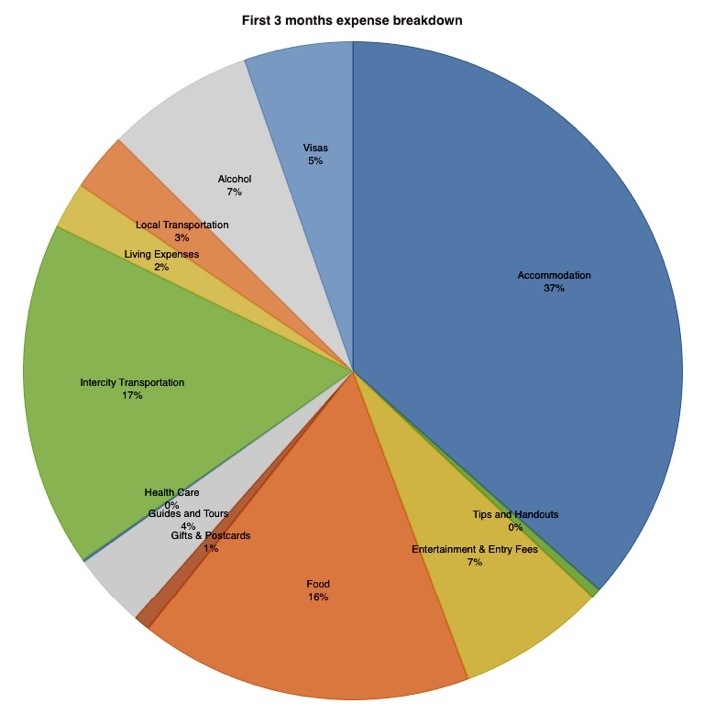 Accommodation takes up just over a third of our budget – a basic room in a hostel is generally about £30 but we've managed to save money by staying with locals using airBnB.com, and travelling on sleeper trains
Our next biggest expense has been intercity transportation at 17%. This includes our initial flight from London to Latvia, but is mostly the money we've spent on trains in Russia. Still, the trains are great value for money – one journey took 37 hours over 2 nights and 1 day and cost just £57 each – you wouldn't get far in the UK for that much!
Close behind is food at about 16.5%. Usually we cook for ourselves, but every so often we get sick of pasta and have a mini splurge on a meal out – finding accommodation with a kitchen is a big way that we save money.
Entertainment and entry fees – 11% includes a few guided tours.
Alcohol – just over 7%. Usually we buy beers at the supermarket and drink in our hostel – drinking in bars can eat through the daily budget very quickly, as we found out in Helsinki!
Our Russian visas took up quite a chunk of our budget across the three months at 5.4%. They were more expensive as we wanted a 3 month visa and also because we had to pay to register twice (in St Petersburg and in Moscow where we spent 2 weeks each).
Other stuff – the remaining 6.5% covers local transportation (generally incredibly cheap in Russia), laundry, toiletries, haircuts, etc
What has surprised you most in the last three months of travel?
How friendly and generous Russian people are.
Apart from family and friends, what are you missing most about life in the UK?
Julie – Nice wine drunk from wine glasses – compared to beer (or vodka), wine is pretty expensive in Russia and there isn't too much choice. On the occasions when we've treated ourselves to a bottle, it's been rare for the kitchen in our accommodation to have wine glasses so mostly we've been drinking from tumblers.

Andrew – Definitely my bed. I love roughing it as I was brought up hiking the hills of the Lake District, but there's nothing like a good night's sleep at home.
What's the most memorable sight that you've seen in the last three months?
Julie – Church on Spilled Blood in St Petersburg. It was stunning from the outside, but then the interior was just breathtaking as well.

Andrew – It's so hard to choose just one from the so many wonderful things we've seen and done so far, but I'm going to choose something that surprised me.. I'm sure you've seen images of St Basils Cathedral on Red Square in Moscow, but to my eyes it looked, well, gaudy. However, my mind was changed the moment I saw it in real life, and I now think it's spectacular.
Tell us a funny story from the last three months of travel.
It may have been the couple of beers (and the vodka chasers) at our local in St. Petersburg, but on the walk home we passed a girl on a horse who said in perfect English "Would you like a ride on a horse?" we said "no thanks", to which she replied "horse money please?" – we turned to each other and immediately burst into laughter, while she turned away on her horse, doubting that what she'd said had made sense. Since then it's been a running joke between us that upon seeing a horse, we say "horse money please!"
Who is the person you've met that you remember the most from the last three months?
Julie – On our first day in St Petersburg we met a lady who is now fondly named Mrs Pickle. We went to the market, partly because they're always an interesting place to look around and partly because we needed some provisions for the next few days. We noticed the line of stalls covered in pickled vegetables and initially hurried past, slightly afraid of the ladies calling out from behind them. But we ventured back and our chosen vendor plied us with samples of practically everything she sold while we made appreciative noises (we hadn't yet learned one of our favourite Russian words, 'harosho' which means good). Eventually we bought a couple of things from her and cheekily asked if we could take her picture, she puffed herself up and posed like a pro!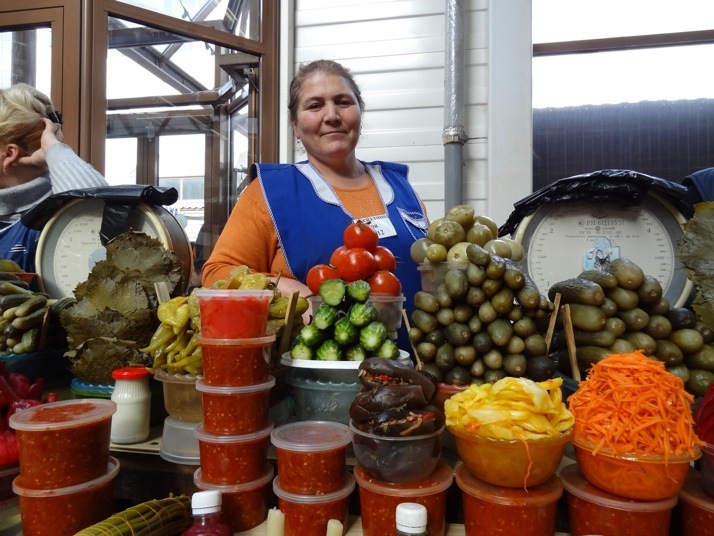 Andrew – For me, it's Vlad in Vladimir. We've been so fortunate to meet so many generous people, and Vlad was really the first. He tried so hard with so little English (which was still much more than our Russian), and we had such a great time with him and his wife Tonya that we'll remember fondly forever.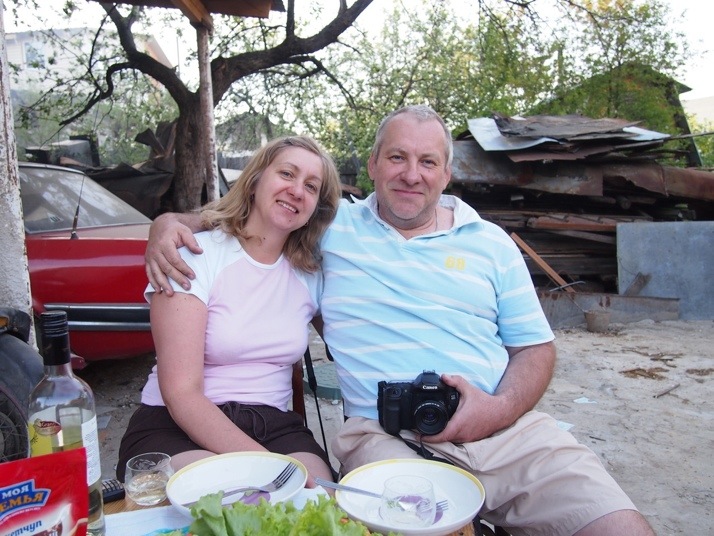 Finally, what have you found to be the greatest challenge so far?
Time, surprisingly! Before we set off, we thought we'd have plenty of time as we weren't working anymore – time to do a little yoga in the morning, see the odd sunrise and sunset, and spend the day visiting sights, museums, culture and nature. Instead we've discovered it takes longer to do things when we don't know where to look, and when we get there and we don't speak the language. For example, imagine you're you've just arrived in a foreign city – where's the supermarket? The bus station? How do you get there from where you're staying? Researching the sights and activities, and how to actually get there and back is taking longer than we thought it would.