Here's our summary of the last three months.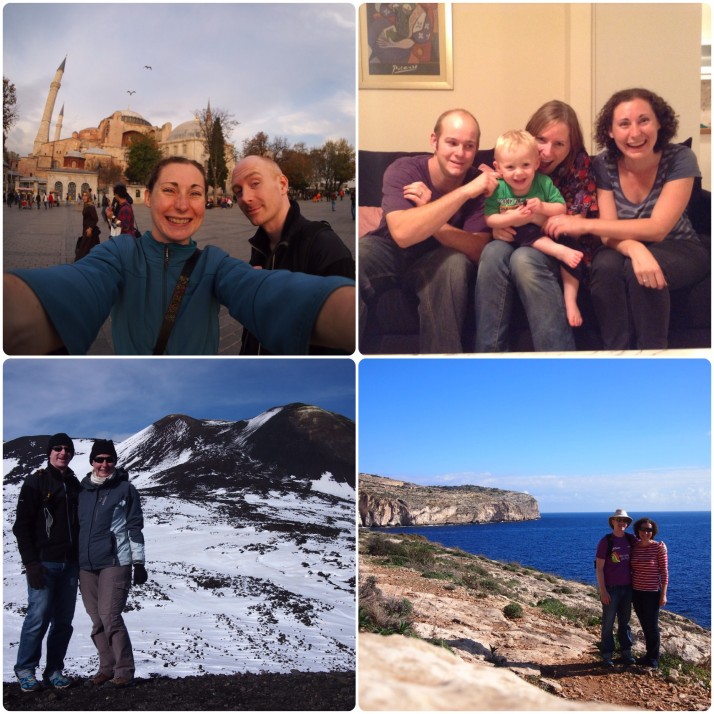 Clockwise from top left: In front of the Haghia Sophia in Istanbul; We were thrilled to be joined by Tom, Steph and Olly in Istanbul; Getting out into the countryside was one of our highlights of Malta; Climbing Mt Etna near Catania in Sicily
Countries visited in the last three months (1st October to 31st December)
Turkey, Malta, Italy (total visited to date on this trip = 19)
Have you managed to stay within your budget (£70 per day)? And what has been the expense breakdown?
Yes, and we've managed to make back the over spend from Q6 (mostly attributable to flights and visas). Our average daily spend over the three months has been £65.18. Our daily spend to date since we left home has been £69.86. We're really pleased to be back on track.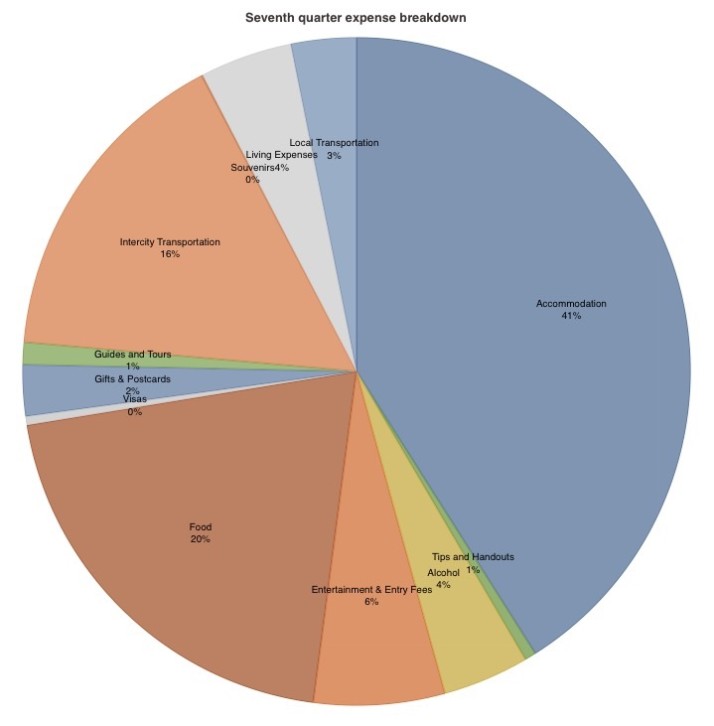 Accommodation is higher than any of the previous quarters (as a percentage) at 41.0% – we knew accommodation would take up a high proportion of our budget in Europe. We've found renting apartments to be the same price or cheaper than hostels and guesthouses with the advantages of more space, privacy and access to a kitchen and, usually, a washing machine.
Intercity transportation was 15.9% – one long haul flight (Tashkent to Istanbul) accounts for over half of this. Otherwise, staying in one place (Istanbul for five weeks and Malta for a month) has minimised long distance travel costs.
Entertainment and entry fees were 6.3% of the total – we've definitely noticed that entry fees to tourist attractions are much higher in general in Europe and are being more picky in the sights that we pay to see. We have enjoyed taking walks in both Istanbul and Malta and find it a good way to get a feel for a place for free.
Living expenses was 4.5% – as well as the usual toiletries, haircuts and replacement clothing we had to replace a hard disk in the box in the UK where we store our photos. Fortunately it is set up so that if one disk fails we don't lose any data.
Visa spend for the quarter was just 0.5% – just a nominal amount for entry to Turkey. As we expect to be travelling through Europe for the rest of the trip this should be its last appearance.
What has surprised you most in the last three months of travel?
Perhaps it's more of a realisation, but we were surprised by how many places of worship there are in Istanbul, and that we didn't think there were so many at home in England. But when we thought about it, we remembered that almost every town and village has a chapel or church of some kind, so there as many if not more!
Apart from family and friends, what are you missing most about life in the UK?
Julie – Now that we're in Europe and predominantly in cities I'm starting to feel a lack of smarter clothes. Not that I was ever much of a follower of fashion, but when we went to a nice restaurant for Christmas lunch, or if we go out for dinner or a drink on an evening I feel that I would like to be smarter than jeans, T-shirt and scruffy walking shoes. On the other hand I don't much fancy carrying/giving over rucksack space to clothes, and especially shoes, that will be rarely worn.
Andrew – We've eaten the best local specialties in every place we've been, and as our thoughts turn towards our arrival back home in a few short months I'm missing my own local specialties.. a Gregg's stottie cake, one of Paul's fry ups and a proper cup of tea. Not all at the same time though!
What's the most memorable sight that you've seen in the last three months?
Julie – Once again a difficult choice but of all the beautiful historic buildings we saw in Istanbul, the mosaics in the Chora Church Museum really stand out for me.
Andrew – I've developed a fascination for world history, and the previously unknown strategic and pivotal importance of Malta in World War II to us was a highlight of our time there. The Lascaris War Rooms is my choice as it has it all; history, artefacts, photos and underground bunkers, brought to life by the amazing tour guide Tony.
Tell us a funny story from the last three months of travel.
Opposite our apartment in Malta was a small bread shop called St Joseph's Bakery, but we rarely saw it open, indeed, at about 8:40pm one night we had a knock at the door from someone asking the time who'd heard the bakery opened at half-past 8! Anyway, one evening as we were returning from dinner we saw the lights on and the doors open so we went over to buy some fresh bread. Stood inside the doorway was the baker, a large round rough looking man in dirty whites, one hand on the rim of a giant steel mixing bowl and the other holding the end of a cigarette. I said hello and asked to buy some bread. He shook his head, said "no bread." I took that to mean it wasn't ready, but then I noticed a large shelf at the side of the room full of loaves and baguettes so I pointed at them.. "no fresh" he said, then spoke to the elderly woman stood with me in the doorway, who turned to me and translated that we should come back tomorrow morning. "What time?" I asked. "Between 3am and 6am."
Who is the person you've met that you remember the most from the last three months?
For our first four weeks in Istanbul we rented an apartment on the Asian side of the city in Kadikoy. It was a lovely apartment and we made friends with the nearby shopkeepers – the old man in the mini market next door kept trying to give us a carrier bag even though we always brought our own, and the friendly owners of the fish shop on the other side always smiled and said "merhaba" when we passed, they even gave us some of the chips from their own lunch when we stopped in for a balik ekmek (fish sandwich)!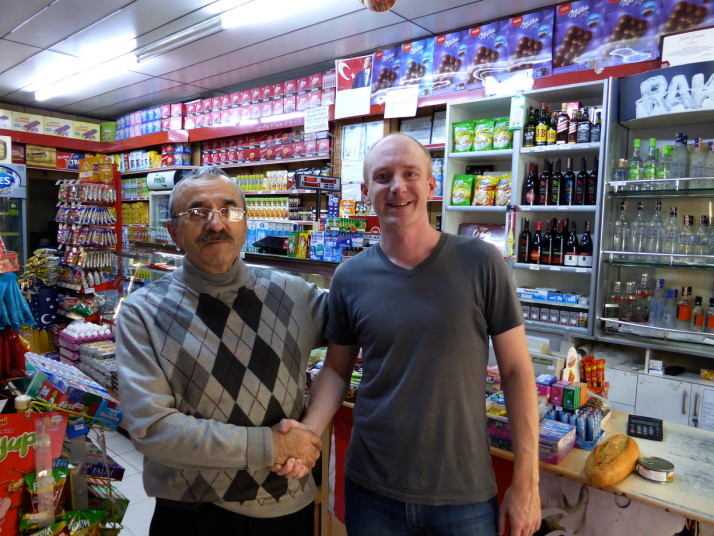 Finally, what have you found to be the greatest challenge so far?
Maintaining a sense of adventure and wonder in places where the culture is much more similar to our own. It's quite easy to fall into ruts when so much seems familiar and we sometimes need to remind ourselves to probe past the obvious and look for new experiences.