We'd read a number of tales from other travellers about their difficulties getting a Chinese Tourist visa while on the road, and that made us a little apprehensive, especially because Julie's parents are due to meet us in Beijing!
After visiting the busy Chinese Embassy in Ulaanbaatar and picking up the 4-page application form, the attached 2-page supplementary form, and noting the supporting documentation required, we felt a little better, but knew it would still be more involved than extending our Mongolian visas.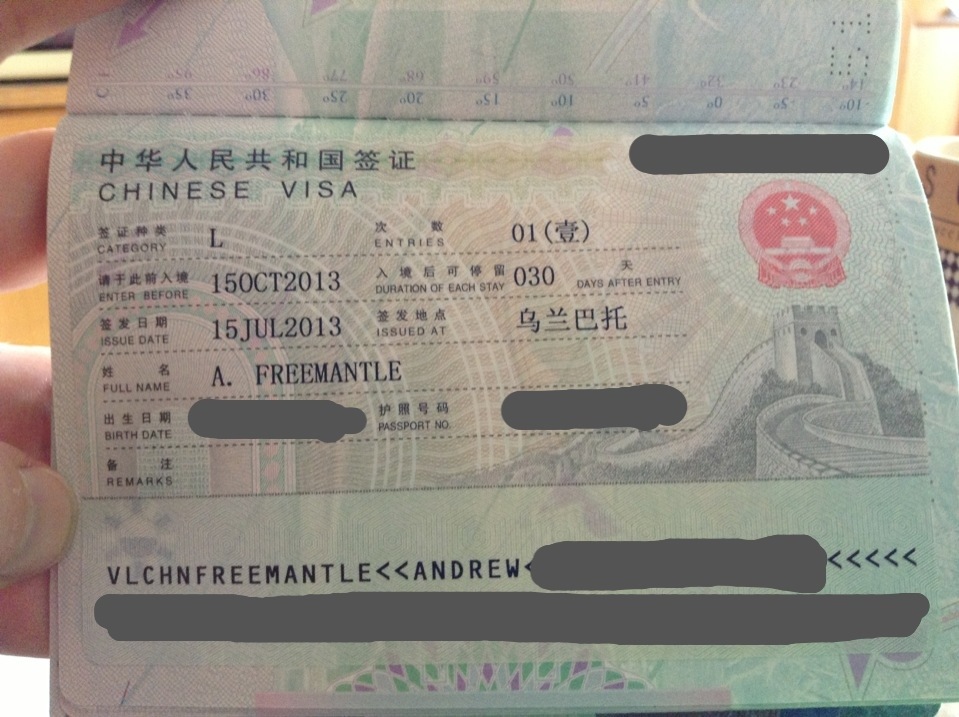 Andrew's Chinese Visa
The Chinese visa application is straightforward, but there are a few more additional requirements. I'll list the information we provided with our applications, and where we got it, as our applications were accepted without question and 30-day tourist (L) visas granted.
What you need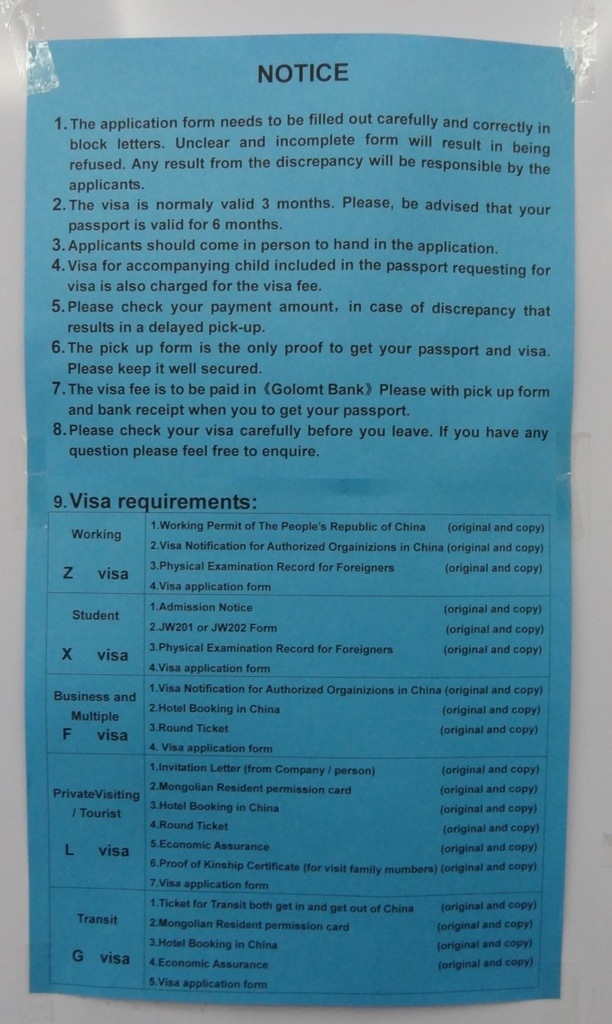 Invitation letter – more on this below
Mongolian Resident permission card – for non-Mongolians like us, we took this to mean a photocopy of our Mongolian Visa, which we included with our application
Hotel booking in China – we understand you need a minimum of 3 nights accommodation booked in your arrival city
Round ticket – more on this below
Economic assurance – we didn't provide this, and it wasn't asked for when we applied
Proof of Kinship (if visiting family members) – didn't apply to us
Visa application form (and 2-page supplementary form)
Invitation letter
We asked in a number of travel agents and flight booking shops (of which there are many) in Ulaanbaatar, but none of them could help us arrange an invitation letter from an individual or company in China, until we found Tatiana of Legend Tours, located near Sukhbaatar Square on Seoul Street.
Not only did she arrange 3 nights accommodation in Beijing and the accompanying and all-important Invitation Letter, but she also organised our Ulaanbaatar to Beijing train tickets. The Traveler Inn Hua Qiao hotel is a little more expensive than what we have been used to thus far, but it looks nice and seems to be in a great location in Beijing.
Round ticket
Essentially, China is looking for confirmation of your entry and exit dates. Even if you intend to get the train to Beijing, but don't yet have your ticket, all of the (many) flight booking / travel agencies in Ulaanbaatar will print out and stamp a flight reservation for you – at no charge.
As we had the inbound train ticket, we asked an AirMarket branch near our guesthouse to provide details of an outbound flight from Beijing to Bangkok, 30 days after our train ticket said we'd arrive in China. The staff were very efficient (you'll need your passport), and spoke enough English to help us.
If you don't have a train ticket from Ulaanbaatar to Beijing, then you could submit flight reservations instead and buy your train ticket once you have your Chinese visa.
Application and Supplementary form
The application form looks daunting at first, but it's mostly tick-boxes. We left sections we didn't have answers for blank, or crossed through sections that we were certain didn't apply.
There is a section that asks where you'll be staying in China, and there are spaces for 4 addresses. We used the details of our Beijing hotel first, then we used booking.com, the Lonely Planet and google searches to find addresses and telephone numbers for the remaining 3 spaces, which worked out nicely according to our loosely planned itinerary. I don't think you need to fill in 4 addresses.
We did not contact the other hotels, nor did we make online reservations.
The 2-page Supplementary form is attached to the Application form, and asks for additional information because you aren't applying from your home country.
We crossed through the first 3 quarters of the form, filling in the last section with the details of our Mongolian visa.
At the Chinese Embassy
Their working hours are Monday, Wednesday and Friday, and they were closed for the entire week of the Mongolian Naadam festival in Ulaanbaatar (11th to 13th of July in 2013). Visa applications are taken in the morning from 9am to 12pm, and collections are done in the afternoon from 4pm to 5pm.
Application
The queue was long, but moved steadily. We handed our applications and supporting documentation in together, and the very friendly and helpful gentleman asked only which service we'd like (i.e. how fast do we want them to process our applications). We opted for the standard 1-week, which meant collection on the same day the following week.
There are faster services available if you're in a hurry, but naturally these cost extra.
In return for our application we got a receipt and a slip of paper with the service we'd asked for. We then took this to the bank opposite the Chinese Embassy (through a door that looks like it might be for staff only!), and queued longer to pay our visa fee than we did to hand in our applications! Prices are in USD, but we paid in MNT.
Collection
The queue was a little bit smaller for collections, and the friendly girl was very efficient! After handing her our receipt and proof of payment from the bank, she put her hand on our passports and applications almost immediately – despite the fact we'd actually left it almost two weeks because we'd been on a tour of the Gobi desert.
In summary, it was straightforward with a little help from Tatiana.