Chances are that if you're making a list of sights to see in China then pretty soon after the Great Wall will be the Terracotta Warriors. These are located close to the city of Xi'an but they are by no means the only tomb in the area. According to our guidebook, the province of Shaanxi is peppered with imperial remains.
Tomb of Emperor Jingdi
On our first day we decided to visit one of the less well known archaeological sites, Emperor Jingdi's Tomb, also known as the Han Yangling Mausoleum. The Lonely Planet describes this as "Xi'an's most underrated highlight". Which is a shame because it's very well set up, has interesting displays and provides a nice contrast with the Terracotta Warriors. On the other hand, the fact that it's underrated means that there aren't many visitors which is always a plus point in my book…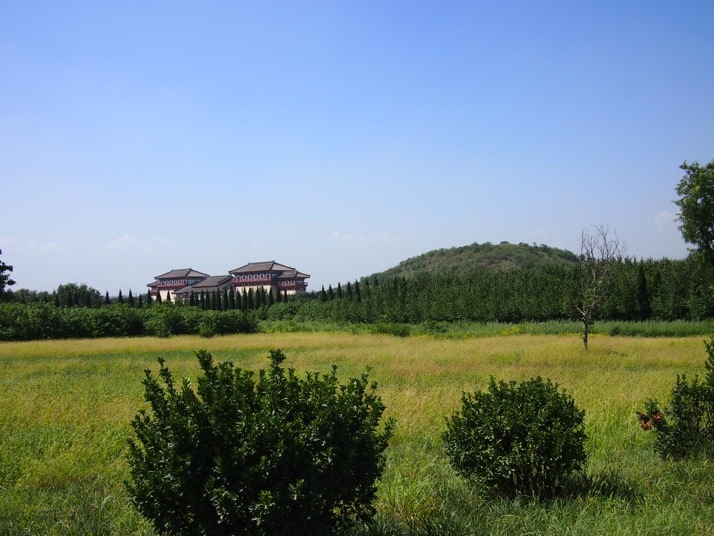 The Emperor's burial mound and the South Gate reconstruction
The site consists of the burial mounds of Emperor Jingdi and his empress, Empress Wang. Surrounding the emperor's tomb are 86 pits which were filled with pottery figurines representing all aspects of the court (men, women and eunuchs) as well as domesticated animals. The figurines are approximately 60cm tall and originally would have had wooden arms and clothing appropriate to their position. Over the years these more perishable parts have rotted away leaving the figures nude. A museum has been built over some of the pits so that you can see how they were found and the archaeologists continue to work in the remaining pits. In the same building you are shown a holographic display explaining the history of the emperor and empress. This looked very shiny, but the speech part was far too fast for me to be able to take it all in.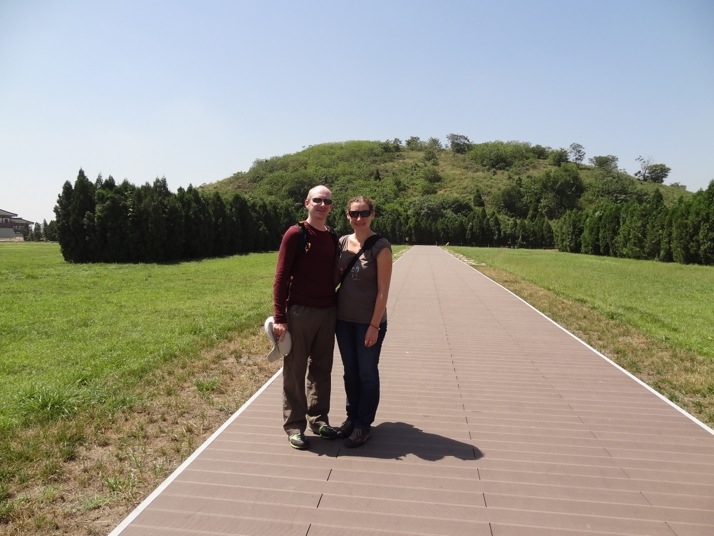 Us in fron of the Emperor's burial mound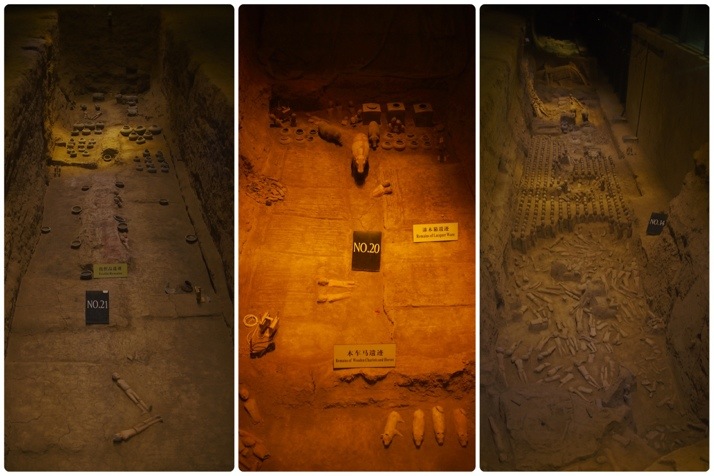 A variety of burial pits in the underground museum
In a separate area of the site is the Archaeological Exhibition Hall showing the vast array of different artefacts found there. This was very nicely laid out and the lack of visitors meant that we had plenty of time to get a good look at everything without being jostled.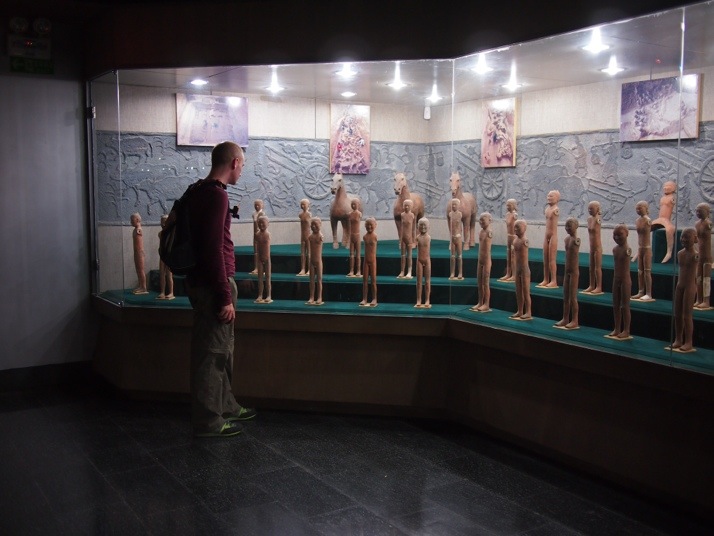 Andrew viewing one of the cases of figures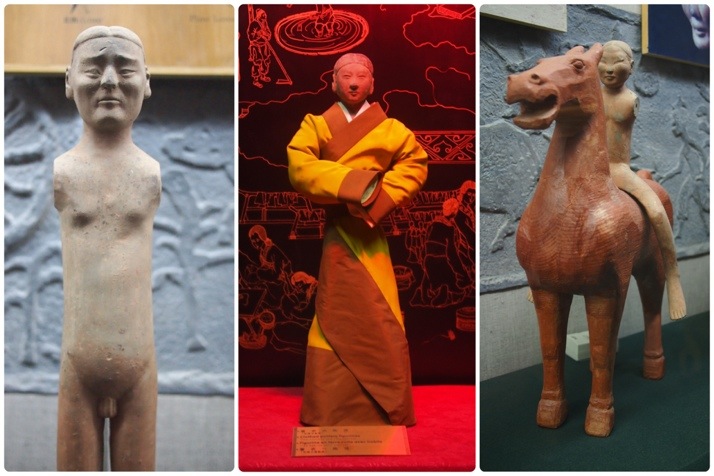 Pottery figure as it was found, reconstruction of a figure to how it would have been buried, some figures were found on horseback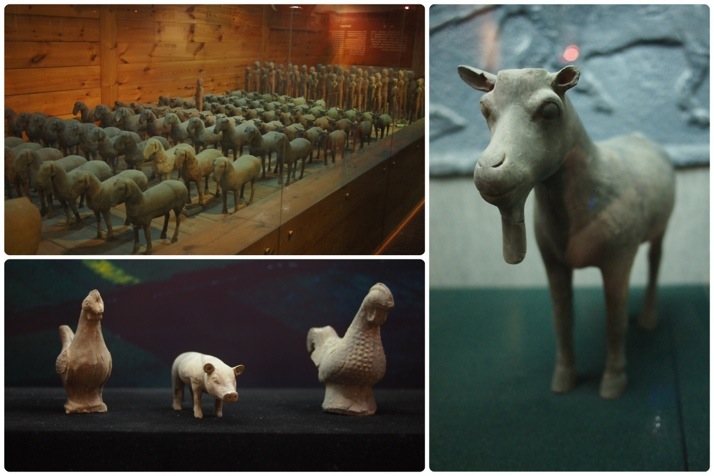 The pits contained a wide variety of representations of domesticated animals
Terracotta Warriors
In contrast to the relative peace of our visit to Emperor Jingdi's tomb, as soon as the bus dropped us off outside the main entrance to the Terracotta Army we were surrounded by crowds of tourists, guides trying to persuade us to employ them and miscellaneous vendors selling overpriced tat. We even had to fend off several guys with wheelchairs offering to push Dad around the site (for a fee obviously).
The Lonely Planet suggests that you visit the three pits in reverse order and we found that to be good advice. Pit 3 is smaller than the other two and contains just a few figures as it was seriously damaged at some point in history. Pit 2 is larger but remains largely unexcavated. There are some cases at the side which contain examples of each of the different types of figures which have been found – kneeling archer, standing archer, middle-ranking officer, high-ranking officer, and cavalryman with his saddled war-horse. These allow you to get a good close up look at the figures and see the detail that went into making each one.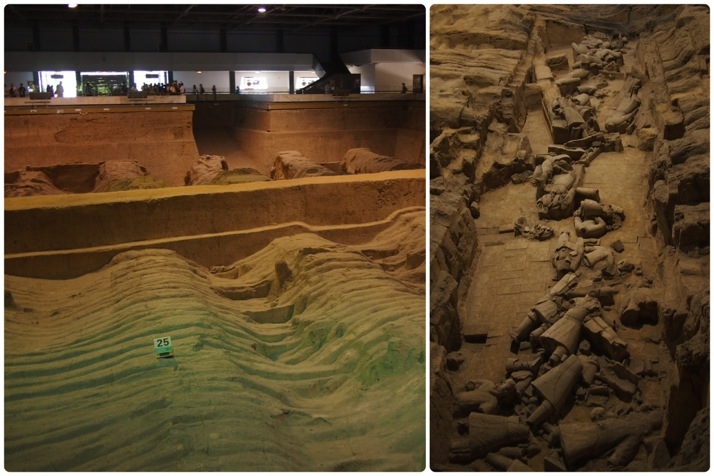 An unexcavated section of pit 2, and a corridor showing how the warriors are found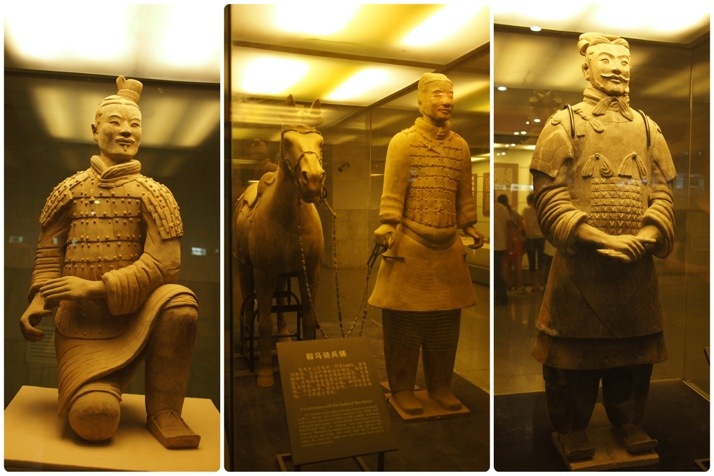 Kneeling archer, Cavalryman with saddled war-horse, High-ranking officer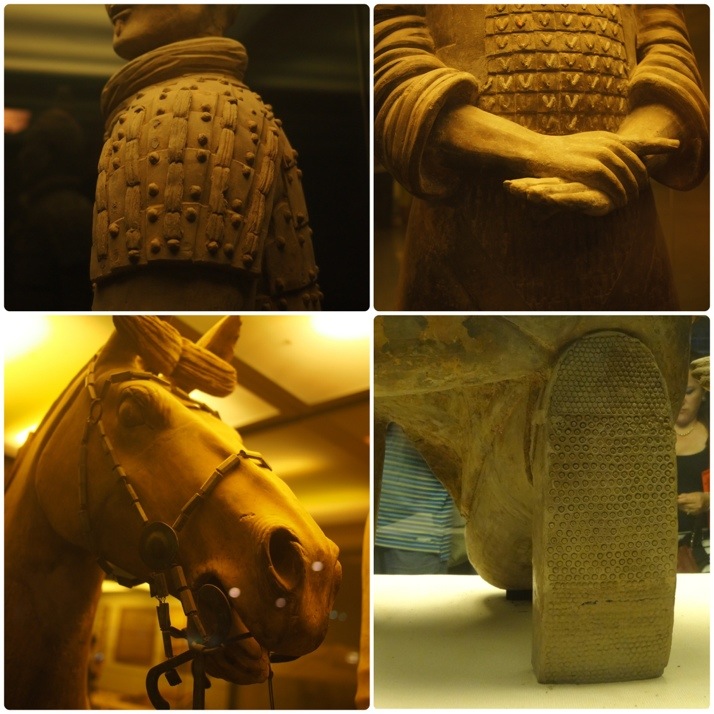 Details (clockwise from top left): Archer's shoulder armour, officer's hands, sole of archer's boot, horse head and bridle
The scale of pit 1 will make your jaw drop to the floor. It is vast, 230m x 62m (roughly the size of two football pitches laid end to end) and it is expected that more than 6000 warriors and horses will be unearthed from it once archaeological work is complete.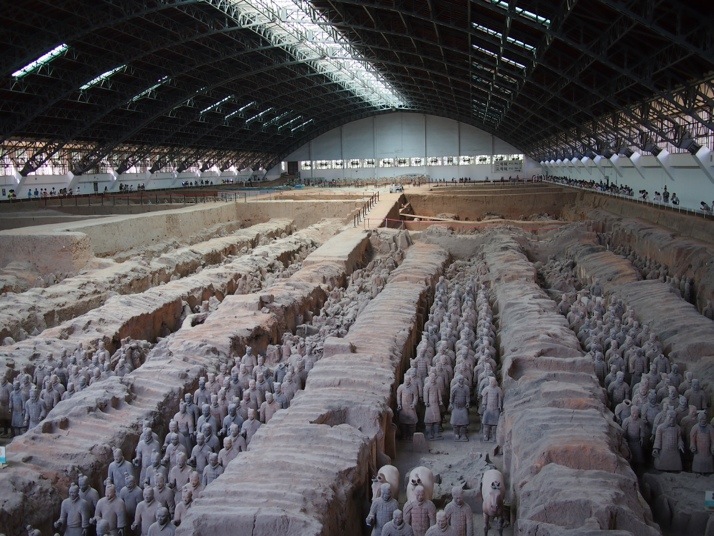 The aircraft hangar like scope of pit 1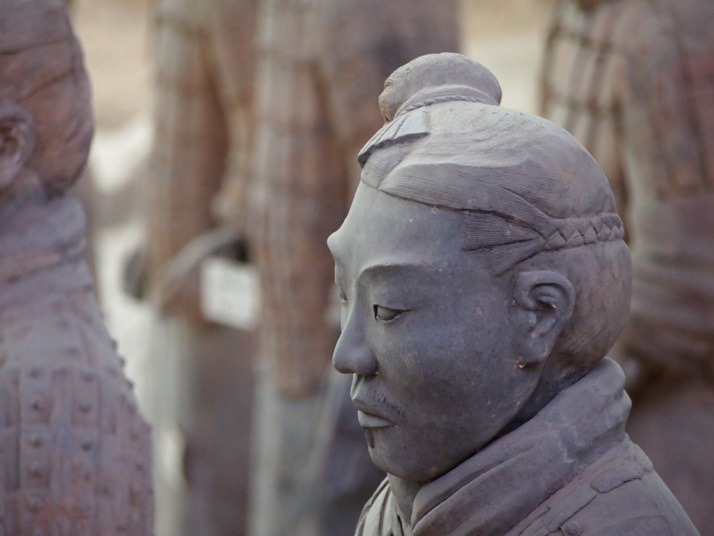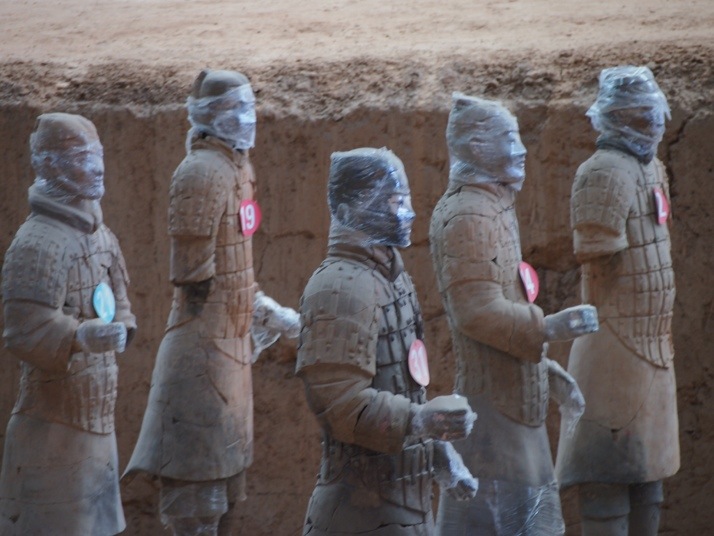 Walking around the pit you can see the areas where archaeologists are still working to reassemble the warriors
The Terracotta Warriors site has a bit of a Disneyland feel to it – the path from the pits back to the main entrance is lined with expensive shops and photo opportunities. For the ultimate souvenir it's even possible to buy a full size replica warrior! Despite all the commercialisation, if you only have time to visit one site while you're in Xi'an then it should definitely be the Terracotta Warriors, but there's a good bit of variety out there and we enjoyed seeing the different style of Emperor Jingdi's tomb as well.
Lucky Panda Tour
And while we're talking about Chinese icons we can't really leave out the panda can we? We stayed at the Han Tang House in Xi'an and one of the tours that they offer is the Lucky Panda Tour, a half day with an early start to the nearby Shaanxi Rare Wildlife Rescue and Breeding Centre. They have 19 giant pandas at the centre including a rare brown panda. Each panda has a covered sleeping and eating area and a large overgrown garden area which means that they can hide away and you are by no means guaranteed to see one, although our guide knew all their names and called out to the ones who are usually most sociable! We were fortunate enough to be entertained by the beautiful 4 year old Yaya for a good 20 minutes as well as catching a fleeting hello with her mother, Juju. If the pandas are not out to play when you visit there's still plenty to see – golden takins, asiatic black bears, golden monkeys, red pandas and a number of different birds are kept there too.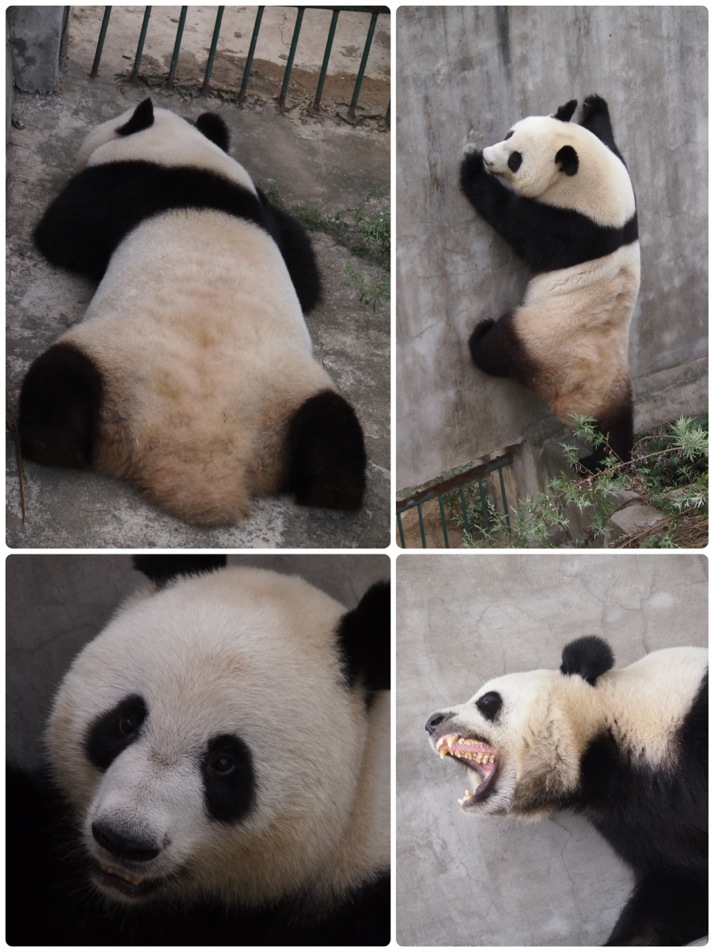 Yaya: panda splat, pretending to be Kung Fu Panda, she may look cute, but like all bears she has pretty scary looking teeth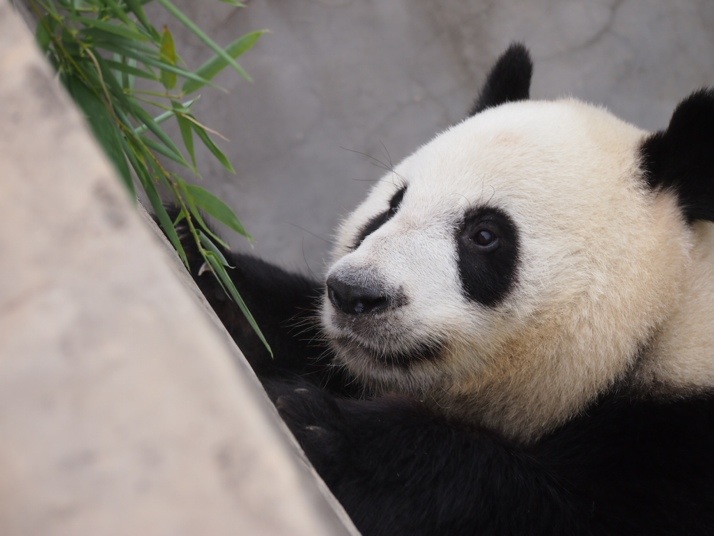 Trying to get the bamboo!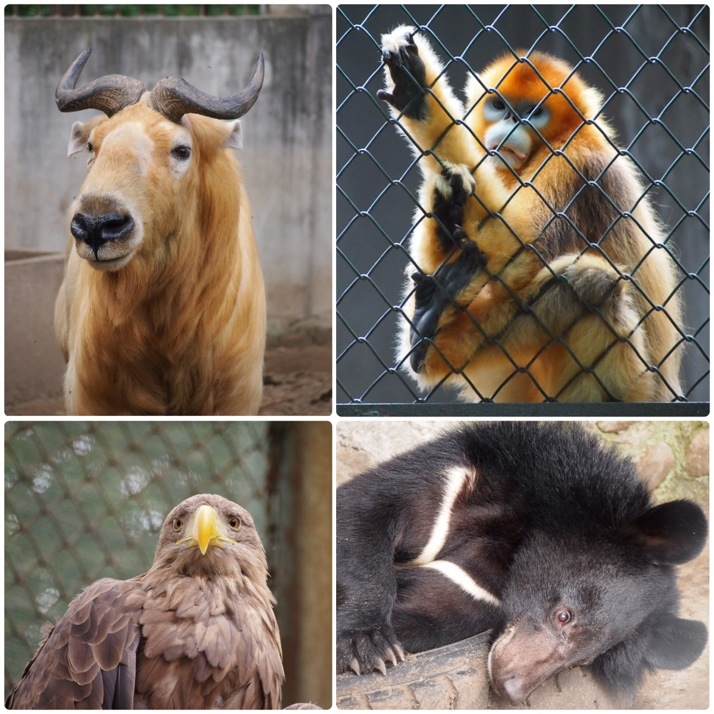 Animals at the centre (clockwise from top left): Golden takin, Golden monkey, Asiatic black bear, eagle
Xi'an City
We didn't spend much time in the city itself, but an honourable mention needs to go to the food that we ate in Xi'an. On our first night we went for Chinese hotpot (sometimes known as fondue chinois in Europe) at a restaurant around the corner from our hotel called 'The King'. They had to rustle up a young lad from the kitchen who spoke a little bit of English and we started off a bit confused about how things were priced (actually we still weren't sure until we got the bill and I think it was mainly because it was so cheap that we thought there must be some mistake), but once we got going it was great. We had a large pot of simmering broth in the middle of the table and chose skewers of vegetables, meat and fish from the buffet as well as thinly sliced meat from the kitchen to cook in it. There was also a dip buffet for you to make your own dipping sauce – owing to our confusion, our helper from the kitchen just made us up a bowl each once we'd told him not too much chilli! And the bill for the huge amount of food that the four of us ate (including 6 beers and a soft drink)? ¥149.50, about £15.50. No wonder we were confused!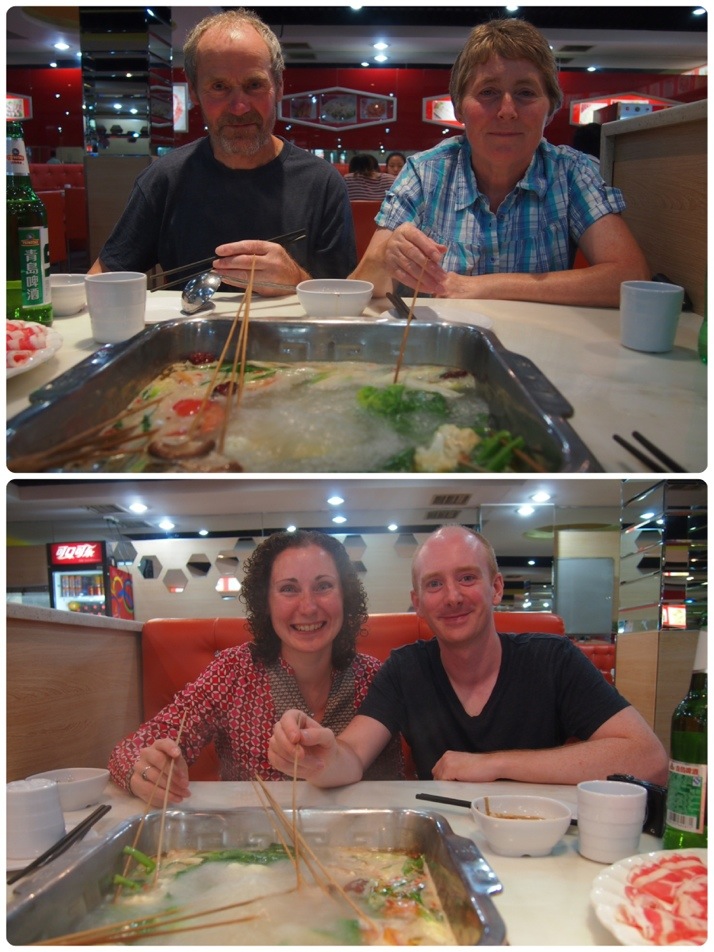 Mum and Dad, Andrew and I enjoying the hotpot
On our second night we walked past the beautifully illuminated drum and bell towers to the Muslim Quarter for kebabs. The street is buzzing with people and all kinds of stalls. We found a busy stand with a small back room where we could eat our delicious lamb kebabs and sesame flatbreads.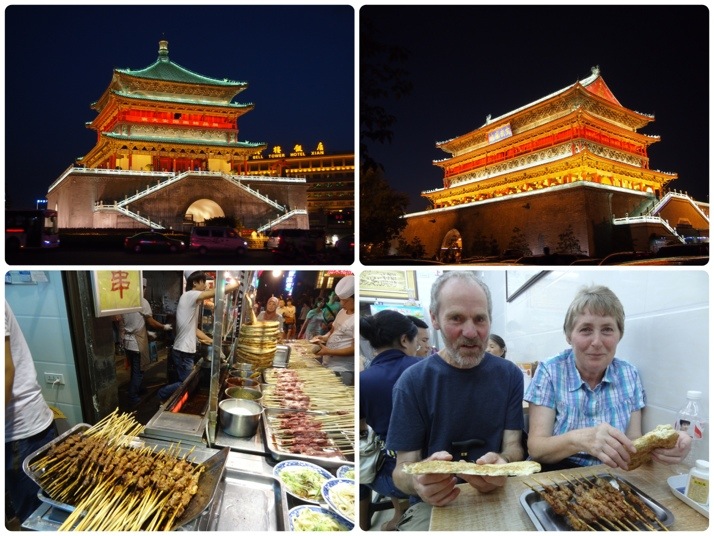 Bell and drum towers, getting stuck in to the kebabs in the Muslim Quarter